22 Jump Street, now in theaters–and burning up the box office–is a self-aware sequel, starring Jonah Hill and Channing Tatum as two foolish police officers with a good-natured bromance who go undercover to stop a college drug ring mixing a deadly combination of Adderall and ecstasy. The man who sends them? Ice Cube, the legendary rapper who co-wrote "Fuck tha Police" for N.W.A. in 1988, here reprising his role as the angry Captain Dickson. With the Jump Street franchise, a new album called Everythang's Corrupt, and Straight Outta Compton, an upcoming N.W.A. biopic rumored to star Cube's son as his famous dad, the synthesis of his politics and comedy is stronger than ever before.
It might seem odd that a rapper originally known for spitting rhymes and Grade-A quotes about disenfranchised groups, police brutality, AIDS, Reaganomics, and AK-47s would become a leading comedic force–as a man of the law, to boot. After all, he was initially an imposing force to conservative parents and politicians, and the FBI denounced his music for encouraging violence against cops. "It was like our only weapon to defend ourselves against what was going on around us," he says. "You're either dead or in jail, so we had to rely on the music to get the word out." The stakes were high in South Central, but he was determined to redefine the perception of his community without abandoning it.
"If you really dissect the earlier music, you'll realize it's hardcore, but cloaked in comedy," Cube says. "There's funny punch lines, there's crazy skits and stories." On "Look Who's Burnin'," a track from the 1991 album Death Certificate, he raps about recognizing women at an STD clinic. The album, a follow-up to his first solo album, AmeriKKKa's Most Wanted, sold 2 million copies. "Comedy is a part of every neighborhood," he says. "I don't care how much despair or poverty that's there because you have to make each other laugh to keep each other from crying." STDs are no fun, but "Look Who's Burnin'" is a quick-witted example of owning discomfort to laughable effect. Even the title's main ingredient recalls the Kirstie Alley and John Travolta franchise with talking babies.
That same year Death Certificate was released, Cube transitioned into his first serious film role as an ex-con in John Singleton's Boyz n the Hood. It was the cinematic equivalent of his crisp, booming raps about brotherhood and desperation. Following Boyz' success, similar narratives, like Menace II Society portrayed a grim reality, accentuated by the 1992 Los Angeles Riots. It didn't sit well with him. "I saw that my neighborhood was just being portrayed as something like Lebanon, some war zone," he says. "I was like, at least we had fun growing up. It wasn't all bad."
He addressed this by writing, producing, and starring in his first full-fledged comedy, Friday, which was released in 1995. It's an unfiltered saga about a couple of lovable nobodies, Craig and Smokey, played by Cube and comedian Chris Tucker, who smoke a dealer's stash and scramble to pay him $200 before 10:00 p.m. that night. Friday's dynamic sparkle revealed more than a battle zone. "I wanted to show my neighborhood and how much fun we had, too," he says. "It was bad and all, you know, drug-infested in some ways, but we didn't know the world was any better." In addition to Tucker, Cube enlisted comedians Bernie Mac, John Witherspoon, and character actor Tommy Lister, Jr., in supporting roles. He brings new funnymen into the fold to this day. Ride Along, which spent three consecutive weeks at the top of the box office earlier this year and spawned an upcoming sequel, cementing comedian Kevin Hart as a leading man.
Friday was lighthearted compared to John Singleton's tragic, poignant work, but didn't completely relinquish the core messages of Cube's memorable raps. "People forget this, but there's a real scene (in Friday) with Craig and his father where Craig goes to get a gun," he says. "The father stops him and says, 'Look, man, we used to fight with our hands. Nobody died. Go back home and live another day."
The blend of comedy and commentary debuted at the second spot at the box office, eventually bringing in over $27 million domestically. Its success broke ground for two sequels and movies like The Player's Club, I Got the Hook Up, It's All About the Benjamins, and the Barbershop franchise, some of which were made by the production company he established in 2000, Cube Vision. "I'm not going to be rag dolled from here to there with somebody saying, 'Come do this movie, come do that movie,' and then get frustrated," he roars. "You have the freedom to do what you feel and you're not a slave to the industry."
Ice Cube talks about the demand for autonomy at Cube Vision with the same fervor he used to introduce himself to the world. It's contradictory to the chilled-out energy he emitted on "It Was a Good Day," his game-changing hit from 1993. It's more in keeping with his recent characters in Ride Along and 22 Jump Street. "They're very irritated," he says. "One guy is on the case and has a mosquito by the name of Kevin Hart buzzing around his head and (Jump Street's) Dickson is dealing with guys he thinks are incompetent, too old, and too slow." He's channeled this irate, fun-filled anger while promoting the movie, repurposing stereotypes from the earliest days of his career, which become a recurring joke in Jump Street.
The perception of his intensity that veers into racial territory isn't the only knotty topic 22 Jump Street's buffoonish leads confront. In one scene, a bad guy hurls a homophobic slur at Channing Tatum and Jonah Hill's characters, thinking they're having sex in the library stacks.That might've been the punch line 10 years ago, but not here. Tatum confronts him about his hostile language before they fight, even if it's only because he's taking a gender studies course. "It's cool because it comes from a sincere place, so you can get it in," Cube says. "If you just doing it just to do it or you think you should do it because it's morally right, you're going to miss."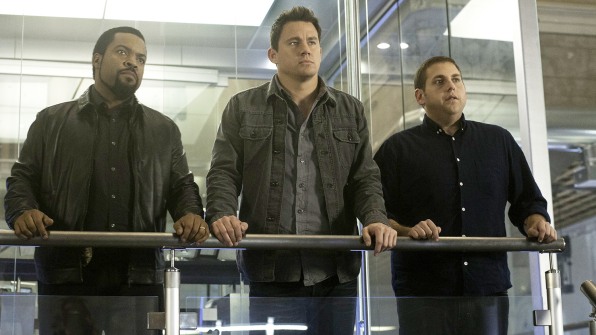 The world's changed a lot since Ice Cube stormed into hip-hop and headlines, and made the leap to Jump Street. But it's clear his music was a defining part of 1980s Los Angeles. More than that, he became a trailblazer who broadened the creative and geographical scope of rap.
Ice Cube often quotes the rapper Rakim: "It ain't where you from, it's where you at." It's fascinating then we're at a place where Iggy Azalea, a white female rapper from Australia, recently made her debut on the top two slots on the Billboard Hot 100. Her song "Fancy" illustrates hip-hop's melting pot as she belts, "Rooftop like we're bringing '88 back," calling back to the days of Straight Outta Compton in a hybrid Australian, Southern drawl.
"It's always cool when somebody knows their history," Cube says of Azalea. "If you pay homage to your history, good things usually happen for you because your music has a perspective." Even if the music video for "Fancy" is equally a nod to the Valley girl classic, Clueless, Cube says that's how longevity works. "The thing about hip hop is that it's always evolving, so it's always trying to find its fresh center," he says. "I think hip hop is going to sooner or later leave the escapism kind of flavor that it's on–you know, talking about escaping your reality with drugs to cars to clubs to jewelry to money. At some point, people are gonna realize that don't work and start putting street knowledge into music."
He plans on bringing street knowledge back in his new album, Everythang's Corrupt, about politicians, kids taking psychiatric medication, and even speculating how people would feel if he died. "It's a record that's in the street-knowledge-style that I've kind of coined myself," he says. "I'm definitely spitting provocative rhymes."