Everyone wants you to open their app while you're watching television. Startups like Samba, Shazam, and TVtag (formerly GetGlue) all offer apps that add context to any station's programming. ABC, NBC, and CBS have apps for viewing and learning about shows on their specific networks. And even individual television shows like American Idol and events like the Super Bowl get their own apps.
So it's unsurprising that ABC's new reality contest show Rising Star, which will premiere on June 22, is launching an app this week. What is different this time around, however, is that the app isn't based on the television show. Rather, the television show is based on what happens in the app.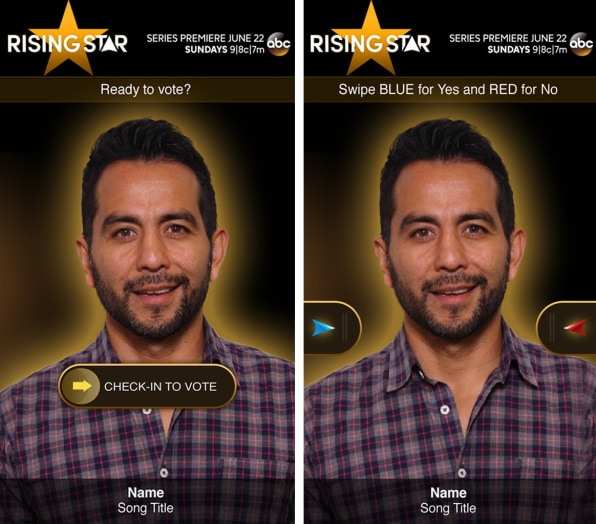 Like Fox's American Idol, Rising Star is a music competition with a charismatic host (Josh Groban) and celebrity judges (Brad Paisley, Kesha, and Ludacris). But contestants sing on a stage facing an LED-screen-covered wall, and though the judges give feedback, their votes don't have final say over their fate. Instead, during each performance, viewers at home vote yes or no with a Tinder-like swipe in the app. If 70% of voters vote yes, then the wall fills with the faces of the performer's supporters and lifts to reveal a live audience. If not, the performer goes home. It's like a live, massive multiplayer gong show.
It's also a bold experiment in integrating mobile platforms with television.
"It's not just part of the show," says Nicolle Yaron, Rising Star's executive producer, about the app. "It is the show. There's no way to do the show without the app. It is not a second-screen experience. It is the experience."
With the help of startups like Trenderr (which is now owned by Twitter), television shows have been displaying tweets and Facebook posts on air for years. American Idol enables voting in its app. But for the most part, television has expected the role of mobile to be a reaction to it: It's here the discussion takes place and where users can find more information to complement what they're watching, not a major part of the show.
Changing that could do something that many so-called "second screen" apps don't do, which is make using the app during the show more compelling than simply using Twitter.
Rising Star's producers hope it will also help make the show an anomaly in one of television's least-favorite trend stories. People are moving to different platforms to watch shows on their own time, instead of when the network airs them. To ask an audience to keep a date with their television sets, Yaron says, "it needs to feel like appointment television, and it needs to feel like award shows, like something you need to watch live and in real time." On Rising Star, "You're watching this person sing, and you're seeing in real time whether they're making it through our not, and so are they. It's literally like watching a penalty shot or a shot clock."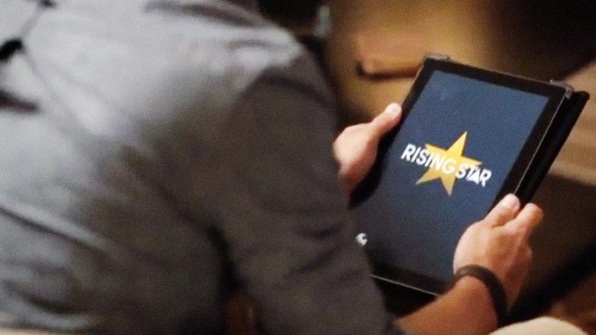 Creating this feeling of immediacy has necessitated producing the show like a live event. "There are pages and pages and pages of contingency plans," Yaron says. "We have a non-technological fail-safe in case the app goes down, we have contingency plans in case too many people go through, not enough people go through. We have contingency plans in case of power outages and if the wall doesn't go up. We have over mechanized [the wall] as well as put in a good-old-fashioned 18th-century rope pull. This is the kind of thing you have to think of."
But if Rising Star can pull it off, the logistical nightmare of creating a show in which the producers do not know what will happen could help create the kind of future that television networks would like very much.
Twitter, networks, and startups are all after the second-screen experience because more than half of mobile device owners say they use them while watching television, and whoever owns that real estate can monetize it.
The Rising Star app will direct users to the appropriate music store for their advice in order to download music from performing contestants. It will also serve ads, which, like Twitter's promoted tweets, can be coordinated with on-air commercials.
First, it needs to get them to tune in. Viewers have their choice of singing competitions already with American Idol and NBC's The Voice (where Yaron previously worked as an executive producer). The Rising Star app risks coming off as a gimmick slapped on an old concept. Or, says Yaron, it "could revolutionize live television … not to oversell it."