The global nature of soccer can make the experience of becoming a new fan overwhelming. There are thousands of teams in hundreds of leagues to keep track of. Then, of course, there are the players on each of those teams. Where do you even begin?
With World Cup fever infecting everything it touches–from Twitter to Google to the office bulletin board–it's best to be prepared. You don't want to sound like an idiot.
Luckily, a tool designed by soccer data expert Neil Charles will help you do just the opposite. "The lazy commentator's emergency World Cup info board" provides a team-by-team breakdown of all the nations and players participating in the World Cup. Sort players by age, caps (that's soccer-speak for international appearances), or goals, before perusing a direct, embedded copy of their Wikipedia page.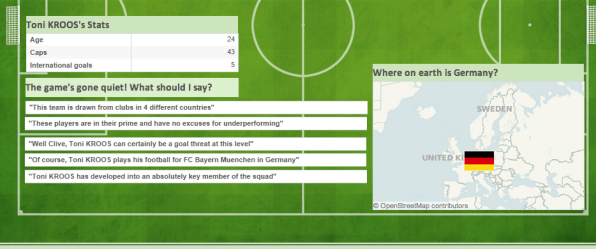 If that's not enough, Charles takes it one step further: after selecting a player, the tool spits out a handful of suggested terms tailored to fit the individual's basic stats and information. Clicking on the 19-year-old U.S. prospect Julian Green, for example, suggests the user says that "Green will be looking to the more experienced members of the squad for guidance." Indeed, he will.