The first thing to know about the Environmental Protection Agency's important proposed power plant emissions rules is this: they're not the same for everyone. The EPA's expectations of states vary depending on their existing energy combinations, the age of coal "fleets" (which are a target for phasing out), and political considerations.
While the Obama administration wants a 30% nationwide CO2 emissions cut by 2030, that looks very different depending on the state. Washington will have to cut its emissions by 72%, and, by 2030, will be allowed to emit only 215 pounds of CO2 per MWh generated. North Dakota will have to cut emissions by just 11%, and can emit 1,783 pounds of CO2 per MWh generated in the state.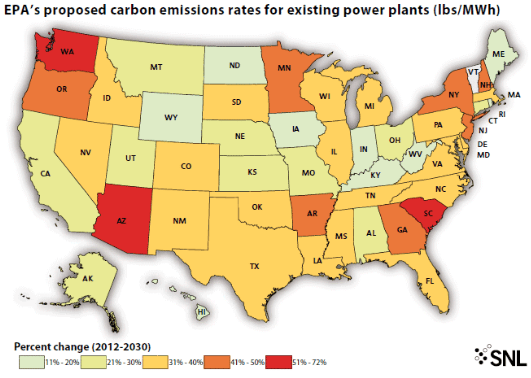 "It doesn't treat the states equally, it grades on a curve. But it seems to be calculated to nudge each of the regions along on a trajectory that they're on already on," says Steve Piper, an associate director at SNL Financial, which put together the map below. "It suggests a political consideration that there'll be less resistance if the states are encouraged to take the steps they've already taken."
With Piper's help, we picked out five states to show the differences.
California, which is expected to cut its emissions 23% by 2030, already has an aggressive renewables target. Last year, it introduced a mandate for a 33% clean power by 2020. The interesting in the EPA regulations is how nearby states might follow. "The the rest of the west is somewhat expected to apply a similar trajectory to renewables–not necessarily 33%, but it's EPA judgement that the capability is there," says Piper. "The rest of the west is being pulled along by California, in having more renewables potentially by this regulation."
Arizona is one of those states. It is expected to cut emissions by 52%–the second highest level of any state. The state's Department of Environmental Quality is now considering legal action over the target.
Texas also has a big target: 39% by 2030. "Texas built a substantial amount of new coal from 2000-2010, putting it in a position to need a high percentage of reductions against its baseline," Piper says.
But the state has a lot of wind power and has already built substantial transmission to make the most of it. "They are being pushed to move from their legacy or lignite plants with this rule," Piper explains.
The regulations go easy on "coal central" states like Kentucky (18% cut) and West Virginia (20% cut). "There's a bit of a light hand on those states. They are being asked to improve their emissions rate but they're allowed to keep their total emissions relatively flat," Piper says. "That gives them some flexibility in deferring retirement of these assets and impacting these economies."
Dave Hawkins, at the Natural Resources Defense Council, doesn't think Michigan will find it hard to meet the rule. The state starts with an emissions rate of 1,814 pounds of CO2 per MWh and gets to 1,161 pounds (a cut of 32%) through coal plant efficiency, more use of gas power stations, renewables, and energy efficiency.
"Of the four building blocks used by EPA to set state targets, Michigan is already doing better on two of them–energy efficiency and renewables," Hawkins says. "The remaining two–coal plant efficiency improvements and increased operation of existing natural gas plants–are straightforward, low-cost measures
New Hampshire has a target of 46% by 2030. But it may not be too hard to achieve. New Hampshire Public Radio's Sam Evans-Brown takes a look here. "These formulas mean that while the EPA is expecting big cuts from New Hampshire, a lot of those cuts have already been accomplished," he says. The state is already part of the Regional Greenhouse Gas Initiative which caps nine states' carbon emissions 32% by 2020.
Are the rules fair if they're so different state to state? Maybe not. But it makes sense to tailor plans by state and align with what they're doing already. In many cases, the rules don't look too onerous.
If states refuse to submit a plan for meeting the rules, the EPA can step in and regulate the state directly. On the other hand, the targets are only aspirational, and the states have plenty of flexibility in how they comply.
The EPA is likely to make substantial changes before enforcing the rules next year. There are sure to be legal challenges from states and companies, and attempts to kill the rules in Congress.
Longer term, there's uncertainty over the exact level of energy demand, which affects the calculations underlying the rules, and the effect of efficiency measures, which could be significant if carried out widely.
"The impact of energy efficiency is a bit of a wild card in the ruling," Piper says. "To what degree states and then franchise utilities embrace that and go further on it? There's not too much more they can do in the west, but in the east, a number of states could make progress."