You're familiar with Facebook, and you're familiar with the fact that Facebook has advertising, but have you given much thought to how, exactly, it gets there? Mark D'Arcy has, but then again, as Facebook's chief creative officer, that's his job. D'Arcy and his team are a driving force behind some of the most successful campaigns on Facebook, and next week, when meeting with clients at the Cannes Lions festival, the premier international ad awards show and conference, D'Arcy will be applying Facebook's hacker mentality to several spur-of-the-moment campaigns.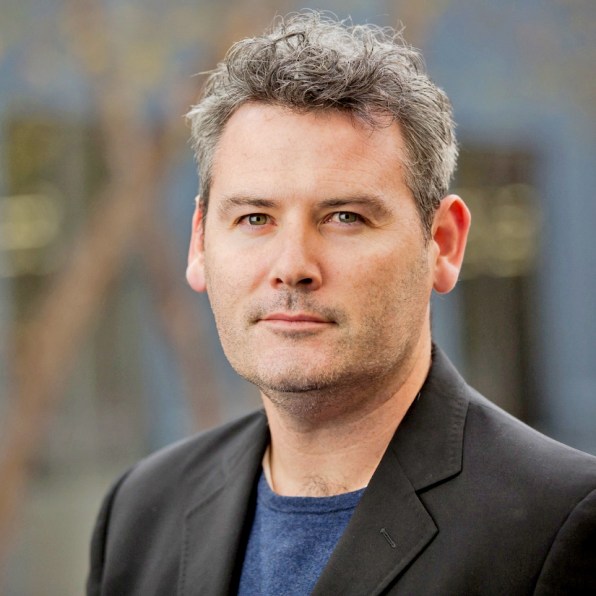 How is advertising on Facebook different from advertising elsewhere–so much so that a chief creative officer and a large team is needed to shape it? Consider a couple of recent campaigns that D'Arcy's team was involved in.
You may be among the millions of people who were made to think about a beer brand, Newcastle, around Super Bowl time this year. A number of key people had something to do with that–including Anna Kendrick, one of Fast Company's Most Creative People in Business and ad agency Droga5. But assuming you were exposed to any part of the campaign on Facebook, D'Arcy had hand in it, too.
The "If We Made It" campaign–playing on the gag that Newcastle couldn't afford an actual Super Bowl spot–launched on Facebook, featuring videos with Kendrick and other celebrities, as well as cheeky videos that imagined how Newcastle would have made epic spots for other industries (like this faux "Mega Huge" ad lampooning a Doritos spot).
On Facebook alone, the campaign garnered 56 million impressions, over a million video views, as well as 69,000 Likes, 16,000 shares, and 8,000 comments.
Newcastle brand director Quinn Kilbury confirms that it was consulting with Facebook's creative team that led to a campaign so successful that, he says, the spike in consumers' good will towards the brand is still measurable today. "We've got a smart, strategic, funny agency," he says of Droga5, "but in order to make sure we're getting all that wit and humor and insight to the consumer, there are just some best practices in terms of breakthrough and shareability." When to run a video ad, and at what length; when to run a banner ad; how to deploy all these in such a way that people and publications start reposting organically; how to maximize all of that in such a way to wind up in the Facebook homepage's coveted "trending" box (which Newcastle pulled off two days in a row)–all of these insights were gleaned by collaborating with D'Arcy's team.
In another campaign, D'Arcy's team joined forces with Colenso BBDO/AIM Proximity to maximize the effect on Facebook of an ad campaign designed to boost Amnesty International's presence in New Zealand and the Asia-Pacific region. What they came up was inventive, if a bit creepy: a "Trial by Timeline" application that would scour a user's Facebook Timeline, looking at your age, nationality, relationship status, and political views. Then the application "sentenced" the user to a (virtual) punishment, calling attention to the fact that in some parts of the world, you can be beaten or stoned just for drinking alcohol or fraternizing with the opposite sex.
The goals of the campaign were ambitious to begin with: to reach a million people on Facebook and to double the Amnesty International New Zealand Facebook community. The campaign ended up reaching 9 million people, or twice the entire population of New Zealand. And the Facebook group more than quintupled, from 3,720 to 20,000.
Other recent campaigns have leveraged specifics of Facebook's platform, be it on desktop or mobile. One recent Norwegian campaign that connected those interested in buying Toyota Hybrids with actual owners willing to loan out their cars for a test-drive. Fully a third of Norwegians are said to remember the campaign. And when Ford EcoSport sought to sell 500 EcoSport cars exclusively through Facebook, D'Arcy et al. were there to help the London agency Blue Hive engage what they determined to be "an influential audience of tech-loving early adopters on Facebook." Knowing such early adopters particularly love mobile tech, they made sure the campaign media maximized swipe and pinch-zoom capabilities. The 500 cars swiftly sold out, and generated 2,000 requests from users to keep them informed about the car.
In short, it's D'Arcy's job to liaise with clients–often advertisers–and to help them think of Facebook as a new type of digital canvas for their ads. And if the canvas is different, so should be the techniques used on it–which is one reason why D'Arcy's team has begun running what they call "spark sessions" with clients. "Spark sessions" take up the Facebook credo of moving fast, and often are geared towards putting together a solution quickly, rather than endlessly worrying over the various permutations an idea could take.
"We take this basic principle of Facebook, which has an engineering-dominant culture, and say that we're better off building, experimenting, and learning, than endlessly talking about theory," says D'Arcy, who will be conducting a flurry of spark sessions next week with as many as 100 clients at Cannes Lions. In some cases, if lightning really strikes, the Cannes meetings may result in campaigns going live immediately.
"A lot of it is about educating people how the platform works," says D'Arcy of his gig. "Really, it's about doing, rather than the theory of it."