Business trips can be such lonely adventures. Away from family and friends, after the meetings die down, what's left is often a solo jog, drink, or meal.
As it plans the future of its premium hotels to connect with a more mobile, younger workforce, Marriott has enlisted the help of MIT researchers and students to rethink what's usually a hotel's most memorable feature: its lobby.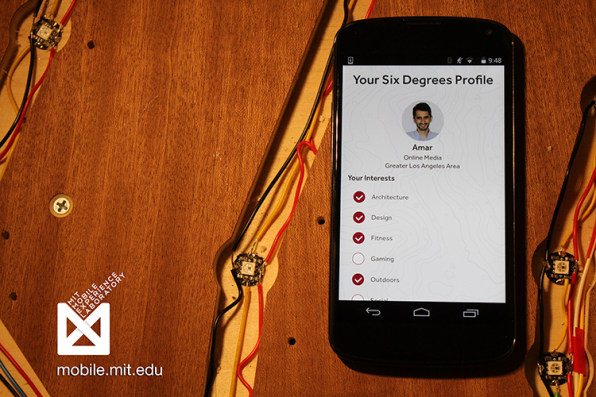 The result of the work, inspired by a the Spring 2013 undergraduate class and completed by MIT's Mobile Experience Lab, is a social app called Six Degrees, and a series of physical lobby features that go with it, including a large interactive digital screen and a LED table that interacts with the people sitting down at it.
For Marriott Hotels, the goal was to improve the guest experience at its 500 locations around the world by getting more strangers at the hotel interacting in real time, since few apps facilitate that today (well, assuming most business travelers don't use Tinder).
"A lot of times when you're on the road, all of the sudden you find out it's a very small world. You'll sit across the bar from someone and find out they went to your school or were in the same fraternity," says Paul Cahill, Marriott's senior vice president of brand management. "The idea is, how do we bring social media into this public space and make it easier?"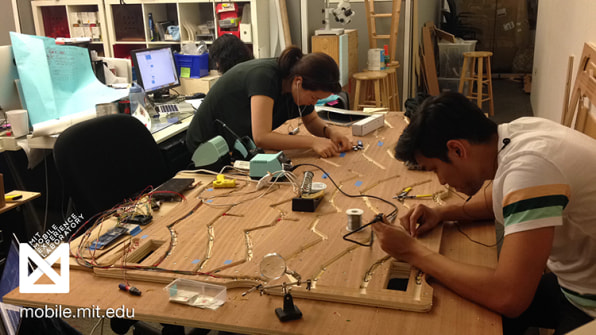 To use Six Degrees, a visiting hotel guest downloads an app and connects it to their LinkedIn network. By learning about each users background and professional and personal interests, Six Degrees can match up strangers at the hotel. Two people who are both Cornell alum, or work for Google, or like rock climbing, might be sent notifications about each other, so they can meet up during their Marriott stay.
The app also reports the same info to the hotel staff, who might organize a group jog, whiskey tasting, or industry networking event based around the particular mix of guests that week. A display in the lobby would encourage these connections by showing events and successful matches on the screen. To Cahill, the coolest feature is the interactive table, which seems more for fun than truly practical. When guests place their phone on it, LEDs light up based on their connections to other people seated at it.
The students and researchers at the MIT Mobile Experience Lab came from a mix of backgrounds, from mechanical engineering to psychology. It's a non-traditional collaboration for Marriott, which has also worked with students at the Rhode Island School of Design on a separate project. In the past, Marriott might have collaborated with a hospitality school but now is looking to solicit innovation input directly from its target audience: young, tech-savvy, future business travelers.
Privacy was a concern when designing the app. An early prototype connected with Facebook, but testers at the Marriott hotel across from the MIT campus in Cambridge gave feedback that this felt just a little too personal, so they went with LinkedIn instead. Six Degrees does not share people's photos or last names with random strangers. "We wanted to mimic behaviors people are comfortable with," says Cahill. "We certainly don't want people's pictures popping up everywhere, and being stalked around the hotel."
At a two-day event in mid-June, Marriott will expand the testing the MIT students have already done at the Marriott location just across from campus. The app will continue to be tweaked, and if all goes well, eventually enter proof-of-concept testing at about 12 hotels in different markets, from there scaling to more hotels and eventually all 500.
It comes during a time of intense focus on innovation from Marriott, which is working to rethink how it interacts with the next generation of travelers. It ran 350 proof-of-concept scale experiments last year alone. Through its Travel Brilliantly program, it is crowdsourcing ideas and testing the most popular, such as a Healthy Vending Machine. It is rethinking all kinds of hotel designs, such as having ways to stream your own content on room TVs and redesigning closets and dressers, since few people actually unpack.
"The industry as a whole has suffered from a lack of innovation. You have new styles of hotels, and new features…but no one has been able to scale innovation. No one has been able to get it out to the masses," says Cahill. "We want to start with mobile–the idea of helping people travel better is all around the mobile device. Consumers today, and definitely tomorrow, are almost lost without their mobile device."