The age of hiring with generic job boards is over, and it's about time you realign your hiring strategy.
According to the U.S. Bureau of Labor and Statistics, millennials will make up half of the workforce by 2018, so it's more important than ever to consider how the class of 2014 will carry out their hunt for the ideal job.
When employee success platform Achievers and student guidance platform ConnectEDU surveyed more than 15,000 graduating college students, things like career advancement, salary, and training or mentorship topped the list of priorities when deciding where to work.
According to their findings, 72% of this year's job seekers feel optimistic about their job prospects, meaning they will be more selective than ever about accepting offers. And interestingly, while salary was a top priority in considering a job, 58% of respondents said they would accept a 15% pay cut to work for a company with great values and culture, leadership, and communication.
Even though you may feel your company can satisfy much of what potential hires are looking for, how graduates conduct their job search will affect whether or not you show up on their radar.
Overwhelmingly, the class of 2014 is confident in what they are looking for.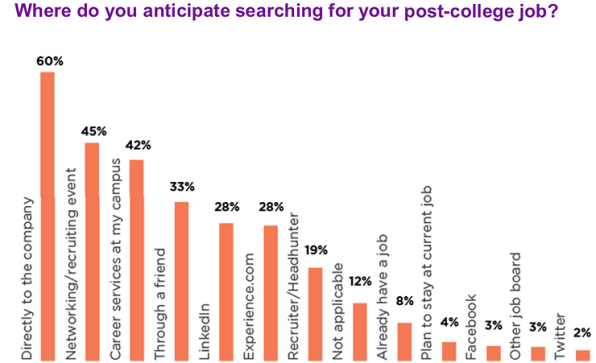 With company review sites like glassdoor.com and salary.com, brand presence on social media sites like Facebook and Twitter, and LinkedIn company pages, there is an inordinate amount of information available to savvy job seekers looking for their ideal company. With this data at their disposal, it's so easy for potential hires to head straight to the source and apply directly through a company's career page.
This is why it's so important to have a strong employer brand: if job seekers don't know who you are, they're not going to come looking for you. And if they have heard about you, and not in the good way, then consider this an opportunity to address the negativity and build a better social reputation.
Sure, millenials have a reputation for having grown up in a hyperconnective era, but the value of making personal connections isn't lost on the class of 2014.
Networking events, campus career services, and friends' connections fill the No. 2, 3, and 4 slots on how millenials plan to find jobs.
Companies like Google and Facebook use this preference to their advantage and host hackathons at some of the top universities, a genius means for recruiting the cream of the coding crop.
Targeting the ideal universities for the kind of recruits they need and building a presence on campus is key for companies looking for the top recruits. By sponsoring networking events, participating in career days, and integrating into the things that are already happening on campus, companies can use personal connections to take their pick.
In the generic job boards heyday, Monster.com's stock peaked in 2011; it has steadily declined since then. At the same time, LinkedIn has seen a steady incline, as the site has grown to offer more than simply job postings and a place to keep your resume. Not surprisingly, then, 28% of students said they would look for their post-college job on LinkedIn.
According to LinkedIn's Director of Product Management Christina Allen, millenials aren't just searching for jobs through conventional means.
Today there are more than 39 million students and recent grads and 24,000 universities using the site. Students and graduates can use the Alumni tool under their University Page to see where fellow graduates live, the organizations they work for, and the types of jobs they pursue. Grads can also explore fellow alumni's careers based on what they studied, their top skills, and how they are connected on LinkedIn.
"The future of career services is networking," Allen says. "It makes it a lot less scary when you leave school to have that support network."