When I'm getting set up inside the virtual reality rig, the first thing the staff asks is if I'm a veteran who served in a battle zone. My eyes are covered by a headset that gives a 360-degree re-creation of a foreign road littered with IEDs. I'm sitting in a Humvee with a virtual fellow-soldier. My hands are wrapped around a standard-issue video game controller. My feet, meanwhile, lay on top of a haptic plate that can generate all sorts of physical sensations.
About 30 seconds into my routine ride-through, I'm nearly knocked off my feet. David Kwok, a project manager at the University of Southern California's Institute for Creative Technology (ICT), just generated a virtual IED explosion. I'm disoriented, and swivel my head to see my virtual comrade blown to bits. I feel lingering feedback going up my legs as the virtual jeep shudders to a halt. Kwok then explains that I didn't test the full version of the software–a virtual reality exposure therapy system for veterans with PTSD that includes a smell kit which replicates the scent of burning plastic, diesel fuel, and even body odor.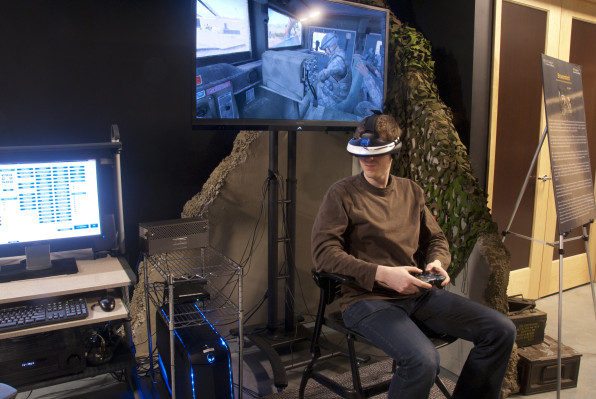 I'm testing Bravemind, an immersive virtual reality exposure therapy session for returning veterans with PTSD. It's all part of an attempt to treat military patients using a technique called "exposure therapy," which conventionally consists of therapists talking their patients through guided encounters with environments like crowded marketplaces, automobiles, and indoor spaces where their initial trauma took place. The VA commonly uses the technique, which is also frequently used for patients whose PTSD does not come from wartime experiences. But the ICT–and its partners in the American military and a Canadian veterans' support group called True Patriot Love–want to see if virtually reliving the worst of war can be beneficial for veterans.
Tests are underway to see if these virtual reality techniques can be used in a variety of settings. ICT is working on virtual reality scenarios for soldiers injured by IED blasts, for combat medics with PTSD, and even soldiers with post-traumatic stress stemming from sexual assault.
As Kwok explains, a big piece of USC's virtual reality therapy system is creating a world that's real, but not too real. If the scenarios are too detailed, patients can't fill in the blanks with the parts of their experience they need assistance with.
The Los Angeles Times recently told the story of Sgt. Jonathan Warren, an Iraq veteran with PTSD from a roadside attack where an IED severely burned a comrade in the seat next to him. Warren participated in a virtual reality exposure therapy test at the VA Hospital in Long Beach, California, one of approximately 60 sites in North America offering trials of the new system.
Therapists are trained by Rizzo and other certified clinical experts in how to use the virtual systems, which, in their latest iterations, allow operators to change the weather, add vehicles, add passersby in the street, and change minute aspects of the patient's virtual experience with the video game engine Unity. Using an earlier version of Bravemind, mental health professionals at the VA Hospital walked Warren through 40-minute therapy sessions where, visibly sensitive, he recounts feeling his humvee exploding and helplessly watching his best friend being consumed by flames. In the tests, Bravemind is designed as an additional tool for therapists to use rather than as a centerpiece for treatment.
Albert "Skip" Rizzo, ICT's director of medical virtual reality, tells Co.Exist that a big part of Bravemind's future applications is giving therapists new options.
"This might not work for everybody, but works for some it works very well. The goal for PTSD treatment is to have a range of options. It certainly isn't one size fits all."
Rizzo added that, "This is exposure therapy, and we follow principles of exposure therapy lockstep. But for people who grew up around computer games and are more comfortable with this stuff, it's evocative, helps recall emotion, and helps unlock difficult emotional memories."
The ICT, best known as the virtual reality-loving lab that led to the creation of the Oculus Rift, is a strange facility. Research focuses on creating both immersive virtual environments and building physical and software tools to support the infrastructure of virtual worlds. ICT's projects are a mixture of collaboration with Hollywood and the U.S. military, and they are rumored to be a reliable feeder of talent to gaming giants like Ubisoft and entertainment megacorporations such as Disney.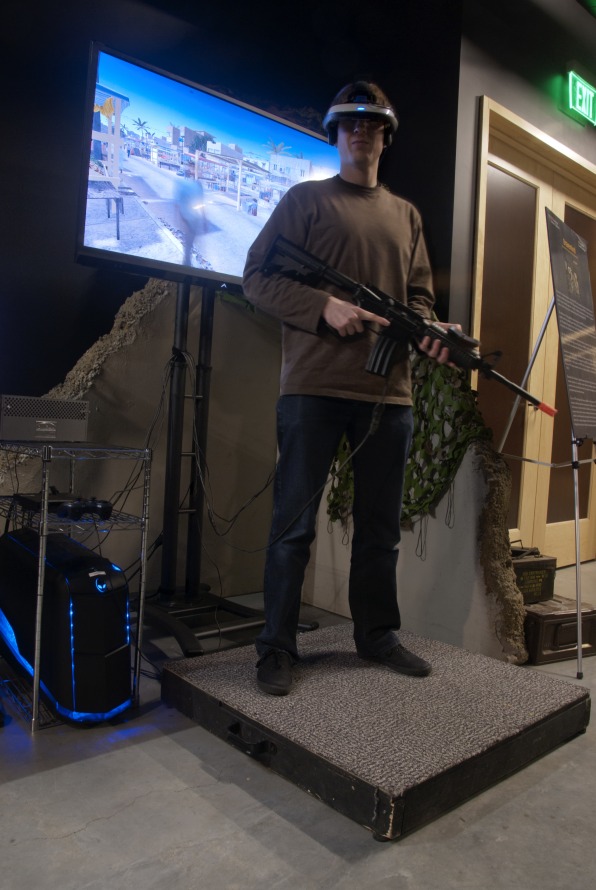 On the night I stopped by, they were hosting a sort of demo night for potential partners alongside a Harvard Business Review-branded talk by Christian Madsbjerg of Danish consulting firm ReD, Gardiner Morse of HBR, and ICT head (and Army veteran) Randall Hill. Their conversation centered around the importance of storytelling and technology to both the military and commercial sectors.
As it turns out, the Pentagon loves virtual reality and video game engines just as much as Hollywood. It's not just that most new troops grew up on video games, and Xbox-like experiences are a great way to get their attention. Virtual environments are now advanced enough to serve as top-notch training tools, and they offer something especially important to sprawling organizations like the Defense Department: standardization. Virtual environments mean that there's less risk of a bad instructor. They can also guarantee that troops get a better learning experience.
Other military-oriented projects underway at ICT largely center on training; they include virtual reality environments that teach troops to identify IEDs, teach leadership skills by using video game techniques to identify room for improvement in a teacher or project leader's behavior, and train therapists on how to interact with military patients.
The latest challenge Rizzo and his colleagues face, he says, is "Canadianizing" their platform. Tests of Bravemind among Canadian veterans with PTSD are beginning in the coming months, which means an extensive video game development-like process for the team at ICT. Every element in the virtual world needs to be pored over to be adapted to the Canadian armed services experience. The team needs to build virtual replicas of the Canadian army's vehicles, which are different from American ones; they also need to design virtual Canadian uniforms and create a seamless experience for Canadian patients with PTSD. It's a series of small changes that take a long time to implement.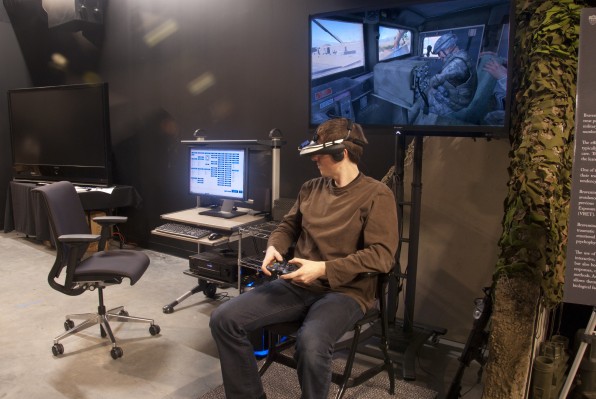 But from here, the plan is to build and expand on the existing Bravemind platform to help more veterans–and active-duty troops–with their mental health. Rizzo says one of the long-term goals is to use virtual reality to teach troops emotional resiliency and coping skills.
"We take everything we built, and we look at it sort of like the backlot of Universal Studios," he told me. "We put users in as part of a squad on a mission. People die, women are beaten, your inspirational leader dies. You spend episodes dealing with the grieving process. It's not a fun-and-games simulation, it is giving people a taste of what could happen and giving ways to handle stress."
For my part, I spent just under 15 minutes testing Bravemind. I'm not a military veteran, and don't have any PTSD from military service. My experience was as a bystander wandering through a virtual world that did not have particular emotional resonance. Nonetheless, I could see what Rizzo and his team were getting at with Bravemind. For a veteran who has gone through traumatic events, having a trusted listener on hand to guide you through dark moments as you relive them can be amazingly helpful. And using virtual reality to recreate those moments can be even more helpful.