"I don't hesitate to call it stupid bullshit because we all know it's stupid bullshit. We know it and you know it. We also know that you are probably dumb enough, or bored enough, or both, to click on the stupid bullshit anyway, and that you will continue to do so as long as we keep putting it in front of your big, idiot faces."
The excerpt above is from an op-ed titled "Let Me Explain Why Miley Cyrus Was Our Top Story This Morning," which was "written" (read: not really) by Meredith Artley, Managing Editor of CNN.com. The fake article was widely shared–over 400,000 people clicked the "like" button–and its success speaks to a simmering frustration with the current state of online media and, more instructively, the clickbait economy. Which, in grand Onion fashion, the digital publication managed to skewer while providing sharp, incisive social commentary into the way we Internet.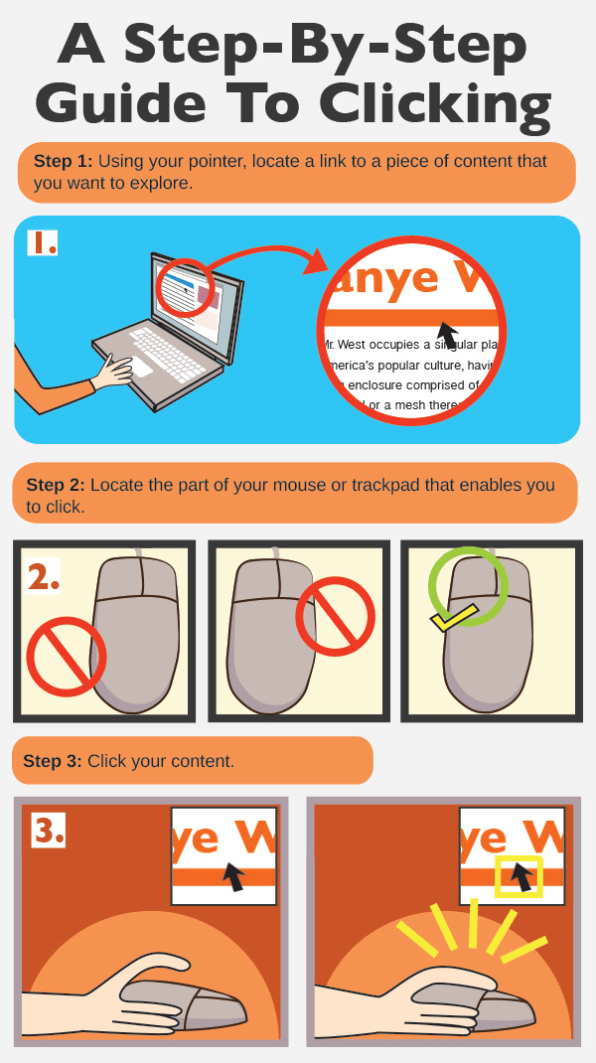 It also perfectly captures the mission of the Onion's brand-new site, Clickhole, launching June 12. When it was first announced, ClickHole was positioned as a BuzzFeed/Upworthy parody, a platform for listicles, GIFs, breathless headlines, and other best practices for staking out fertile, Chartbeat-friendly territory on your Facebook news feed.
Now the idea has shifted. ClickHole isn't just targeting BuzzFeed and Upworthy, per se. According to the site's editors, ClickHole is actually casting a much wider net at all online media, CNN.com included.
"This is happening on news websites," says ClickHole editor Jermaine Affonso during a phone conversation. "It's just not these little sites anymore. It's so pervasive, it's everywhere."
Clickbait is a hot topic in media circles these days, most recently rearing its clickably adorable head when Facebook product manager Mike Hudack posted a scathing rant on the current state of online news. The funny thing about that post, which many folks have kindly pointed out, was that Hudack appeared not to consider that Facebook's pageview-generating news feed is central to the problem. The social network's viral voodoo is built into BuzzFeed and Upworthy's curatorial DNA.
Like many of us that live and work online, when I first heard about ClickHole, I was excited by the potential. But when I read these headlines teased out to the press, that feeling morphed into a deep skepticism about its sustainability:
"Quiz: Which pizza should I have tonight? (presented by Pizza Hut)"

"Seven pricks that defied the odds and didn't go into finance"

"What this adorable little girl says will melt your heart." (It's actually a cogent explanation of how brands monetize adorable little kids, as spoken by an adorable little kid.)"
None of those exactly scream yellow LOL button material. But maybe that's the point. After all, since the Onion was launched as a print paper in 1988 by two University of Wisconsin-Madison juniors, the paper has occupied rarefied air in the comedy news world, sharing it with names like Stewart and Colbert. Part of that is due to the publication's exceedingly high standards for publication. The New Republic's Noreen Malone once went so far to call the Onion the country's best op-ed page.
Hundreds of ideas are brought to the table every pitch meeting, as This American Life once documented in an episode called "Tough Room." But very, very few of those headlines get fleshed out into a published story. "We probably [generate] 1,500 headlines in a week," says managing editor Ben Berkley, "and whittle it down to about 50."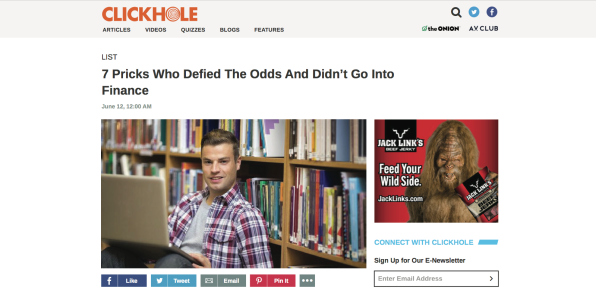 According to the site's editors, ClickHole will have similarly exacting standards. The publisher views the standalone "new media" parody as a natural progression, in the same vein as print (the Onion), digital (theonion.com), and cable news (Onion News Network).
"For us, ClickHole is just another mirror we can hold up to society," says Berkley. "There's a lot of this 'Internet content' that's just so vapid and reductive–that's counter-productive to the greater good … ClickHole is just a cool new medium for us to tell jokes through."
Whether those jokes live up to the Onion's lofty creative standards remains to be seen, of course. And it will take time for ClickHole to nail its voice. But the way the publication's masthead sees it, they don't really have much of a choice: In the exacting world of satire, it's sink or swim. "I'm sure any writer will tell you that the worst part of their day is sitting down and seeing a blank sheet of paper. That is the worst thing ever," says Affonso, who will be leading a team of three editors, four in-office writers, and 20-something outside contributors. "The best part ever is when that joke clicks in your head because it has to–you have to have something for the meeting. That is more rewarding than anything else in the world. Probably even including family."
It will be interesting to see what happens when readers get wise to the clickbait trap. Maybe Facebook's fickle algorithm decides to truly surface "high-quality content," as it has promised in the past. If the Internet were to ever reach a point where it stopped regurgitating dumb memes and insufferable headlines–as we should all hope it will–Clickhole will, with any luck, grow up alongside it. (Or at least as much as a parody website can.) "While the sites we parody may come and go, that anchor isn't going anywhere," adds Berkley. The hope is that ClickHole is something that can and will evolve.
So do ClickHole's editors consider clickbait to truly be the bane of the Internet? Are the BuzzFeeds and Viral Novas and Upworthys a necessary evil in the attention economy? Is clickbait rewiring our brains for the worse?
"These clickbait sites have the unique things they do, and they do these things quite well," says Berkley, choosing his words carefully. "On the other hand … maybe they're the worst thing that ever happened to humanity."