When it first launched in 2010, The Creators Project could have become simply a co-sponsored music and technology festival aimed at putting an edgy shine on Intel's millennial outreach. A good, if still pretty traditional entertainment-as-promotional vehicle initiative. It began as an event series spanning New York, London, Sao Paolo, Seoul and Beijing, featuring curated art, installations, screenings, and dozens of performances by musicians and artists from all over the world who utilized technology in their creative visions.
At the time, Intel's then-CMO Deborah Conrad said, "We're lucky to have a backstage pass to the most exciting uses of technology and the artists that inspire us by how they harness technology's power and potential to explore. Thankfully, Vice wanted to give everyone a front row seat to all of these incredible artists, and they had the guts and talent to do just that."
That a global mainstream brand like Intel would publicly team with Vice on content of any kind, given its rather controversial editorial history, was enough to raise eyebrows and expectations. But even the most optimistic observer couldn't have predicted the longevity of The Creators Project. Five years on, the site and video content hub has showcased the work of over 600 musicians, designers, artists, innovators and more–from Daft Punk and Michel Gondry to Ai Weiwei and Pharrell–and its channel has more than 380 million video views to date, with 450,000 dedicated YouTube subscribers. It's not only an editorial identity all its own at the crossroads of art and technology, and one of the most high-profile brands-as-publishers case studies. It's also become the foundation of Intel's overall strategy and philosophy around brand content.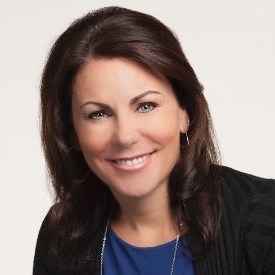 Over the last few years it's won a laundry list of ad industry, art and design awards and in May, Intel and Vice announced that they are expanding The Creators Project content reach to Italy, Japan, Mexico, the Netherlands, and Spain, having already this year launched in Australia and New Zealand, and increased its editorial and video content in France and the U.K.
Intel's director of media Rebecca Brown says the partnership with Vice set the pace for and contributes to the brand's expanding content strategy. Here are some of the things the company has learned in its five-year experiment in creativity-focused content.
What began as a more events-focused initiative, has become primarily a digital content publisher and production house. "It's evolved to be more about stories around artists and technology, which have performed very well," says Brown. "Vice has obviously evolved significantly since 2010, as have we, and one thing we've grown into through this partnership is the notion of brand as publisher. We have a brand site called iQ –launched in 2012–where we cover a lot of these Creators Project stories from Intel's point of view."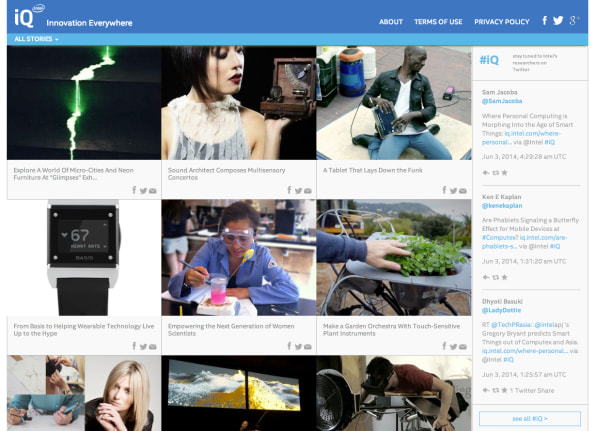 On iQ, stories that have been done for The Creators Project from an artistic POV are re-examined from a more technological angle, often with perspective from engineers and developers. This year Intel launched iQ in nine European countries.
Despite its success–The Creators Project content has also been used to create TV shows in China, Brazil, the U.K., and Australia–Brown says there is still the constant need to evaluate and measure the brand impact. "Whether it's The Creators Project or a co-marketing project with one of our other partners, we're always looking at the return we're getting on programs we invest in, says Brown. "This one has been a long one for us and we've seen a huge ROI on the content. As we focus on content that engages our audiences, particularly on social platforms like Facebook, YouTube, and our digital magazine iQ, we can attribute higher levels of social engagement to a higher brand affinity and brand perception."
Intel is developing a system to evaluate and compare performance from content on iQ, The Creators Project, its YouTube channel and elsewhere. "A seven-minute YouTube video is very different from a 30-second ad, but (the system) is there so we can compare those two, as well as compare how content performs whether it's created jointly or something directly made to drive demand for a certain tablet and whether it's making an emotional connection to our brand," say Brown.
With its new expansion, Vice Media general manager Hosi Simon says that The Creators Project is set to reach 85 million people every month. The hundreds of artists featured on the site are providing insights and inspiration on the confluence of art and technology, but also, in some cases, actively advising, testing, and collaborating with Intel on its products.
"When we look for designers or developers for feedback as we roll out new products, we'll tap into the Creators Project community," says Brown. "We also have something called Intel Labs, which has hundreds of employees up in Oregon and we coordinate with them because they're building things they'd like artists to try out. So we meet regularly to talk about what our artists are doing and talking about, and they figure out if there are any matches with what they're doing in the labs. It's a great partnership between Intel Labs and The Creators Project."
Another significant lesson provided by The Creators Project over the last few years has been the value of distribution. "We continue to learn and optimize, and we see a huge value in investing in content and it truly is how you create great content and the distribution plan you put in place for that content," says Brown. "It's one thing to produce great content, and another to have people find it. We've looked at ways to put it into our paid media plan, amplify it that way, and we've learned which ones work best that way, and we work on our media optimization daily."
In November the company re-organized its marketing team to bring together paid media, social, and all of Intel.com. Now all digital–paid, owned, and earned–is under one umbrella. One area within this structure is a group of 17 digital marketers and journalists called the Newsroom, which, says Brown, "is meant to run and is running in a real-time manner like any independent digital publication." Both iQ and The Creators Project live in the Newsroom.
"We're really investing in branded content," says Brown. "Our YouTube channel has some great stories. We're really working to tell stories from a more personal point of view. We've extended our storytelling beyond Creators Project while complementing it because our testing tells us that it's all fine and good to talk about technology, but it doesn't relate or move the needle on our brand unless it relates what it would mean to its users."