Apple's Worldwide Developers Conference kicks off on Monday, and if history is any indication there will be several executives in untucked shirts (and also software and possibly hardware updates). A year ago, CEO Tim Cook was promising investors "exciting new product categories" in 2014. And earlier this week iTunes chief Eddy Cue said the company has got "the best product pipeline that I've seen in my 25 years at Apple." With no major unveilings thus far, and since Apple's fiscal year ends in September, productivity in the United States is expected to drop considerably during the keynote presentation in anticipation of a new product unveiling. Then again, it's just as likely that we'll get nothing but software updates and have to wait until the fall for any consumer hardware news. There's only one way to find out.
We'll be covering the event live as it happens (it starts at 10 a.m. Pacific/1 p.m. Eastern), but until then, here's a roundup of some of the more popular rumors bubbling.
1. OS X 10.10
Details are mum as to what OS X 10.10 will look like, but with Jonathan Ive leading a design overhaul it will likely hew more closely to the look and feel of iOS than in the past. Will it be more interoperable with your iPhone and iPad? We can only hope so.
Apple dropped the "big cat" naming convention (Snow Leopard, Lion) for its Mavericks desktop operating system. Now, it may be moving into national parks: Apple reportedly snatched up trademarks for names like Yosemite, Mammoth, and Diablo.
2. iOS 8
The iOS 7 refresh was widely considered Jony Ives' big leap into software design. Skeuomorphism was out; simple, flat, and colorful gradients were in. But it's been reported that Ive spent relatively little time working on iOS 7, which means that iOS 8 will offer a more complete software design vision by Apple's knight in multi-colored armor. And while iOS 7 introduced features like Airdrop and a badly needed update to Safari, iOS 8 is expected to reveal a few new features (in addition to the usual design iterations) that should give us a rough roadmap of Apple's focuses for the future. Such as…
Healthbook: Think Passbook, but for personal health tracking. A 9to5 Mac leaked preview from March says that Healthbook (or whatever it's going to be called) will purportedly be a rich compendium for biometric data–things like steps taken, sleep, nutrition, hydration blood pressure, and more. Less clear is where that data will come from. If recent Apple hires are any indication, Healthbook could be tethered to the mythical unicorn that is the iWatch. Or earbuds with integrated sensors that read your mind. But our bet is that the health app will be fed by third-party hardware like the Jawbone Up and Fitbit.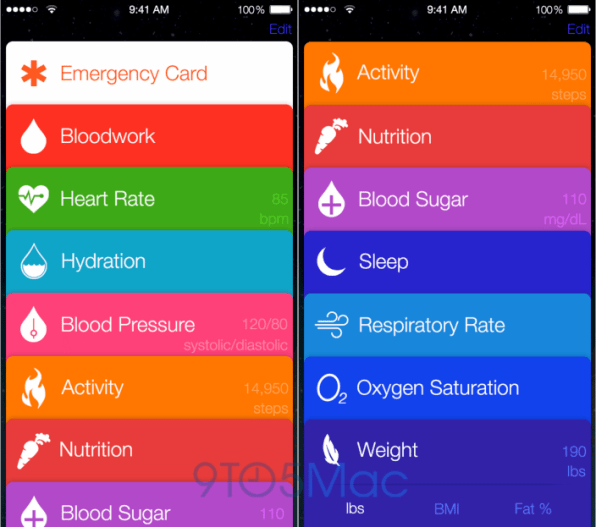 Siri: Just two things you need to know about, according to Bloomberg: 1. Twitter will reportedly be integrated into Siri for the first time; and 2. Song-recognition via Shazam will be possible, meaning you don't need to boot up a separate app. You can just ask Siri what song is playing, and she'll tell you.
A split-screen iPad: Two tablet apps at the same time? Not so fast. The new feature probably won't be making an appearance at WWDC. The New York Times's well-sourced Brian X. Chen tweeted this week that the new iOS 8 feature "isn't ready yet," and is "still a work in progress."
Apple Maps: For a long time, the biggest knock on Apple Maps was it failed to incorporate public-transit directions. That's rumored to finally be changing, at least according to what appear to be leaked screenshots.
3. A 12-inch MacBook Air with Retina display
In April, Apple slashed the prices of its new MacBook Air line across the board, which supposedly lends credence to the suggestion that the mythical 12-inch MacBook Air with Retina is on the way. If it's revealed at WWDC, the thing you'll want to keep an eye on is battery life. But few analysts or pundits think we will see hardware announcements of this sort during the keynote.
4. Apple TV
Sources told Re/code that, in what has become an annual tradition, a standalone television set–the Apple TV–won't be revealed. Time is a flat circle. But the existing Apple TV set-top box–which Tim Cook says is no longer just a hobby–could see a hardware update. Less clear is whether that will be accompanied by a software update, though this is a conference for software developers.
5. A "smart home" initiative
If revealed, this is a biggie. Google snagging Nest Labs for $3.2 billion seemingly kicked off a gold rush into the connected home, and rumors have swirled that Apple will soon reveal a suite of tight-knit products you can control with your iPhone, like lights and door locks. GigaOm tempered those expectations somewhat this week, when according to sources, the smart home program was said to have "a heavy focus on connecting devices easily via W-iFi and will likely offer voice control with Bluetooth." Third-party devices will get what's being labeled a "Made for iPhone" certification; think: The AirPlay compatible label you see attached to speaker systems.
Will Dr. Dre, now an Apple employee after the $3 billion acquisition of Beats Electronics, close the keynote with a track from his long-awaited "Detox" album? No, but he might show up on stage with Jimmy Iovine.