"Everybody wants a story to tell. They want a feeling. People want something that can be photographed, that could be Facebook friendly." So said Randal Stancik, the vice president of Willis Tower's Skydeck Chicago observatory when I spoke with him in 2010 about The Ledge, the four transparent glass balconies that protrude 103 stories above street level from the top of what was once the world's tallest building.
Wednesday night, a "Facebook moment" is exactly what 23-year-old Alejandro Garibay got when he stepped out on one of the 45-square-foot slabs of glass with his brother and his two cousins. "I had my palms on the floor and I could feel it cracking," he told the Chicago Tribune. "Honestly, I was in shock, in disbelief. I was scared." A photo he took soon afterward has gone viral. It shows a slab of glass resembling a car windshield after a major smash-up. (See that photo here.)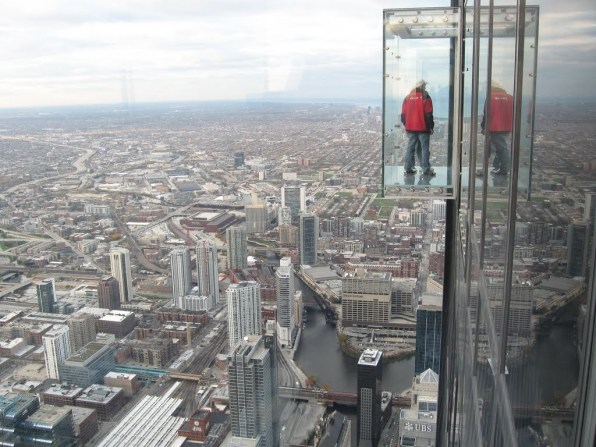 Of course, The Ledge is supposed to be scary. That's its whole raison d'etre. When I visited four years ago after it first opened, the act of stepping onto a seamlessly transparent surface floating above the city turned my knees to Jell-O. As I edged outward, Stancik pointed to fingerprints on the metal portal that separates each Ledge from the rest of the Skydeck. "You can see where people are grabbing," he noted. Yes, and some of those prints were mine. Later, Tribune architecture critic Blair Kamin suggested to me that to step out onto the glass was "to dance with the possibility of structural failure."
Garibay and his kin did that dance Wednesday night. But what really happened?
Various spokesmen for the Willis Tower spent the day Thursday downplaying the significance of the seismic cracks shown in Garibay's photo. A statement issued by the PR firm FleishmanHillard on behalf of the Willis Tower stated:
The Ledge was designed with a protective coating that completely covers all glass surfaces to protect against scratches. This coating does not affect the structural integrity of The Ledge in any way. Occasionally, the coating will crack, as it is designed to in order to protect the surface of the glass.
What the statement fails to mention is that the "coating" is also made of glass. As it was put to me by the attraction's principal engineer Terry McDonnell, then of Halcrow Yolles, the layers of glass can support upwards of 10,000 pounds. "You could park a car on the thing," he boasted. But, unlike the Grand Canyon Skywalk, which protects its crystalline deck by requiring visitors to don disposable scuffies over their shoes, The Ledge has what McDonnell termed "a sacrificial piece of quarter inch glass," designed to be replaced when it gets too dinged up.
As the statement from FleishmanHillard appears to indicate, what happened during Garibay's night out has happened before. Even so, while the tower's flacks insist that the Garibay clan was never in danger of freefall, what you least want to see when you're some 1,300 feet above Wacker Drive is cracks beneath your feet. After all, it's the rare tourist who can distinguish between sacrificial and structural glass.
If you were savvy enough to make that call, you might also know enough about engineering to still be wary. The main thing that most people know about glass is true: it breaks. Glass is now perhaps the most commonly used urban building material–it's certainly the most visible–and its failures can be alarming. High-rise towers such as the Goldman Sachs and Bank of America headquarters in Manhattan, for instance, have been known to drop whole windows, or fragments, from great heights. According to Dr. Andrew Dent, a scientist at the research and consulting firm Material ConneXion, glass is "unpredictable," susceptible to "catastrophic failure."
Michael Ra, a Hong Kong based partner at Front, a firm known for fabricating innovative building envelopes (OMA's CCTV tower, for example) pretty much concurs: "Because glass can be damaged and failure is instantaneous," he says.
Therefore, he explains, "redundancy is required." Ra, who helped develop the glass stairway for the Apple stores, explains that structural glass is always laminated into layers: "You double or triple the safety factor by laminating. You design each layer to withstand the design load."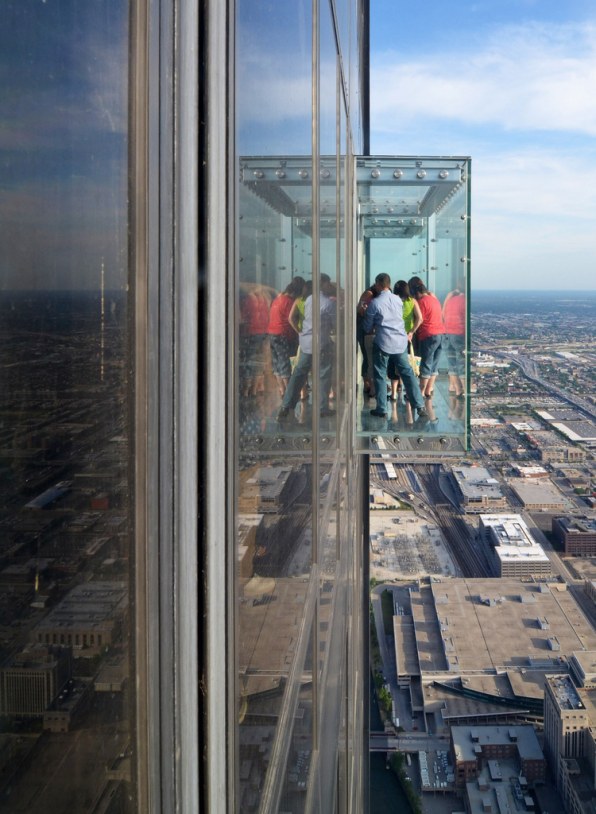 That's precisely how The Ledge is built, three half-inch structural layers laminated together, plus that sacrificial coating. When I asked Dent yesterday whether, knowing all that he knows about the strengths and weaknesses of glass, he'd venture out on The Ledge, he didn't hesitate: "It's over engineered. It has to be. I would feel safe."
When last I checked, FleishmanHillard was busy staging a photo op so the media could "view first-hand the replacement of The Ledge's protective coating." Very reassuring. But the person I really wanted comfort from was architect Ross Wimer who designed the attraction when he worked at the Chicago office of Skidmore Owings and Merrill. When I called to get his take on Garibay's adventure, I discovered that he'd left the firm (he's now with AECOM). All I got for my effort was a spokesman's "no comment." But it seems worth noting that Wimer's view of The Ledge was different from pretty much everyone else's. He never bought into the scary part. He regarded his Ledge–hordes of tourists notwithstanding–as a peaceful, meditative place: "When the clouds come in," Wimer once told me, "you feel like you're just floating."