The aesthetic qualities of sports are unparalleled–rippling bodies in motion, adorned in colorful uniforms created with the intention to create a sense of cohesive visual identity, and locked in competition with others of relatively equal skill. So why is it that, when it comes time to commemorate the greatest moments from sporting events, we're too often stuck with a poorly Photoshopped poster of an athlete kicking/dunking/throwing/hitting a ball with a grimace on his or her face, with none of the natural grace or beauty of the moment intact?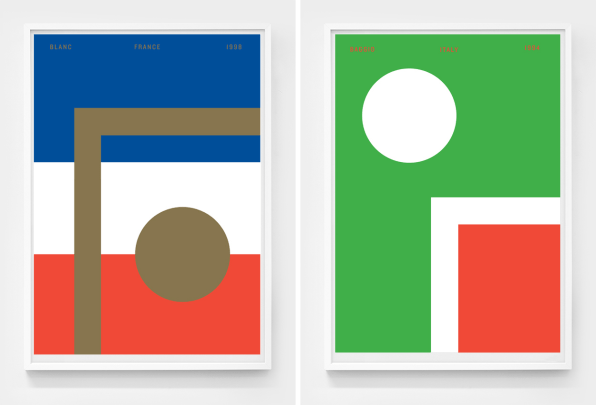 That's a question that apparently bothered Australian designer Nick Barclay so much that he decided to answer it with an alternative: His minimalist posters celebrating the best moments in the World Cup's recent history leave the constipated-looking star athletes behind in favor of subtly communicated visual messages that leave viewers who know the game with a winking awareness of what they're looking at. Laurent Blanc's 1998 "golden goal" for France, for instance, is celebrated with a blue, white, and red colorblocked background with the rectangular suggestion of a goal and the circular suggestion of a ball in gold–a much more elegant way to honor the first golden goal in Cup history, which helped elevate the team to an eventual win. At the top of the image, the simple words: "Blanc / France / 1998."
So it goes for the rest of the series (which are available as prints at Barclay's website), celebrating Jürgen Klinsmann's contributions to the 1990 West German team; Ronaldinho's 2002 push for Brazil; Argentina's Diego Maradona and his "Hand of God" goal that–perhaps illegitimately–took the 1986 World Cup from England; Roberto Baggio's 1994 miss for Italy against Brazil in the final; and even Geoff Hurst's controversial 1966 goal against West Germany that brought the Cup to England. With just a little color and a few lines, Barclay manages to create new iconography for an old game's history.