Harvard professor Larry Lessig's business pitch seems backwards, at first. It goes something like this: Invest in his super PAC, and get money out of politics. Donate enough money to render all the other money in politics meaningless.
So what's the return on an investment, that, by definition, wants to ruin big, private financial investments in politics? "A return to something like a representative democracy," is how Lessig puts it.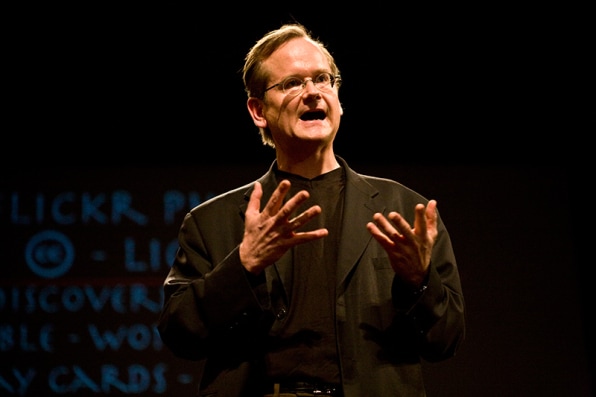 That business pitch is now a $1 million idea. After launching a formal super PAC on May 1, thousands of small dollar donations flooded MayDay PAC's servers, crashing them temporarily. It didn't matter. Lessig and the MayDay PAC raised $1 million in less than two weeks, well ahead of their June 1 crowdfunding deadline, and the first in a series of fundraising goals to spur a mass movement towards campaign finance reform in the 2014 midterm elections. Marshaling 20,000 donations between $5 and $5,000 (the average was less than $100), Lessig now has his sights set on the end of the next month for another goal: $5 million, plus another $5 million in donor money to match if the crowdfunding campaign's successful.
Armed with those dollars, Lessig's MayDay PAC will try to influence five midterm races, and, in doing so, try and test a last-ditch, clinical intervention for democracy. If MayDay PAC sways enough legislators into making campaign finance reform a priority in 2014, then in 2016, its funders hope to make the issue unavoidable.
A week after the $1 million mark, I asked Lessig how he felt. "Elated," he said. "Elated and under a lot of pressure, because the next step is getting the match and lining that up. The fact that we've succeeded means we have to take the next leap."
If all goes according to plan, those leaps will culminate in a "super PAC to end all super PACs." But Lessig, who admitted to being a little freaked out by MayDay's initial success, is still securing donors. He's also looking for a CEO.
It's no small ambition. But what does an intervention for democracy even look like? According to Lessig, it requires using the very tool that many blame for concentrating political influence in the hands of the few in the first place. By creating a super PAC that tries to undo its own genetic code, Lessig hopes to show politicians that enough people are fed up with billionaires shaping American politics. "I think this is the first super PAC that's received contributions from people who are complaining about the fact that they're out of work," he says.
In terms of spending, Lessig isn't trying to go head-to-head with, say, the Koch brothers, who, in 2012 alone, mobilized some $400 million in support for conservative candidates. Part of the campaign is symbolic; it's meant to demonstrate that campaign finance is indeed a viable platform on which to run.
"In 2016, number one, there will be fewer fights that we have to have, because people will get on the right side of this issue just out of fear," Lessig says. "And number two, we'll have a whole bunch of people more interested in investing, because they see a potential return here."
The way MayDay PAC sees it, both Republicans and Democrats are stymied by the influence of money in politics. It's a topic that's long been close to Lessig's heart. In 2011, the law and ethics professor, renowned for his contributions to the free culture movement, published a treatise on the issue, citing Supreme Court decisions like Citizens United as critical injuries to the democratic process. So what's the alternative? One could be contributions in the form of vouchers that every citizen could cash, up to $50, to diversify elected politicians' campaign finance portfolios, he says.
"[Vouchers] would radically change the business model of fundraising overnight," Lessig says. "You would not have candidates spending their time talking to the tiniest fraction of the 1%. They'd be thinking about the ways to attract a wide range of contributions from everybody who has a voucher."
A mass movement built on small donations might seem impossibly optimistic, but there's some evidence to support the idea that it could work. In 2012, Missouri candidate Claire McCaskill used the Koch-funded bullseye on her back as a selling point. While super PAC attack ads scoured her on TV, McCaskill was busy amassing an army of small donations to show that she didn't have to rely on the influence of big money in politics to get her elected. That summer, she broke a fundraising record. (Though later, her opponent Todd Akin's comments on "legitimate rape" surely helped bury his campaign.)
Only time will tell whether Lessig's message can also appeal to heartland voters, people in places where his Ivy League celebrity doesn't carry as much currency. But Lessig is hoping that the populist ideal of restoring voting power to the little guy shines through. Even the big-dollar matchers, he contends, are working toward that end.
"[The people who match] are people who are making a strong commitment to us. And what's ironic but important to remember is that if they make a large contribution to the MayDay PAC, they're spending their money to reduce their own political influence," Lessig says. "There's something deeply credible and inspiring about that."
As credible as Lessig might believe that is, we know from history that rarely is privilege abandoned voluntarily. He knows that's a risk. But it's also one that comes with outsized rewards.
"I feel like I've leapt off a building and not really made sure there's somebody below to catch me," he says. But in some ways, he adds, it wasn't really his choice at all. Lessig cites his late friend, coder, and activist Aaron Swartz, as inspiration for much of his cause. "Sometimes, I feel like I've been forced into this fight by him. And I don't have an easy way out," he says quietly. "So I'm going to do everything I can to win it by his 30th birthday, which turns out to be the day people vote in 2016. And we'll see if we can."