Finding someone to paint your deck or DJ your wedding shouldn't be that hard, but even with the rise of review services like Yelp and Angie's List, it is. In the best-case scenario of a personal recommendation from a friend, you still have to make a call, wait for a reply, and hope they're available and meet your budget–and if they're not, call a dozen others anyway.
San Francisco-based startup Thumbtack is working to strip away those annoying steps, and has just raised a $30 million round from Sequoia Capital and Tiger Global Management to grow their business, which is already live in all 50 states and the District of Columbia. Unlike review sites that primarily display information, Thumbtack makes introductions between customers and professionals based on the specific needs of a project. Professionals who confirm they are interested and available make bids for customers to choose from.
"We see Angie's List and Yelp as not much different than the Yellow Pages," says Thumbtack cofounder Jonathan Swanson. "They add useful reviews but they don't help you accomplish what you need to get done. We reach out and do the stuff you don't want to do–see who's available and interested."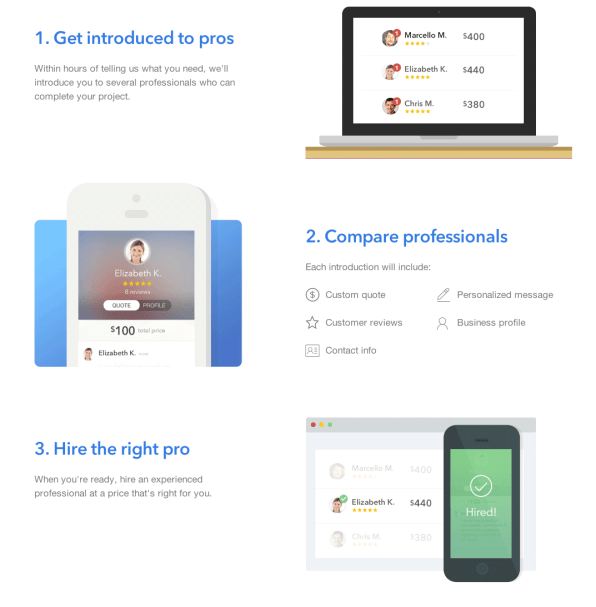 The first step is a project request, where customers answer a few specific questions based on the category of project. Within a few hours, they receive up to five introductions to professionals with quotes, reviews, contact info, a business profile, and a personal message. Because the customer can see all the bids, this helps reassure them that they are paying a fair price for the service they want. Avoiding that "Did I just get screwed?" feeling is key.
Rather than letting customers give an open-ended description of what they need, the questionnaire is designed to give the service providers the exact information they need to decide whether to bid on the project. "We've surveyed thousands of pros, asking what questions does the customer need to answer to truly outline their process," says cofounder Marco Zappacosta. "We help them scope it up front such that the professional has all the details they need to decide if it's someone they're interested in. There are 800 different questions across different categories, and each customer gets the few that are relevant to them."
"I like to describe it as a mullet business," says Swanson. "It's very simple on the front, but very complicated on the backend."
The questionnaire is also important because Thumbtack's business model is to charge professionals per customer introduction–between $3 and $25 based on the type of work–so they need to make the best decision based on their availability.
"The revenue model was a journey, something we had to learn," says Zappacosta. "The first thing we tried was a subscription model, like a flat fee for access to the customers we have. But it didn't line up to the professionals' needs over time. Sometimes you want a lot of business, sometimes a little. So we moved to this introduction model, where the pro looks at what the customers need and pay to start the conversation based on their schedule. We're not selling clicks, or impressions, but customers. They understand what they're buying and appreciate it." The cofounders have a favorite fishing analogy for this model. On Yelp or Angie's List, you have to go fishing for customers; on Thumbtack, they just hand you some fish.
The model also makes Thumbtack different from something like HomeAdvisor, which matches professionals with customers based on requests, but those matches are pre-sold, meaning that local professionals are automatically identified based on an algorithm that incorporates a range of needs including type of service, location, time frame, and materials. It also relies primarily on follow-up phone contact.
HomeAdvisor also specializes in home improvement, where as Thumbtack's offerings are much broader, and its current most popular categories are, in order, personal training, catering, moving, interior painting, and singing lessons, "especially in L.A.," says Swanson. "There are interesting seasonal differences too–landscaping is big right now, and rent-a-Santa will get big in the winter." You can even find someone to officiate your wedding (or give you some marital therapy down the road).
"The practical reason that we chose not to pick a particular vertical to specialize in is that we didn't know what it would work for," says Zappacosta. "If you look at eBay, they probably wouldn't have picked the collectibles market, Beanie Babies, as their breakout category. We didn't want to pick the wrong thing. The philosophical reason we offer all services is that if the solution is generalizable, which ours is, it shouldn't be limited to one type of job."
Thumbtack had 63,000 paying professionals last month, each of whom is vetted for licensing, bonding, insurance, and verified credentials, and then professionalism and expertise based on community reviews. The company estimates it has brought $1.8 billion to service providers over the past year, based on 3 million projects with average quotes of $600.
And more than just an advertising service, Thumbtack consults with professionals on marketing and building a web presence. Swanson and Zappacosta say that a significant portion of the new funding, which brings their total funding to $49.2 million, will go to expanding their contact team in Salt Lake City that provides both customer care and business coaching to professionals–many of whom don't have storefronts or experience navigating digital marketing. The company has already made a few hundred hires this year, and plans to add a few hundred more by the end of the year.
Another substantial part of the funding will go to the engineering and product side, which is key to the self-service platform they've built for professionals to pay by the relevant introduction. This allows Thumbtack to forgo the expensive sales teams that drive their biggest competitors. "We see it as a business-model innovation that allows for a consumer experience innovation," says Zappacosta.