Despite being one of the most recognizable brands in America, between 2006 and 2008 Domino's Pizza was in crisis. When current Chief Marketing Officer Russell Weiner arrived in Ann Arbor, Michigan, in October 2008, he inherited a brand with plummeting sales and a less than stellar image thanks in large part to a lackluster product. A month after he joined the company from Pepsi, Domino's stock price hit a record low–$2.83 a share in November 2008. Today, it's up around $72 a share.
What Weiner and agency CP+B did in the intervening years was no less than a complete reinvention. Starting with a very public admission that its pizza sucked, the company undertook a much-discussed revamping of the menu and its ingredients. Just as important, was how the brand got the new product to its customers. Through its pizza tracker and builder tools, the company made online ordering a cornerstone of its business.
And it's an ongoing process. The brand recently launched its newest iPad app, featuring a 3-D pizza builder, joining successful tools and initiatives like Pizza Tracker, Pizza Hero and customer pizza profiles, as the latest example of how the company is using digital utility and user experience as the basis of its marketing efforts.
The biggest single department at Domino's headquarters is now IT, says Weiner, who notes that internally, it's not uncommon to hear the brand referred to as a technology company that just happens to sell pizzas.
The basis of the pizza turnaround campaign was transparency. While the brand had the overall goal of transparency when it came to its product, the marketing team also recognized that the best way to communicate that transparency was via digital products. So, instead of just a bunch of TV spots telling consumers the brand was transparent, it built tools to facilitate transparency. CP+B created things like Think Oven, Domino's Live while putting an unfiltered Twitter feed of any and every conversation about the brand on the front page of its website. "We had the transparency about our old product and the need to change," says Weiner. "At the same time, the continued growth of digital represented the ultimate in transparency. If consumers want to understand and go deeper into your brand experience, there's no better place than digital."
The digital focus transcended marketing communications. Ordering pizza is Domino's entire business. Weiner says investing in digital didn't just represent a way to reflect and promote the company's new commitment to transparency, it also provided a better ordering experience. "What we saw then and continue to see now, is consumers prefer digital ordering over any other type," says Weiner. "It's got better repeat, higher spending, customer satisfaction is higher, they order new products at a two-to-one ratio, and then there's all the data to learn from."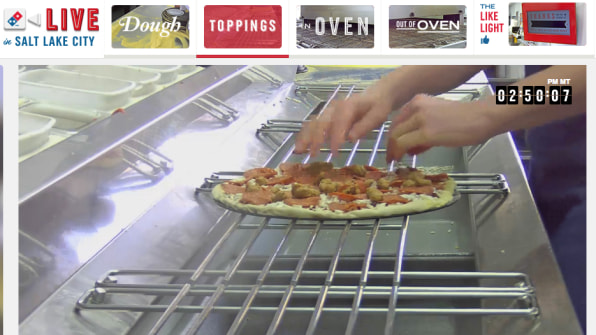 It was data that told Domino's brass that it had to reinvent its pizza and take a more transparent approach to the brand. "The data really supported going in this direction and just the rise of digital provided a place to tell our story and while people were there listening to our story we hoped that would be the best place for them to experience ordering," says Weiner.
There are two types of digital experiences the brand looks to build. Some are proprietary–pizza tracker, customer profiles, Think Oven–while others, like the pizza builder, are attempts at improving on industry standards. "So we look at things no one else has, but then we also watch for how we can create best in class experiences for things that have been out there," says Weiner. "Apps, for example, where our objective is to always have a higher rating than our competition."
CP+B's chief digital officer Ivan Perez–Armandariz says the brand's digital success is also rooted in not limiting its goals to the pizza industry. "Consumers don't change their expectations from category to category," says Perez–Armandariz. "We all have smartphones and access to the Internet, so the brands that are leading the transformation are the ones being rewarded with growth because they're keeping up with consumer behavior."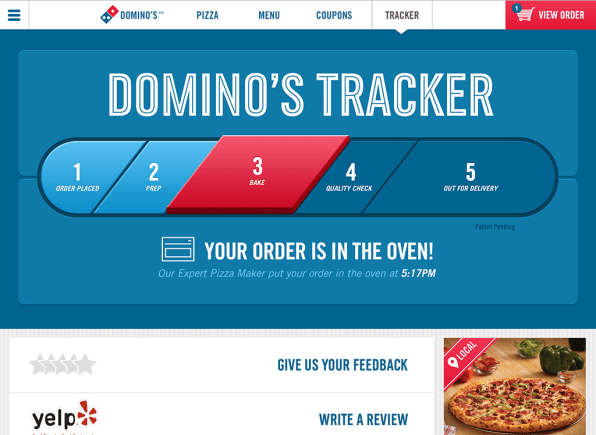 These digital tools aren't just there to push pizzas out the door, but are also living cogs of the company's overall brand philosophy. "Pizza Tracker is about tracking the progress of your pizza, but it's also the ultimate in accountability and transparency," says Weiner. "Profiles are the ultimate in easy ordering–you can order a pizza in five clicks or 30 seconds. Think Oven says we listen to consumers and we want their feedback. So these are all digital ideas or tools, but are based in a brand philosophy that goes much deeper. The idea of being honest and open is something all consumers want whether they use our pizza tracker or not."
The first quarter after Pizza Turnaround launched, same-store sales were up 14.3%, the largest quarterly same-store sales jump ever recorded by a major fast-food chain. In 2013, it generated $2 billion in annual global digital sales, of which 35% is driven by mobile.
"What technology and e-commerce allows you to do is make marketing decisions that are more informed by data," says Weiner. "We do a lot of A/B testing, and while marketing still has a bit of that gut-feel fluffy part, the digital side has allowed us to bring a lot more science to it. If we decide to change our homepage tomorrow, it's not just because I feel like doing it, it's because it's been A/B tested and we know our franchisees are going to make more money because of it."
Perez–Armandariz says there were three aspects to Domino's digital shift. Understanding the business case, creating the roadmap, then tracking the data to see where incremental opportunities were coming from. "For Domino's it was identifying that online orders are more profitable that created the business case for growing online orders. The roadmap had three parts: First, raising awareness and usage of online ordering. Second was improving the user experience. An example of that would be something simple like adding profiles, which can take ordering from 15 clicks to five. Third, continue to evaluate the data. That's how you really transform your brand's approach to digital."