Where else do people in uniforms look at you as though you could be a criminal, force you to wait in line, examine your naked image, and then–suddenly–you must pull yourself together and sprint to a place unknown, where you are then forced to wait again?
The airport, of course. It's often an ordeal, another stressful experience in our tightly wound lives. But as architects and designers who create airports, we believe significant change is in the air–and on the ground.
Airports around the world have recently made it their business to restore the joy in flying, and some of them are doing it by helping relieve the stress felt by travelers. Spas, indoor green spaces, yoga rooms–airports now have them. Middle and Far Eastern airports do a fine job with the spa idea. Dubai International Airport offers towel service and attendants in its club room spas. Changi Airport Singapore has shower facilities and gyms associated with its spas–as well as free napping areas throughout the terminals with specially designed "snooze chairs." Incheon Airport in Seoul offers Thai-style massages in its sauna/spa–and in several halls and wings of its passenger terminal, an array of tranquil indoor gardens, including an evergreen eco-garden featuring quiet ponds and the calming scent of pine.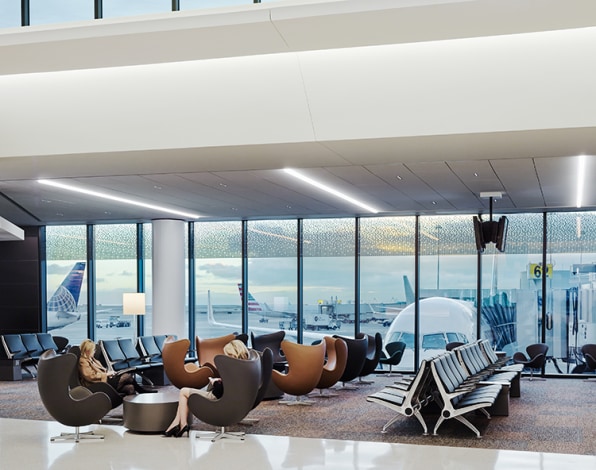 The airport in Jackson Hole, Wyoming, which opened three years ago, offers a rugged kind of calm. It looks like a ski lodge in the Tetons. And two years ago, Terminal 2 at San Francisco International Airport reopened with a yoga room, better food, water bottle refilling stations, and a pervasive openness that feels good. And now, travelers have a version 2.0 of airport well-being to peruse. SFO's newly renovated Terminal 3 Boarding Area E (T3BAE, the United Airlines space) takes what's been done before, weaves it together, and pushes forward.
Creating a healthy, calming experience for passengers and airport employees, as well, was part of the programming for the remodeled T3BAE space, which means it permeated the design thinking. And that's what's different. A cross-disciplinary team of architects and designers from our firm, Gensler, took a more holistic approach. We worked with airport management and our project partners to create a concourse where efficient building systems and an overall sustainable attitude buoy a more fluid and healthy passenger experience–all the way back to the gate. It's an experience of enveloping calm. And it may not be easy for the average traveler to decode.
For instance, we wanted to make people feel in better control of their pre-flight time. To do that, we gave them unobstructed sight lines through the concourse and a "scenic lookout" at the entry point, which happened to be sited two feet above the rest of the concourse, explains Gensler design director Jeff Henry. Being able to "survey the landscape" of the concourse from that "higher ground" (where an interactive Flight Deck serves as a traveler's digital concierge) and then see one's gate while eating in a restaurant or see one's children in the play area while paying for a sandwich in the deli that abuts the space, untethers travelers from some of the big stressors. Among them: the lack of clarity as to how the concourse is laid out; the having to stay put at the gate for fear of missing something; the having to keep the kids seated at all times for fear of losing sight of them. Walls came down and the ceiling was raised to get that transparency and free flow of space, which also makes the concourse seem lighter than air.
In fact, we wanted the space to feel like a breath of fresh air and the passage through it, like a stroll through a San Francisco neighborhood. Four restaurants, eight stores, and two pop-up shops are distributed throughout the concourse and the focus is on the local, health-conscious Bay Area culture and foods. (Stress has been shown to affect people's food choices and, often, not in a good way.) In between and swirling all around: good air. A displacement ventilation system cycles more fresh air into the concourse than a typical HVAC system would and has the added benefit of using less energy.
Bringing the balm of nature indoors was a key goal. Research shows people's ability to focus goes up when they see and experience nature.
Daylight is part of that. We created opportunities (skylights, clerestories, a 23-foot-tall "picture window" in the boarding areas) to infuse the concourse with powerful amounts of daylight, which was then tempered to make comfortable. A frit pattern reduces glare in those picture windows, which by their very size turn views of the air field into views of the great wide open. And in the main concourse area, the high ceiling has a dramatic pattern of angled surfaces that diffuses the light pouring in from the skylights and enhances the play of it.
What's more, the pattern on that high ceiling was not random, nor was the pattern on the perforated metal columns (through which the displacement ventilation system flows) throughout the concourse. The former was inspired by shifting landscape forms; the latter by clouds, enlarged and pixelated. "All of these elements reference the landscape and cloudscape as a subtle nod to the changing experience of viewing the sky and land as one travels in an airplane," says Melissa Mizell, another design director for the project.
Will people get it?
Probably not on face value. But the idea is their bodies will respond to this evocation of nature and instinctively recall its restorative effects.
The boarding areas were designed to evoke another deep-seated emotion: the feeling of being in one's own living room. We dropped the ceiling and added carpeting, ambient floor lights, lounge chairs, and ottomans for a more residential feel. We also added circadian lighting to help travelers maintain their natural circadian rhythms, which influence a range of bodily functions including sleep-wake cycles.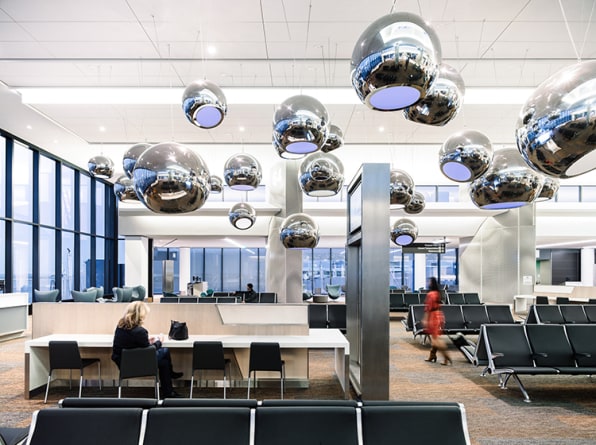 There's free Wi-Fi throughout the concourse. Outlets are located just about everywhere a person can take a seat, and there are many options in seat types and places to work and relax. We wanted travelers to feel cared for. And we wanted them to feel engaged. Artwork sprinkled through the concourse–with one of two commissioned pieces in the children's interactive play area–not only looks good but offers a positive distraction, which is a "phenomenon" that makes time-spent-waiting (or at least the perception of it) fizzle away. "And even for people who aren't focusing in on the art, having those things in their peripheral view makes the space feel different. It gets them to a different comfort level," Henry explains.
Rounding out the concourse: a yoga room and dressing rooms in the bathrooms (so people don't have to change clothes in a tight stall).
In the works: wait-time technology at the security checkpoint.
Why would an airport care about all this and spend money on it?
Because what makes travelers feel better–what's good for customer service is good for business. The flustered passenger who's running to her gate because the security line was long, or won't leave the gate area because he doesn't want to miss a gate change announcement, or purposely cuts every flight very close because the prospect of spending time in the airport is unappealing–that passenger is not a good revenue stream. It's that simple.
And it's been measured to a certain degree. Sales per passenger in SFO's recently remodeled Terminal 2 have been 22% higher than in the other domestic terminals at SFO, according to the airport. Beyond the financial gains, there's a "pay forward" kind of reward to generative spaces. Places that are designed to sustain and promote the well-being and spirit of people also sustain the families of which they are a part, the businesses in which they work, the communities in which they live and, ultimately, the world we all share.
Pat Askew is an architect and principal at Gensler, a leading global design firm, where he is a leader of the global Aviation + Transportation practice. For airports in cities around the world including Doha, Honolulu, Indianapolis, Nairobi, New York and more, Pat designs terminals that people enjoy for their clarity, ease and comfort.
Tama Duffy Day is an interior designer who believes that research-driven design will catalyze innovation and re-shape cultures. A leader of the Health and Wellness practice at Gensler, a leading global design firm, she is dedicated to raising awareness of the measurable effects of environments designed with health and wellness attributes, including spaces beyond typical healthcare environments.