Got a spare $15,000 burning a hole in your pocket and an insatiable love for the Apple company?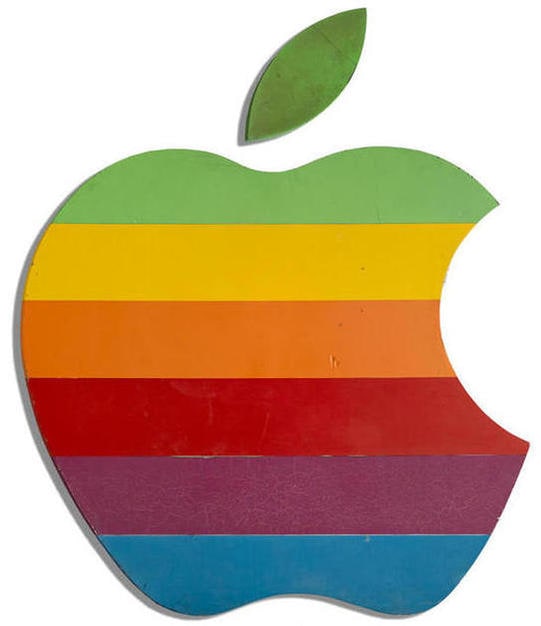 You're in luck: on June 4, Bonhams auction house is putting two pieces of original Cupertino company headquarters exterior signage on the block, expecting the lot to fetch in the range of $10,000-$15,000.
The signs are made of stiff foam and fiberglass respectively and, as you might expect, show some wear and tear. They were removed from Apple's Cupertino headquarters in 1997, when they were given to a longtime company employee.
If the signs are out of your budget, Bonhams is also auctioning off a 1989 Apple Macintosh LC prototype–it's expected to fetch a more affordable $1,200-1,800.
The full listing for the signs is below:
Two original exterior office building signs, approximately 46 x 49 x 1 1/2 inches and 33 1/2 x 36 x 6 inches, each with separate stem piece; the larger sign made of stiff foam with 6 vinyl applied colors; the smaller sign made of fiberglass backed with metal, vinyl applied colors; edgewear to both signs, some colors with slight pealing at transitions, larger sign with one color showing significant craquelure, both with stray marks and outdoor wear.

Provenance: Removed from company headquarters in 1997 and given to a longtime Apple employee.

TWO EXAMPLES OF THE ICONOGRAPHIC RAINBOW LOGO FROM THE CUPERTINO CORPORATE HEADQUARTERS. The first Apple Computer, Inc. logo was actually a sketch of Isaac Newton sitting under a tree, an apple dangling above his head. Less than a year after its introduction, the Newton sketch was replaced by the Rainbow Logo, commissioned at Steve Jobs' request. Jobs appreciated the simplicity of the apple (with a bite taken out of it, so that no one would confuse it with a tomato), and also insisted on the use of colors to "humanize" the company. The Rainbow Logo was in service from 1976 until 1997, when it was revised into the monochromatic version in use today.

The larger sign was removed from the side of building 3, where it faced east and could be seen from a distance as one headed north on highway 280.