Swiss artist H.R. Giger (b. 1940), who designed the titular monster in Ridley Scott's Alien, died Monday at age 74.
Born in 1940 in Chur, Switzerland, "H.R. Giger grew up in very dark rooms having very dark dreams," according to the 2011 book Alien Vault.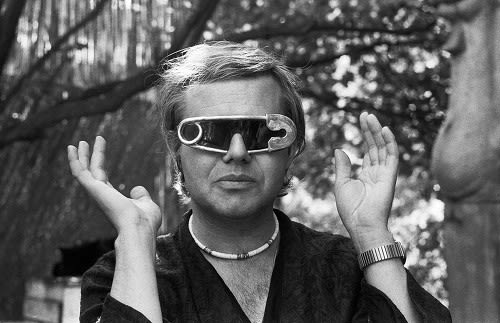 Plagued by nightmares through most of his life, Hans Ruedi Giger was encouraged by his mother to turn to art as a way of "self-psychiatry"; his father viewed art as a "breadless profession" and tried to dissuade him from becoming an artist. Nonetheless, Giger moved to Zürich and studied architecture and industrial design at the School of Applied Arts from 1962 to 1970.
The source of Giger's signature style was in fact a night terror that the artist had before graduating: He found himself trapped in a Zürich bathroom as the walls around him turned into ruptured, pestilent skin, and demons stared at him through cracks in the wall. He called them "biomechanoids."
It was soon after Giger turned to that biomechanical style that he tasted his first real commercial success. He was commissioned by Emerson, Lake, & Palmer to use a painting of his then-partner Li Tobler, complete with alien hair and a frontal lobotomy scar. Referencing the scar, the album was called Brain Salad Surgery, although the original title was Whip Some Skull On Ya–a euphemism for fellatio that was more prominently referenced in Giger's original cover design. It featured a big biomechanical penis branded, charmingly, with the initials "ELP."
Giger did not consider his work horrific. "Sometimes people only see horrible, terrible things in my paintings," he said. "I tell them to look again, and they may see two elements in my paintings–the horrible things and the nice things. I like elegance. I like art nouveau; a stretched line or curve. These things are very much in the foreground of my work."
Over the next four decades, Giger did album covers for everyone from Glenn Danzig to Debbie Harry, but it was his work in film that made him a household name. It was, in particular, Ridley Scott's 1979 science fiction-horror masterpiece, Alien. The now-famous xenomorph has since become one of the most iconic monster designs in movie history–and it won Giger an Academy Award for Best Achievement for Visual Effects in 1980. The final design evolved from the biomechanical monstrosity with a phallus-shaped head and metal teeth first seen in Giger's painting Necrom IV.
Sadly, after Alien, Giger never had another wild success in Hollywood. He did other work as a set designer, and contributed to Species and Poltergeist II–but many of his Hollywood designs were either passed over (such as a redesigned Batmobile he created for Joel Schumacher's Batman Forever) or heavily modified, as was the work he did for Alejandro Jodorowsky's never-filmed adaptation of the film that would eventually become David Lynch's Dune.
Perhaps Giger and Hollywood never truly got along because his imagination intimidated moviemakers. In 1987, James Cameron wrote to Giger, explaining why he had not approached the Swiss surrealist for help designing Aliens. "Mr. Giger's visual stamp was so powerful and pervasive in "Alien"…that I felt the risk of being overwhelmed by him and his world."
Even so, Giger was well appreciated during his lifetime. His designs were extremely popular worldwide, especially amongst fetishists and misfits. People who tattooed his designs upon their skin particularly touched him: "The greatest compliment is when people get tattooed with my work, whether it's done well or not. To wear something like that your whole life is the largest compliment someone can pay to you as an artist," Giger said.
In 1998, Giger opened the H.R. Giger Museum in his home in Gruyères, Switzerland. A friend of both Salvador Dali and Timothy Leary, Giger always considered himself an outcast despite his success. "The more famous I get, the more I am tolerated, albeit with some head-shaking," he famously said.
Giger passed away yesterday from injuries sustained after falling down the stairs of his home. It's an inglorious end to a glorious talent. It feels strange, suddenly, to live in a world without Giger, especially as that world grows ever closer to fusing flesh and machine as one.