Even in the most technophobic pizza joint or hoagie shop, you'll often find a Square credit card reader poking out of a tablet behind the register. Store owners accept Square for payment in more than a million locations worldwide. Yesterday, Square announced that it's doubling down on the fast food market–while simultaneously going head-to-head with the food ordering company Grubhub Seamless –thanks to a slick new app.
Called Square Order, the new app lets you order takeout from your smartphone using the San Francisco-based company's existing payment infrastructure. Available on both iOS and as an Android beta, you can place an order for pick-up from any participating restaurant, pay for it using Square's payment backend, and just head to the counter when you get an alert that your food is ready without worrying about paying in cash or signing a slip.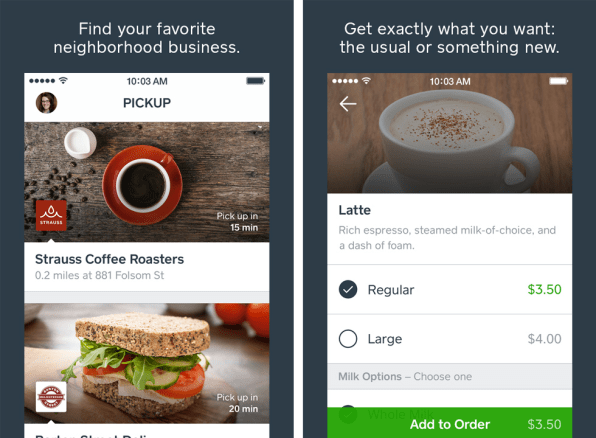 There are some caveats. It's only for pick-up right now so Grubhub, which includes restaurants that deliver, still has the edge there. It also only works in New York and San Francisco right now. But if you're the owner of a small restaurant or business, there's reason to take Square Order seriously: the rates. Square only charges merchants 8% per order through the app, compared to Grubhub's 10% to 14% cut.
Front and foremost in the Square Order experience is the time it will take for you to actually get your food, after you make your order. Grubhub contains such information, but it's usually not information you see until after you've already ordered your food. Is there an hour wait for that sandwich you just ordered? Tough. And while Grubhub's sister app Seamless does give an estimate of when your food will be ready up front, it's drowned out by a lot of other info, like the number of stars the restaurant has been rating. In a busy mobile world, it's a slick move on Square's part to make time until delivery one of the most important aspects of the experience.
Intriguingly, along with the debut of Order, Square has simultaneously decided to kill off Wallet, its three-year-old mobile payment app. Designed to help customers quickly pay for items at local merchants using only their smartphone, Wallet never caught on. By killing the app, Square seems to be admitting that Wallet's vision–just walking into a store and ordering with your name–was too unfocused to carry on. With Wallet, you were recommended locations nearby that accepted payment through Square, but it was never really where you wanted to go. With Order, you have many of the same ideas as Wallet, only they're filtered through an app that's focused on an industry where you already pay in advance and collect your orders by name.
Square says that Order will be rolling out to more cities over time, and that it will be introducing more of Square Wallet's features into Order. You can download Square Order for free on iOS and Android.