Say you slip into a bad funk. Your social life withers, and you often cry for no reason, but with others, you're keeping your emotions bottled up inside. Except, now, according to new research, your Facebook status updates could give you away.
In work that will be presented at a conference next month, researchers will describe how they teased out "degrees" of depression by examining the status updates of nearly 29,000 Facebook users.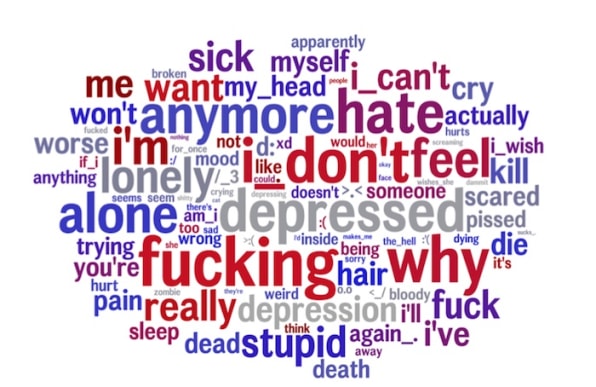 It's among the first of a few major studies to link social media behavior to real-world mental health outcomes. But while these projects could represent important progress, some fear what could happen when such sensitive details are so easily read.
This isn't the first time that researcher Michal Kosinski has built a model that can infer intimate details about a person's life from social media. Last year, news outlets buzzed with news of a study he and fellow researchers at the University of Cambridge and Microsoft published in the Proceedings of the National Academy of Sciences, demonstrating that a person's substance abuse, sexual orientation, and emotional stability could be divined from Facebook likes. Their findings were quirky, and controversial: Liking curly fries denoted a high IQ, while liking the band Lady Antebellum showed the opposite.
"We were very surprised," Kosinski told me. "When we thought a few things would be predictable. What happened is everything we tried turned out to be predictable."
For the depression study, Kosinski and University of Pennsylvania researcher Andy Schwartz built used a personality app that asked user permission to secure access to Facebook profile data. Unexpectedly, the app, called myPersonality, went viral–and Kosinski and Schwartz soon had an enormous data set to work with. They worked to draw connections between each individual's social media activity and seven positions on the depression continuum identified by the International Personality Item Pool. And while the results weren't what they would call robust, some still showed strong connections.
Take the word "fuck," for example. The presence of everyone's favorite curse word in status updates, along with "pissed" and "bloody" accurately indicated high degrees of hostility and aggression in that person's behavior. "Hate" and "lonely" correlated with negative social relationships, too. The frequency of such words also tracked with seasonal depression trends. Winter was prime time for the blues.
"I think we're at the point where it could at least be a useful tool to consider, but it's not at a point where it could be relied on to diagnose depression," Schwartz says. "For those social media users that are very active and quite open, I think within a few years we could have models that are nearly as accurate as psychiatric experts."
Many in the psychiatric community are encouraged by the notion of an app that can alert patients, and perhaps clinicians, to depressive shifts. Microsoft researchers have built models that can detect postpartum depression in new mothers from Twitter use, and elsewhere, psychiatrists have begun developing apps that attempt to intervene in suicidal ideation.
"When someone is in a crisis, they forget that things have gotten better," says Jill Harkavy-Friedman, vice president of research at the American Foundation for Suicide Prevention. "If a person learns their warning signs, they can use that information to take proactive steps. You can see that these kinds of applications could be very helpful down the road."
At the same time, privacy advocates warn that if not used in the proper context, a social media tool that measures mental health could backfire.
"Who says that Facebook isn't going to sell that tool to other companies, drug companies that want to target you?" asks Deborah Peel, a psychiatrist and founder of the patient advocacy organization Patient Privacy Rights. "The problem is the risks are great, and there are no ways for any of us to protect ourselves from the use of our data online. As a psychiatrist, and as a psychoanalyst, we, and many schools now, advise patients and teenagers and families not to talk about their feelings online."
Peel wonders if a tool that measures shifts in a person's mood might actually prevent depressed patients from seeking treatment. Fearing stigmatization online, or judgments made by acquaintances or potential employers, she suggests depressed patients might become even more eager to hide their symptoms.
Kosinski acknowledges that this kind of tool could cut both ways. And while he believes that social media psychological trackers could provide significant benefits to patients and clinicians alike, he sees it as his duty to examine negative possibilities as well. "Think of it as a knife, he says. "A knife can hurt, but a knife is also an amazing tool."