Electric car sales doubled last year, but it still isn't easy to find a place to plug them in. Part of the problem is the way the typical electric vehicle charging station is designed: Since it has to hook up with the grid on someone's property, it usually involves a messy and long process of permitting and digging trenches. A San Diego company wants to take another approach, using mobile, solar-powered charging stations that can be installed anywhere in a couple of minutes.
The EV ARC charging station fits in a single parking space. Throughout the day, a canopy of solar panels collect power and store it in a battery, ready to charge the next electric car that drives by.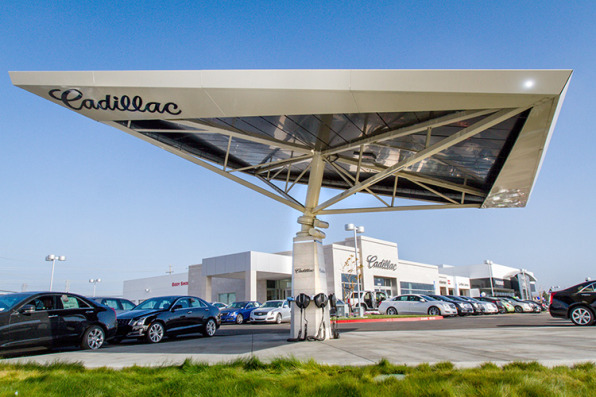 As soon as the station is delivered to a parking lot, it's ready to use. "It arrives intact, fully ready to operate, you put it down in a parking space, there's zero environmental impact," explains Desmond Wheatley, CEO of Envision Solar, the company making the new charging stations. "It's a so-called temporary structure even though it can last for 15-plus years, so it doesn't need a building permit. There's no connection, no trench, no easements. And it's a beautiful sustainability statement."
One of the biggest challenges with other charging stations has been finding land. Wheatley points to the example of an EV charging company called Ecotalented, which had working technology and $100 million in funding, but went bankrupt before installing the thousands of charging stations it had promised. The problem? The company couldn't convince enough property owners to go agree to let them use space.
"It's weeks or months of permitting, then digging holes or trenches in their property," Wheatley says. "And all of this is of little or no value to the property owner."
Since the installation process for the new EV Arc is basically as simple as lifting it off a truck, it's also cheaper. "We recently heard from a corporate customer who had received a quote for $150,000 to install a $3000 charging station," Wheatley says. "This is the thing that no one in the industry is talking about–the actual full cost to install the charger itself."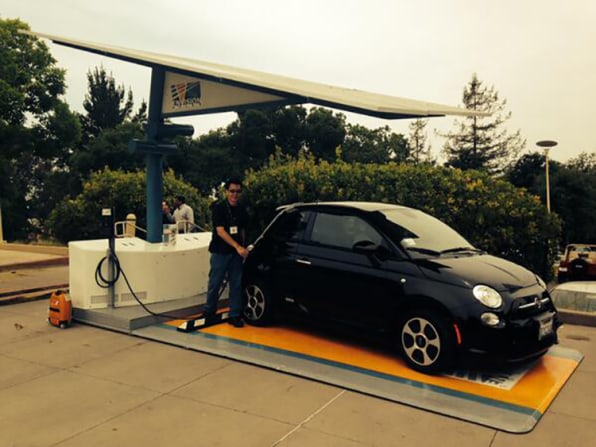 The mobile charger is also easier to deal with after it's installed. If a company is leasing office space and moves, they can bring the charger along. A shopping mall that has seasonal variation in parking can shift the chargers throughout the year. And if someone realizes that they've put the charger in the wrong part of their parking lot, it can easily move.
At rest stops along the highway, the charger can solve the problem of a power supply since it's off the grid. "A rest area has sufficient power for hand dryers, Coke machines, and lights, but certainly not electric vehicle charging," Wheatley explains. "It could be as much as 50 or even 100 miles to the nearest substation with sufficient current. Trenching could be in the tens of millions of dollars to get that done."
The chargers aren't as fast as some devices, like the "superchargers" that Tesla has recently installed in certain places (Envision Solar does make another technology, permanent "solar trees," that can charge at top speeds). Still, since most people charge their cars at home anyway, the stations can easily be used to top off their battery while they're inside somewhere running errands or having a meeting.
"Knowing we have the technology and the capability to non-grid connected charger which allows people to drive on sunshine, why would why do anything else?" Wheatley asks. "There are 800 million parking spaces in the US. If we covered all of them with solar, we could generate enough renewable energy to power all of the US's transportation needs not once, not twice, but three times over."