The trend of the open office floorplan, while critiqued of late, definitely isn't going anywhere, so finding a little privacy at work remains tricky. A mundane task like calling in a prescription refill can suddenly feel like an overshare moment with coworkers.
Dutch designer Ruud Van De Wier's Firstcall chair is a one-person-at-a-time hideout, designed specifically for making a personal phone call. The chair is the furniture equivalent of a Do Not Disturb sign, only shaped like a giant, cartoon phone and clad in a special sound-absorbing upholstery for privacy.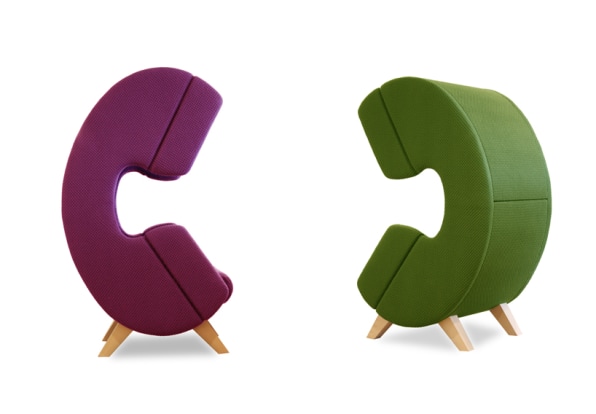 Van De Wier, who also designs interiors for offices, says more and more workspaces have an open floor design. "The most common problem is noise from talking colleagues," he tells Co.Design. "So I have made an escape in the most recognizable shape, so no explanation is needed for how to use the chair."
It's the kind of tongue-in-cheek literalism that would look right at home in any one of Google's silly offices, but it's also part of a burgeoning trend in office furniture: the chair-room. Mike & Maaike created a soundproof seat with peek-a-boo openings to ward off claustrophobia; UNstudio created a helix-shaped set of desks that give workers walled privacy while still using floor space economically.
As for Van De Wier's version? It comes in 32 colors and is on sale now.