This week, newly released concept art for the Star Wars trilogy by Ralph McQuarrie reminded us of why we love the movies so. Star Wars: The Art of Ralph McQuarrie, a limited edition book by Dreams and Visions Press, features the original designs for the films' sets and its now-legendary characters, including Darth Vader, Chewbacca, R2-D2. and C-3PO.
McQuarrie's wildly imaginative tableaux–which George Lucas commissioned in 1975–was the basis for what would turn into a $4.38 billion franchise with a cult following. But before the films were made, McQuarrie was dubious about his work: "I thought there wouldn't be enough of an audience. It's too complicated," he said.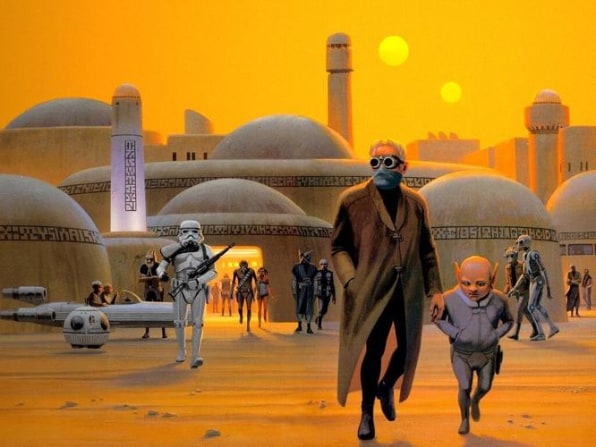 Since the trilogy's release, countless artists and designers have channeled the Force to create Star Wars-influenced works. And so have we collected the most memorable art and design projects inspired by the epic space opera, from couture gowns printed with the planet Tatooine to a Kim Jong Il-as-Jabba the Hutt action figure. These are the artistic descendants of McQuarrie's galaxy-changing illustrations. Click the slide show to see McQuarrie's concept art.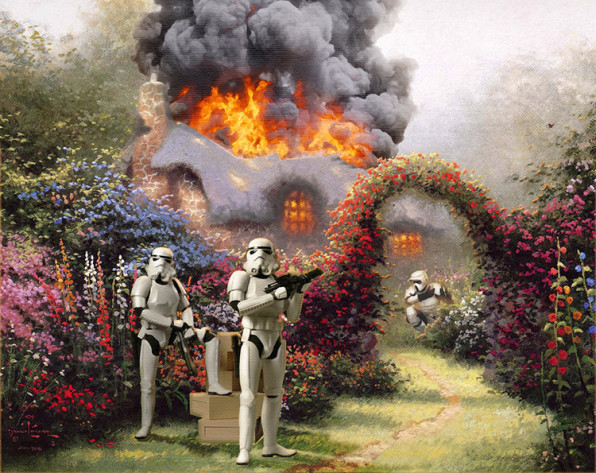 Artist Jeff Bennett unleashed the full force of the Dark Side on Thomas Kinkade, the 20th-century American artist who described himself as the "Painter of Light." In Bennett's "Wars on Kinkade" series, he inserts Star Wars characters into Kinkade's treacly, bucolic world: Storm Troopers ransack cute cottages and AT-ATs stalk over babbling brooks in mystical, storybook settings.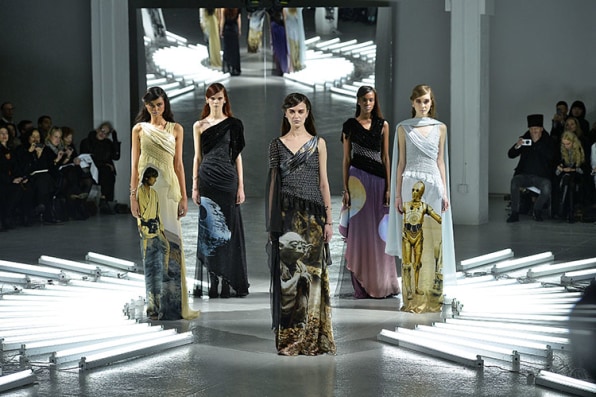 Fashion house Rodarte won Fashion Week with their Star Wars-themed Autumn/Winter 2014 collection, which would've been perfect for bridesmaids at Princess Leia and Han Solo's wedding. Images of Yoda, Luke Skywalker, C-3PO, R2-D2, and the glowing moons of Tatooine grace these flowing silk charmeuse gowns.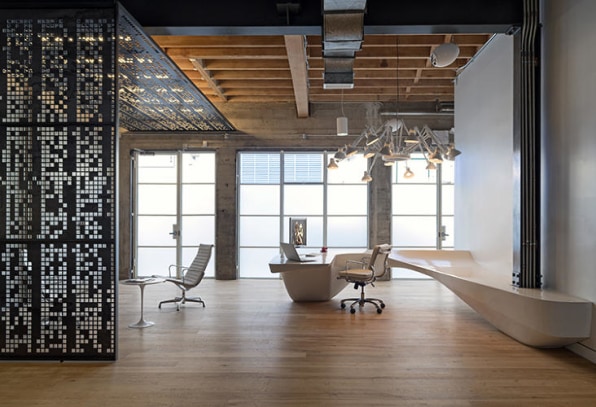 Giant Pixel's office, designed by Studio O+A, features a large, perforated-steel screen at its entryway, which reads the opening crawl from Star Wars: "A long time ago, in a galaxy far, far away…" in binary code. Nothing better unites a workplace of nerds than imagining they're battling the Dark Side together.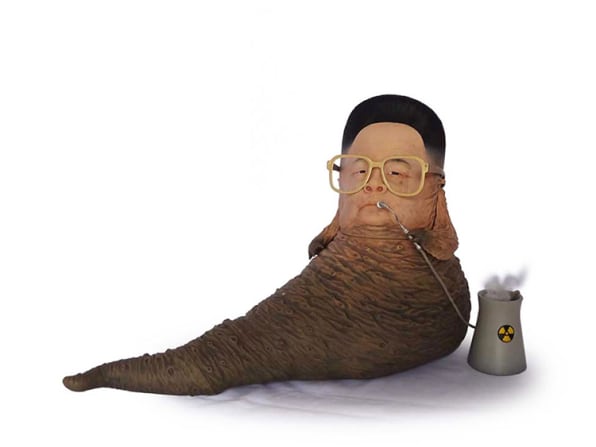 We all know that Kim Jong Il was really Jabba the Hutt wearing a humanoid costume, right? Artist with real-life politicians, businessmen, and celebrities–Gandhi as Yoda, Angelina Jolie as Slave Leia, and Michael Jackson as an Ewok.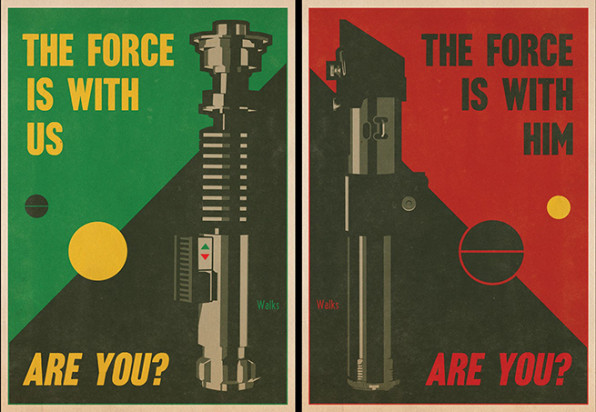 Star Wars's entire aesthetic–from swashbuckling with lightsabers down to the famous opening crawl–is deeply rooted in 1940s sci-fi movie serials. Illustrator Russell Walks alters WWII-style propaganda posters with Galactic Republic-related slogans: "Don't be a Sarlacc!" and "The Force Is With Him. Are You?"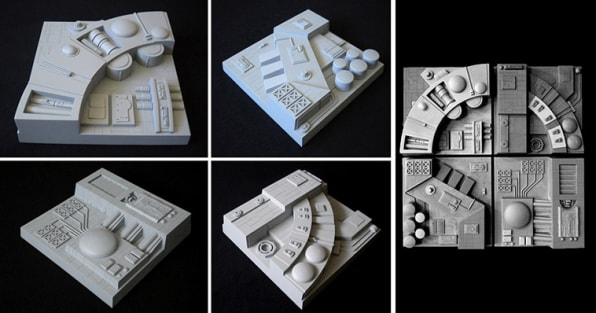 Inspired by the Star Wars trench run, Tom Spina Designs made tiles that let you recreate the surface of the Death Star in your home–in case you want your kitchen to resemble a planet-obliterating Sith space station.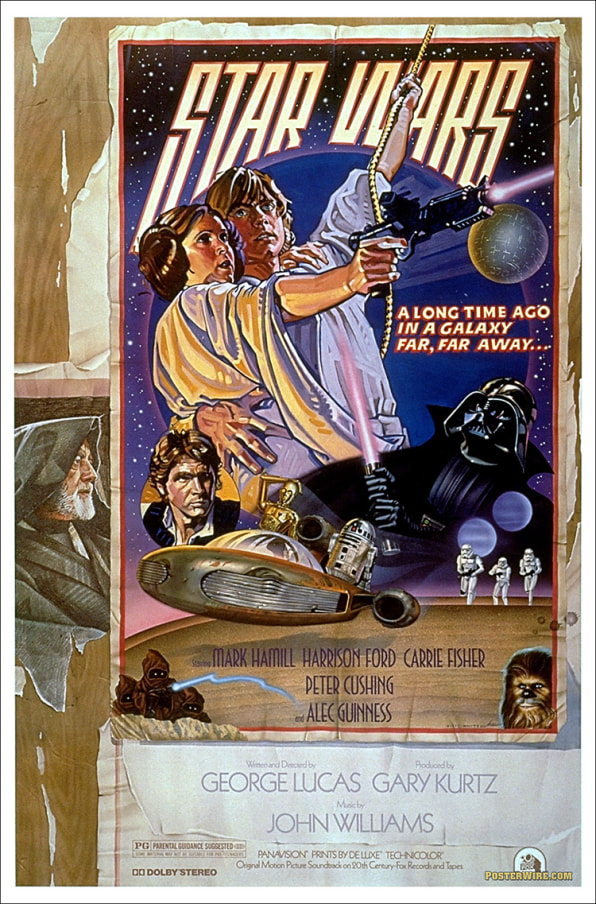 The documentary The Man Behind the Posters pays homage to Drew Struzan, the illustrator of the original Star Wars movie posters, and reveals his creative processes.