This week in New York advertisers and digital publishers of all stripes have gathered for the annual newfronts. It's the Internet's answer to TV's traditional upfronts, in which broadcast and cable networks hype their upcoming fall show line-ups to encourage advertisers to get on board early.
In its third year, the newfronts don't enjoy the same uniform purpose as its broadcast counterpart. The two differ in a number of ways, not the least of which is the amount of money changing hands–according to the Interactive Advertising Bureau (IAB) and PricewaterhouseCoopers, digital ad revenue last year was $2.8 billion, compared to broadcast and cable's $74.5 billion. More than $20 billion of that was in deals negotiated by media agencies on behalf of brands during the TV upfronts, so it's clear what its purpose and function is for that side of the industry. But even as marketing dollars shift to the digital space, the newfronts have yet to establish their own transactional pedigree, leaving their overall value or ROI for participants unclear, beyond the murky concept of "awareness."
Unlike the upfronts, where there is almost a singular focus, both media buyers and publishers come to the newfronts with different agendas and expectations–unsurprising given the diversity of players lumped together in the week's schedule. Participants range from Yahoo, Microsoft and AOL, to Hulu, Maker Studios, Vice, the New York Times and the Wall St. Journal. According to some of the players hosting these events, some brand representatives are there to sign deals, but for the most part, the colorful presentations are an elaborate PR exercise, to spread the word on their offering and approach to content in order to make deals further down the road. It's an expensive means of brand building.
Some, like AOL and the New York Times, unveil slates of new programs and channels a la upfronts, while others like BuzzFeed are there to talk to potential advertising partners about the existence and overall philosophy of its relatively nascent video business.
BuzzFeed's vice president and general manager of video Jonathan Perelman, whose newfront presentation was on April 28th, says the company's goal this year was more about raising awareness than closing deals. During its presentation, the company revealed that its videos have been viewed more than 1 billion times, and highlighted its content partnerships with brands like General Electric and Purina. "We're relatively new to the video space and what I've found talking to brands, agencies, and advertisers is that some didn't know BuzzFeed did video, some knew only surface-level stuff, and very few had an understanding of our approach or philosophy towards video," says Perelman. "So when I decided to do [the newfronts], it was based around informing and educating the industry about what BuzzFeed is doing and frankly, there's no better time than the newfront because people are here in a mental space to think about video and what their plans are. Will business come from it? I sure hope so and, based on the response so far, I expect it will."
But can't digital media companies accomplish these goals–creating awareness for specific properties or general offerings or approach–via other means? MediaCom chief digital officer Steve Carbone isn't quite convinced the newfronts themselves result in action.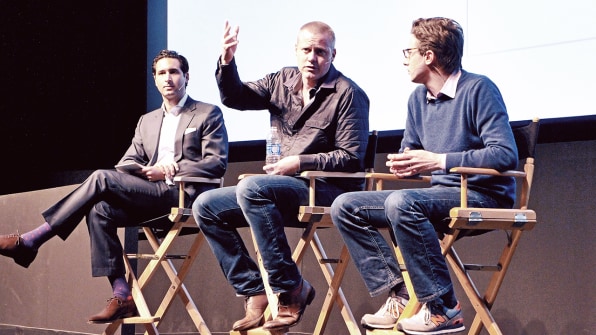 "When we walk into newfronts this week there will be very few surprises, other than who the celebrity singing act will be and what's in the gift bag, because for the most part we've had those detailed conversations already before walking into that theatre," says Carbone. "I just think the newfronts happen because they're trying to work off a model that everyone is familiar with and it's comfortable. To be honest, in digital, I'm having newfront conversations in January. They happen all year. That's the way digital works. I'm fully booked this week, going to every newfront and I don't have any plans to make one deal. We're not going there to make a specific buy. If something happens, great, if we see the right opportunity, great, but it's not like TV. It's more about seeing what's out there and continue conversations that have already been happening. I've been having newfront conversations for months."
Still, IAB president and CEO Randall Rothenberg says the proof is on stage. "It's quite clear deals are being done because they're being announced from the stage," he says. "Anecdotally, AOL has announced six of them, and they're being done at the $20-$40 CPM range, right in the middle to upper end of cable TV CPMs and probably getting higher because as the awareness grows, the desire among the major clients for these kind of deals also grows."
The New York Times announced partnerships with Acura and Sotheby's, while Yahoo highlighted partnerships with LiveNation and WWE. Rothenberg says major advertisers know a few things pretty clearly when it comes to getting involved in digital content. "One is that the migration of consumers to digital devices, especially mobile, for the bulk of their media consumption is happening at a much faster pace than anyone anticipated," says Rothenberg. "They know they need to get footholds in these spaces and the newfronts are giving them a clear comparison of where they can get those footholds and hold on. It's a phrase that's been used by some TV companies, but from the evidence here, TV everywhere already exists and its in the digital video industry. Everyone of these presenters is saying all these shows, all the programming, is available on four screens, and the advertising opportunities are across four screens as well. It's not said as a revelation, it's matter-of-fact."
For many of the participating publishers and content creators, while the ROI isn't measured in immediate business, they are expecting that the newfronts will result in deals being made. Vice, a first-time newfronts player, expects to close deals based on its presentation. Chief strategic officer Spencer Baim says the event gives the company the chance to unveil its most extensive programming to date. "You'll see new formats across all of our channels, including our new food channel, Munchies, our music channel, Noisey, our fashion channel, i-D, Vice News, and many more," says Baim. "Our newfronts will leave attendees with a much stronger sense of the role Vice plays in the lives of young people, how the Vice brand has evolved, and how they can get involved. We want to educate and blow people's minds."
Onion, Inc. president, Mike McAvoy sees the company's appearance (also a first) as a significant opportunity to showcase the company's in-house ad agency Onion Labs, as well as some of the branded content it has coming in 2014. Its unofficial event called "Blessed are the Advertisers: A Gala Celebrating Mankind's Noblest Pursuit," featured FedEx managing director of advertising Steve Pacheco, Regis Philbin, and The Onion News Network's Jim Haggerty. "This is our opportunity to present ourselves as a true partner in reaching and influencing millennials through the currency of comedy," says McAvoy. " So we feel the return on investment is unlimited."
The reasoning behind conventional wisdom that deals aren't done on the spot here like at TV's upfronts hinges on the scarcity in broadcasting. There are only so many hours of primetime television to sell, unlike the Internet's infinite span. But some on the digital side say that its scarcity comes in the form of high-quality premium content. "The newfronts are a storytelling opportunity, but it's also an opportunity for deals to get done because there is a scarcity in the premium video space," says Gabriel Lewis, head of AOL Studios and AOL Originals. "Last year we announced on stage that our entire AOL on Technology channel had been sold. We sold nine out of the 15 programs. We have some announcements for some advertiser deals this year. So there's scarcity within our originals and advertisers have responded very positively. We've seen success and, in terms of ROI, it's exceeded our expectations and we're hopeful for this year as well."
Digitas' SVP of social content John McCarus expects this year to answer much of the criticism leveled at the lack of newfront dealmaking. "I think this year we're going to see the complaints around lack of scarcity go away because there will be enough advertiser support," says McCarus. "Deals will be announced with large advertisers stepping up at Yahoo, AOL, and YouTube. There were 2,000 people in line for 800 seats at the BuzzFeed event. There is not a seat to be had at any newfront presentation, across 22 events in a week and a half. What that says is that this community knows that this is about to ignite and they don't want to be passed by."