With a name like Omelet, perhaps it shouldn't be surprising that the Los Angeles-based, multidiscipline agency is getting into the food business.
This June, Omelet Brands, a new division set up to create and launch products into the consumer market, is introducing Betsy's Best, a line of gourmet and all-natural peanut, almond, and seed butters, in partnership with Healthy Concepts Food Company. In return for bringing the brand to market as well as investing capital, the agency has received co-ownership in Betsy's Best, making it Omelet's first co-owned brand.
It's been a longtime goal of the 10-year-old agency to develop a brand that it actually has a stake in, according to Omelet co-founder and chief brand officer Ryan Fey. "There are a lot of other companies that launch products, but as a creative agency that's born out of understanding consumers' wants and needs and desires and then building things to give to them, we thought, why couldn't we do this?" Fey says.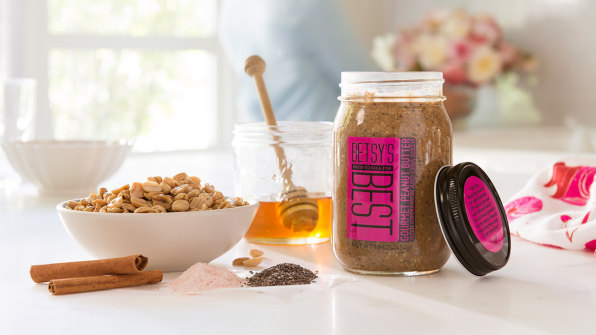 Omelet Brands didn't necessarily set out to make its first product food-oriented. "But it does make sense. I'm a foodie and an executive chef on the side as a hobby, and there are a few of us who actually cook for the entire staff of Omelet, and we've had restaurant takeovers in L.A.," Fey muses. "We've had this food connotation in our DNA for a very, very long time."
It was Don Kurz, CEO of Omelet, who first sampled Betsy's Best. The creator, Betsy Opyt, a Naples, Florida-based registered dietician and personal trainer, had been making the healthy peanut butter at home for her friends, family, and clients. Kurz loved it and told Fey he had to try it. "I kind of lost my mind," Fey says, explaining that the peanut butter has a surprising blend of cinnamon and chia seeds. "It's a completely new flavor."
But was there a market for it? The agency did research on the healthy peanut butter brands already out there–"We're audience-first on everything we do, and we want to fill a void in the market," Fey notes–and found that while people bought natural peanut butter for health reasons, they had all sorts of complaints about what was currently available. "People were asking, 'Why can't I have a good-tasting peanut butter that's also good for me? Why does it taste like dirt? Why do I have to stir it 57 times? Why doesn't it stick on apples?' " Fey says. "We just started checking the boxes, being like, 'Are you kidding me?' Betsy has created a formula that actually ticks all the boxes."
Once they knew they had a product people wanted, Omelet took Betsy's Best into a test kitchen to figure out how her butters could best be mass-produced. Later on in the process, there were also FDA-approved labels to create–Omelet brought in an outside expert to work on that–and a member of the Healthy Concepts Food Company team helped with the distribution and fulfillment side of the business. "It's been a learning process for us. I have an MBA in food now," Fey says. "Our entire staff has. We've gotten an amazing education in everything, especially logistics. When you have a scale you have to hit where you've got a plant involved, and you have thousands of pallets that you're about to hit go on, you better be damn sure that all of the logistics are covered and you know what you're doing. It's been an incredible experience just to be able to learn about all of this. I feel like in this business you don't get to do this kind of stuff very often."
Branding Betsy's Best came naturally to Omelet, of course. The agency has created a social-media marketing campaign for the product launch, focusing on Facebook, Instagram, and Pinterest, and a grassroots marketing effort will take place at select farmers markets in Southern California and Florida to start. The tagline for Betsy's Best will be "Food to fall for," and marketing messages will stress just how good it tastes. "We deliberately say 'gourmet' first versus 'healthy,'" Fey says.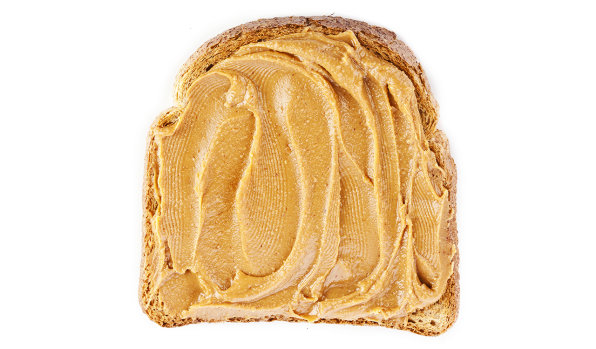 Initially, Betsy's Best will only be sold through the brand's website and at farmers markets. "Omelet is looking at creating a tribe versus going mass at first," Fey says.
The goal is to then have the product on store shelves by the end of the year. Given that Whole Foods Market is one of Omelet's clients, one has to ask if that relationship will help the agency get the product sold at the chain. "We have an amazing partnership and long-standing relationship with Whole Foods Market, and we hope because of the nature of these amazing, gourmet, and all-natural nut and seed butters that Whole Foods will love it as much as we do," Fey says.
Speaking of clients, while working on Betsy's Best has been a passion project for the Omelet team, the agency has also been careful to maintain balance when it comes to serving its client roster, which includes DirecTV, HBO, and Walmart. "You can't take your eye off the ball," Fey stresses. "We're still serving all of our clients, and a lot of our clients are actually excited about this."
If anything, the agency's growth into new areas can only benefit their clients, reasons Fey, who says, "We're now looking at product development as one of our areas of expertise. That makes us a great partner versus just a service provider."