California rolls. Pokemon. Uniqlo's tailored jeans.
Much of the globe is already fond of–and, in some cases, addicted to–one Japanese cultural export or another. Now the country is making a $1 billion bet that the world wants even more from Japan.
The Cool Japan Fund launched last year with 57.5 billion yen ($560 million dollars), the vast majority of that financed by the government. In total, the fund will spend about $1 billion to stimulate cultural exports, including food, fashion, movies, and shows.
Singapore-based Viki, which leverages its community of 30 million people to crowdsource translated subtitles, is one of the major players bringing Japanese films and TV shows to the rest of the world. Running contrary to the growing emphasis on original content, Viki is very much focused on distribution. "I can't afford to spend a billion dollars on content or do original programming," Viki CEO Razmig Hovaghimian tells Fast Company. "Frankly, I don't need to do originally programming. There's amazing content worldwide that I need to bring out there."
The streaming platform, which Japanese e-commerce company Rakuten acquired for $200 million in September, streams more than a billion minutes per month globally, and it considers Japan one of the top five content markets in terms of distribution. "There was pent-up demand," says Hovaghimian. "It was clear people wanted anime. It was clear people wanted Japanese shows. On a cultural level, Cool Japan made sense."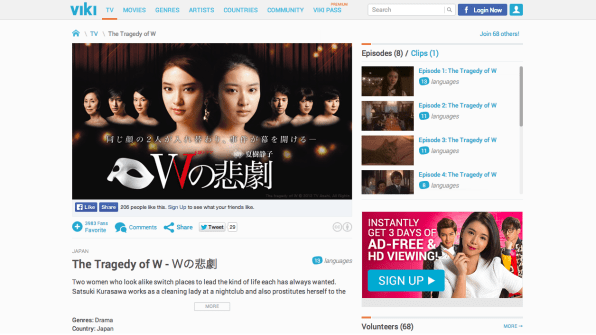 That may be true, but it won't be easy. With complicated licensing protocols, securing rights in Japan can be much more difficult than it is in other countries. It's not uncommon for content to have multiple rights holders–including writers, directors, broadcasters, production companies, and talent agencies–and the number of parties involved adds friction to the process. "All of them have to agree," Hovaghimian says. "Rights are notoriously rough to get in Japan."
Also standing in the way is a sense of complacency. Japanese broadcasters haven't seen a need to extend their reach because of the large domestic appetite for entertainment. Hovaghimian recalled many meetings with broadcasters that didn't go anywhere. "Their response was that it's difficult to take content global," he recalls. "It's a bit of a mindset problem. The parachute doesn't open until you jump."
TV Asahi, Japan's top network based on prime-time viewership, was initially dubious of Viki. "Honestly speaking, I was quite skeptical," Naoto Ueda, director of international business for TV Asahi, said in an email, noting he was puzzled why users would volunteer their time to translate foreign movies and shows. Eventually, the network was convinced by the model, inking a deal with Viki last year to open up hundreds of hours of programming to viewers outside Japan.
"While [the entertainment and media industries] haven't put in as much effort into export as the Japanese electronics and car manufacturers, I believe that Japan is unique in the world for content creation," Ueda said. "Having such content appreciated and consumed worldwide is a source of pride, and I believe there is much more room for overseas growth."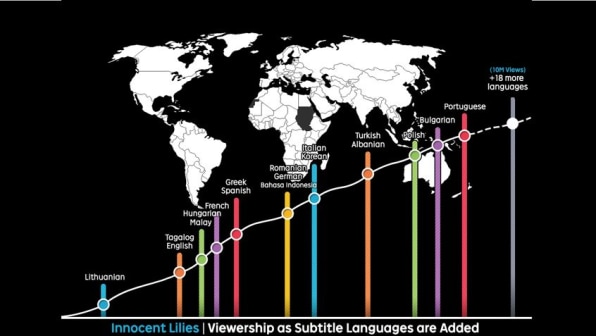 Innocent Lilies, one of the shows TV Asahi has made available on Viki, has been viewed in "pretty much every country, except North and South Sudan–it even has North Korea, which is mind boggling," says Hovaghimian. With subtitles available in 18 languages, the show has attracted more than 10 million views globally. According to Viki, subtitles can help a movie or show extend its reach by fourfold, but it is hard to predict what will perform globally. Case in point: The Japanese film Tragedy of W, which TV Asahi made available on Viki, has been one of the streaming service's major hits, but it was a flop when it first aired in its home country in 1984.
With news of the Cool Japan Fund and Viki's growing Japanese presence following its acquisition, Hovaghimian said securing licensing deals in the country has become less of a challenge than it used to be. "When people see one broadcaster doing it, they see opportunities for others to jump on board as well," he says. "It's not great, but it's easier."
And TV Asahi's Ueda is confident about the Cool Japan Fund's impact. "With government support, I do feel the powerful momentum behind the public and private spheres coming together," he said.
An an example of the shifting mindset pushed by the Cool Japan Fund, there have been recent instances where broadcasters changed the music featured in a show because those rights weren't secured after the rest of the stakeholders signed off. "The conversations are finally getting easier," Hovaghimian says, "because it's clear there's demand."