The indomitable duo met over a decade ago as green improv students of the Upright Citizens Brigade, New York's comedic epicenter where everyone from Aziz Ansari to the ladies of Broad City also cut their teeth. After becoming fast friends, they soon found they were able to make audiences laugh nearly as much as they did each other. In the years since, Parham and St. Clair's creative partnership has snowballed into TV careers as they've developed and starred in two series. Their best friend status has not only fueled their work, though, it's also served as subject matter.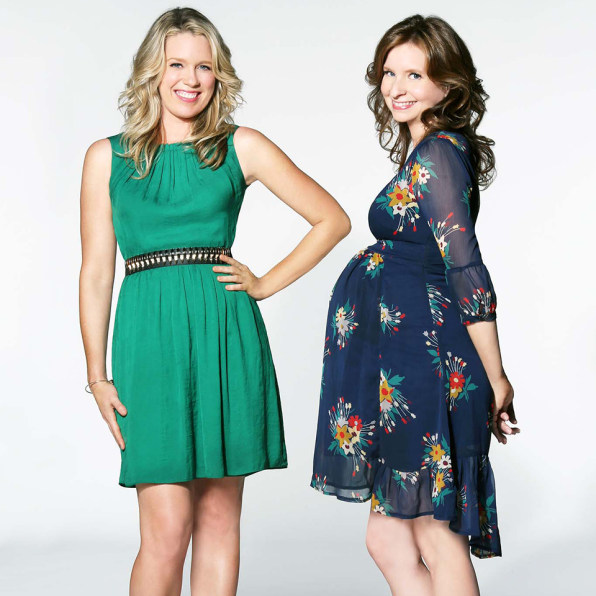 "It's kind of a fluid line between how we're working and how we're friends," Parham says. "We'll stop in the middle of a writing session to talk something out from our real lives, and then go back to writing. But then in the middle of having brunch with a friend, we'll start talking about something that just happened and how it can probably go on the show."
Playing House, which premieres on the USA network April 29th, follows the late, beloved Best Friends Forever, as the second collaboration in which Parham and St. Clair have starred as best friends. BFF was hailed as a more nuanced portrait of women and female friendship than most sitcoms. (These friends were never shown fighting over a man, to give you an idea.) After a long, protracted cancellation, the resilient team took some brief time out to process the experience and work on outside projects before regrouping to work on a follow-up together.
"When we're talking about doing a show, we'll go through a bunch of ideas that feel sort of like heavy lifting," St. Clair says. "But then the ones that kinda feel effortless, we start to go, 'What if there was an episode where blank-blank-blank happens?' So by the time we even pitch an idea, we usually have–because we're such type-A nerds–something like 24 episodes in our minds already."
The show that made the grade in this instance, Playing House, finds the pair portraying childhood best buds, both going through tumultuous times, coming back together to push each other out of their respective ruts. On top of this premise, the two also raise a baby together. That aspect of the show became partially autobiographical, however, when Parham got pregnant during the development process.
The writer/performer was eight-and-a-half months along during the filming of the pilot, catching up to her character's exact state of pregnancy. Following along in her best friend's footsteps, St. Clair also got pregnant while the show was in development, although this milestone did not mirror her character at the time. (St. Clair's counterpart, Emma, may have a baby in the second season.)
"I was three months pregnant and secretly throwing up in bushes in Pasadena while we were shooting the pilot," St. Clair says. "What's that movie–Adaptation? I really feel like we're writing our own lives. But then also some horribly awkward thing from the show will happen at lunch maybe, and it's like, did we write that into existence?"
Whether the material they write ends up informing their lives, the opposite is true constantly. Playing House doesn't merely lift situations straight from Parham's and St. Clair's lives–though it proudly does do that–the show also replicates their dynamic at every turn, in order to create an authentic portrait of this friendship and all that resemble it. In order to find the right rhythms, the creators rely on improv-based writing.
"After we break the story, when the writers go off to script, they come to us and say, 'I need these scenes improvised,'" Parham says. "Then we go in a room with them, and the two of us act out every part and we record ourselves. That transcription is then given to the writer to work with, sort of as raw material to then build a scene around."
This improv-friendly atmosphere is aided by Parham's and St. Clair's decision to put top-tier improv talent on both sides of the camera. The writers' room is full of ringers, like John Lutz of 30 Rock fame, while Silicon Valley's Zach Woods joins Key and Peele's Keegan Michael-Key as co-stars. (The two trained at UCB and Chicago's Second City respectively.) By the time the show's creators get in the edit room, they usually have upwards of 17 different possibilities for kickers on each scene. Despite all the qualified hand on deck, however, the heart of the show remains the friendship of the two people at its center.
"We know each other so well, like our faults and our positives, so when we come up with a concept for an episode, like, say, the one where I get asked out by Maggie's [Parham's character's] divorce lawyer, the whole concept is that I talk too much and I don't listen enough to cues, so I don't know that Maggie has a crush on him–and that's something that probably we've already dealt with in our personal friendship."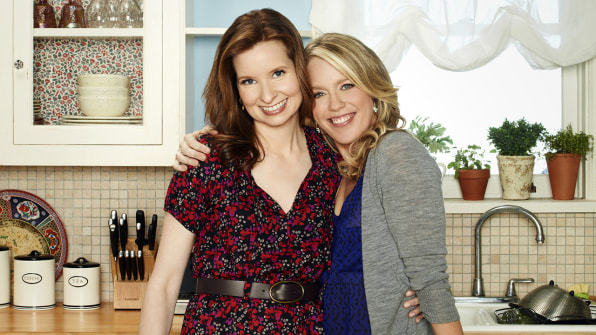 Maggie and Emma have the kind of TV relationship plenty of writers could perhaps conjure with some experience, but it carries much more emotional resonance–and more lived-in laugh scenes–when the writers have already gone through it with each other.
"Before I gave birth," St. Clair says, "my husband went out of town and I said to Lennon, 'I may have this baby tonight, and I'm gonna call you, and the truth is I feel perfectly comfortable with you being in the delivery room with me.'" She adds, "And that's sort of in the show now, in the episode where Maggie gives birth."