Rich Fulop was vacationing with his wife in Las Vegas when he became a convert to fine sheets. They were staying at the Wynn Las Vegas, and the sheets on the bed were like nothing he had ever felt before. "It was a very cool feeling–very breathable, so airy," he recalls. "The fabric was so light and soft and smooth, but not with that shiny satin look. It had this crispy, crinkly feel to it that was perfect."
In sum: "It was just extremely soft and comfortable."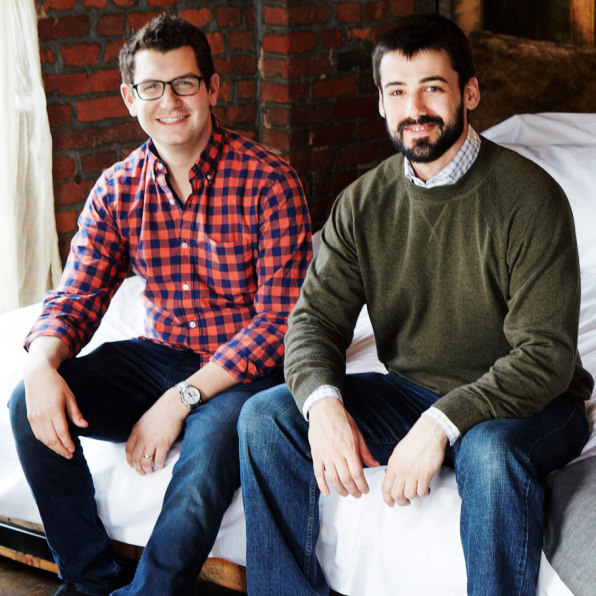 He had to have a pair. And this being Vegas, everything was for sale. Fulop and his wife went down to the hotel store, only to find that the pair of sheets cost…$800. "We were like, 'That's crazy.' At the same time, I really wanted to upgrade my sheets." Even if he was feeling mischievous, raiding the maid's cart wasn't an option: Fulop noticed that the hotel kept them under lock and key.
Since spending $800 and robbing the maid's cart were both out, Fulop went to the logical third option: to build an affordable fine linens business from scratch. At NYU's business school that fall, Fulop met Dave Fortune, whom he soon pitched on his idea. Fortune had also come to NYU with the entrepreneurial bug, and had also recently undergone the experience of struggling to buy new sheets. The world was new to him: "I grew up in a really big family, and we always had $20 polyester sheets," he recalls. He knew that there had to be a way to get fine linens, though, without paying half a month's worth of New York rent.
The two began to explore the reasons why luxury bed linens cost so much. What they found was a bloated supply chain, expensive designer licensing fees that were passed onto the consumer, and generally a business that had lacked any substantial disrupting force. Fulop and Fortune decided to try to change that.
It involved a globe-hopping adventure to rival an Indiana Jones movie. "We went to Asia, to the Middle East, and to Europe," says Fulop. "It's a very complicated web, the whole textile manufacturing game." They learned that while a standard textile machine was 60 inches wide, it required a rarer type of machine, twice as wide, to manufacture bed sheets. There was no playbook to follow in trying to suss out which factories they wanted to partner with. They'd knock on one door, then another, until finally someone would say, "I can't help you. But you know what? My cousin down the street might be able to."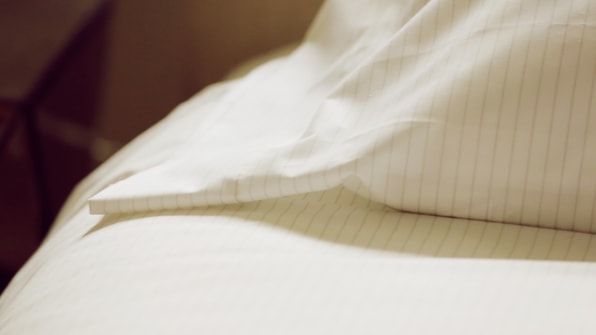 After a lot of legwork, the team partnered with a factory in Israel. Though the factory typically only worked on large batches, the factory owner took a liking to the guys, and was willing to take a chance on a small batch. Fulop says, too, that part of the reason they have made a lot of contacts over the globe is to be able to take advantage of different cycles of production: "If we can swoop into a factory when they have a lull, we can get a good deal on manufacturing with them."
Fulop and Fortune recently launched a Kickstarter campaign and quickly surpassed their $50,000 goal. One thing that they've noticed about those who have expressed interest in their product–be it over Kickstarter or directly through Brooklinen's site–is that the demographic skews male, at a rate of about 65%.
"That's playing right into our hypothesis," says Fulop, who came to feel that there was a significantly underserved demand for fine linens among young professional men. Everyone uses sheets, after all, but Fulop and Fortune found that virtually all linens companies had branding that seemed clearly targeted at women. "Most sites out there have a female aesthetic, with floral patterns and paisleys that aren't that attractive to guys," says Fortune.
In recent months, Fulop and Fortune's main struggle has been to balance the demands of their business with their earnest efforts to remain passing students at NYU. "I would say our Marketing for Entrepreneurship professor loves us," laughs Fortune, since he and Fulop always present an object lesson, even if they're 15 minutes late to class. "Our Sports Economics professor, not so much."
Whether Brooklinen sinks or swims remains to be seen, but the company does join a suite of other New York-based companies–most famously, Warby Parker–that have worked business wonders by rethinking a not-obviously-sexy industry with a stylish direct-to-consumer e-tailing model. And the price is right: Brooklinen sheets will go for about $100.
So Fulop saved $700, in the end–and built a business. "Actually, it might have been cheaper to spend the $800, in hindsight," he laughs. "This took a year and a half."