Last year, Ikea sold 97.4 million meatballs to hungry shoppers. The snack is a Swedish icon. But because the traditional recipe calls for beef and pork–both major contributors to climate change–the company is now working on vegetarian and chicken options to help trim down its carbon footprint.
In all, the food served and sold in Ikea stores is responsible for a hefty 600,000 tons of carbon dioxide emissions every year. Still, that's only about 2% of the company's entire footprint. So Ikea has decided to aggressively improve everything it makes, from Åfjärden to Flärdfull.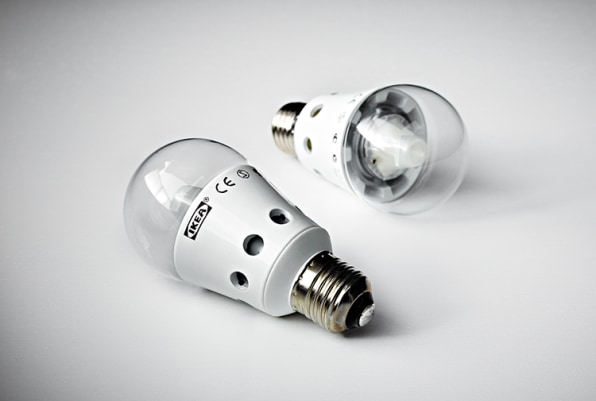 "We didn't want to have 5% of our range "green" and ignore the rest," says Steve Howard, the company's chief sustainability officer. "If we think of the challenge–society is using 1 ½ planets' worth of resources every year, and on track for more–business as usual isn't an option. Sustainability has to be in every product in every customer's home. It shouldn't be a luxury for the few."
Since the company has always aimed for affordability, it's working to quickly bring down costs of more sustainable options. One way that's happening is by fully committing to a product, rather than slowly phasing it in. In two years, for example, Ikea will only sell LED lights, since they're so much more efficient than other options.
"When you decide to get 100% behind something, it actually makes it easier because you put all of the energy in the business behind that solution," Howard says. "So we scaled. We got the high-quality, super long-life LEDs at a great price much earlier than we would have done if we'd not had the transformational target."
Ikea now measures every product against an internal scorecard that weighs factors like the materials used, energy use in production and transportation, and how easy the product is to recycle when someone wants to get rid of it. Quality is a factor as well–the company is trying to make some of its famously disposable products more durable.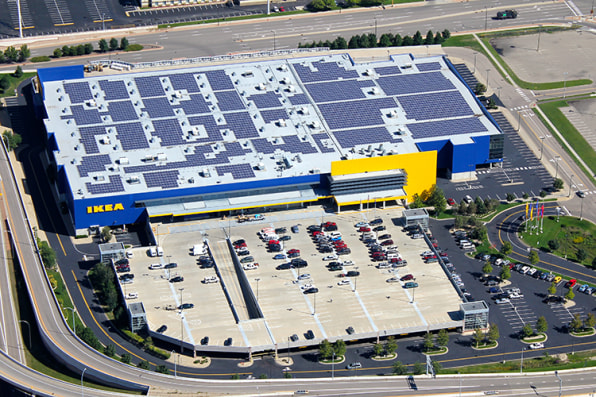 "The benefits can come in surprising ways," Howard says. "Our most popular sofa, the Ektorp, we just redesigned so that could flatpack down and you could ship it. You could triple the number of sofas you could ship. You've effectively reduced the transport emissions by two-thirds. The customer is part of the deal–we pass on the savings to the customers so it's a few dollars cheaper."
Ikea has also started offering new products that can help people live more sustainably at home, like solar panels. "People come in to buy towels and leave with solar panels," Howard says. "That's not aggressive upselling, that's a fantastic deal where those people will get a 13% or 14% payback on the solar panels they've installed."
In a new program, the company is giving some store employees certain products to try out at home, like energy-saving induction cookware or food storage containers that can help cut back on food waste. The hope is that the employees will start becoming ambassadors for a more sustainable lifestyle.
On a larger scale, by 2020, Ikea plans to produce all of its own energy from renewable sources. On April 10, the company invested in a new 98-megawatt wind farm in Illinois. When it's built, it will produce 165% of the electricity used by all of the company's stores in the U.S. Worldwide, the company also has installed around 700,000 solar panels.
But is it possible for a store that sells massive amounts of cheap dressers and tables to truly become sustainable? Howard argues that it is, if the right choices are made.
"There's more than enough renewable energy to power the entire world if we put our mind to it," he says. "In terms of things like raw materials and reducing carbon emissions, we need to move with purpose. We need a combination of business innovation and investment and good government policy. Then we have a renewably powered, zero-waste economy with fantastic products and services for people."
The sharing economy and new digital tools will also help make the transition easier, he says. Ikea has experimented, for example, with helping people sell their used sofas and chairs on the Ikea site with the same marketing budget given to new products.
Innovation teams at the retailer are now looking at all aspects of sustainability. "The challenge is to do it fast enough to combat things like climate change," Howard says. Still, he's optimistic about the future.
"We've spent all of human history trying to make tomorrow better than today. And we now have more smart people than ever before in our connected world–the ability to create the future is stronger today than it ever has been. As long as we put our minds to this task, we will get it done."