At some hazy point after the rad technicolor explosion of the '80s, men's technical clothes–think: ski jackets, windproof shells, moisture-wicking base layers–stopped caring about aesthetics. Maybe it was snowboarding's fault, but for outdoorsy customers, looking sharp while trying to stay warm suddenly became an afterthought.
Today, though, we're witnessing an interesting shift in men's fashion circles toward advanced fabrics like merino wool and Gore-Tex, which are being integrated into style-conscious designs like fishtail parkas and bomber jackets. Staying dry during a rainstorm no longer entails dressing from an L.L. Bean catalog.
Along with Stone Island, Arc'teryx, Acronym, Outlier, and a smattering of other designers, ISAORA–pronounced "eesa-ora"–is one of the men's brands to emerge in recent years determined to merge high-tech performance materials (a range of fabrics that generally breathe well, keep you dry, or insulate you from cold) with slick, runway-friendly design. ISAORA's main goal, according to cofounders Marc Daniels and Ricky Hendry, is to make men's clothes for the future–even if it means pulling its clothes from the hallowed racks of Barneys.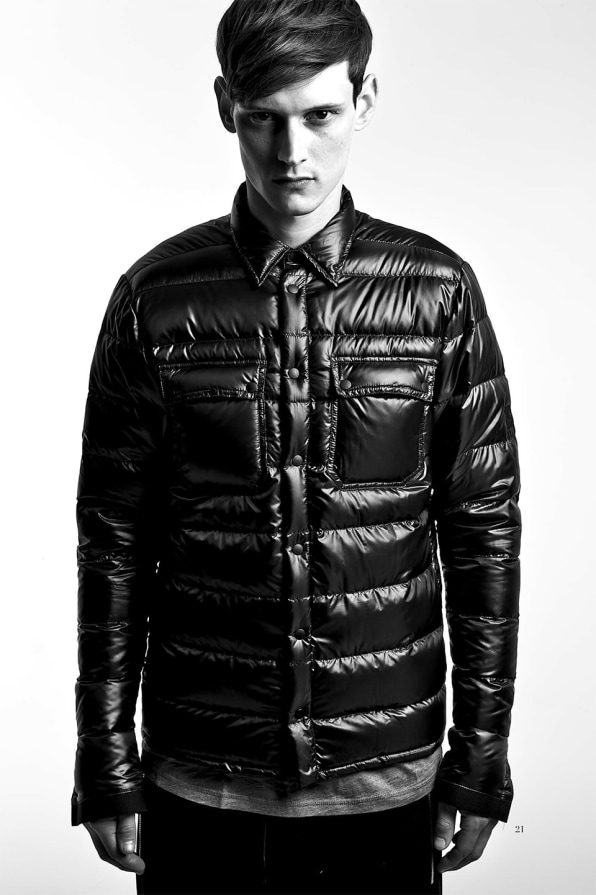 On a recent visit to their showroom to browse through ISAORA's Fall/Winter 2014 collection, the pair was, despite a recent frantic travel schedule, relaxed and laid back. Daniels spoke soft and slow, with a wizened surfer vibe; Hendry strolled in late, smiling and wearing sweatpants. Both were decked out in black clothing.
ISAORA was born, I'm told, from a glaring lack of versatile options in high-end everyday clothing. "The idea was born out of a frustration," Hendry, the designer of the two, told Fast Company over the phone a few days earlier. "We had an appreciation for technical performance apparel, but in terms of the performance and technology aspect… aesthetically, it was not very sophisticated."
Founded in 2009, ISAORA falls into an amorphous category of "urban techwear" brands gushed over in fashion forums like Superfuture, Styleforum, and, to a lesser extent, the menswear corners of Reddit. They all share in a belief that comfort, high performance, and good style don't have to be mutually exclusive. Although ISAORA was slow to gain traction in the United States–Japan and other Asian markets accounted for most of its initial fanbase–North America now accounts for 60% of the company's total sales.
Part of that slow start has to do with a sputtering economy, which gave rise to the heritage look: rustic plaids, raw denim, small-batch artisanal everything, etc. It was a trend ISAORA initially found itself a part of before quickly splintering in its own direction. "I think to a large extent, fashion acts as a mirror to social trends," says Hendry. "The economy was dreadful back in 2008 and 2009. The heritage thing was a way of looking back, a comfort for when things were more authentic."
Now, instead of drawing inspiration from the past, the team says they're focused on building a forward-thinking business for the future. The look is less urban woodsman now and more futuristic athlete swaddled in performance sweats. ISAORA's just-released rainwear collection, for example, is constructed from a new water-repellant nylon from Japan, and sealed with a technique described to me as "ultrasonic welding." (Basically instead of stitching, pressure and heat are used to seal two fabrics together.) The result is a lightweight, waterproof trench coat that would be at home in Inspector Gadget's closet. "We didn't want to look like we were walking off a mountain or walking through the woods," says Daniels. "It was a little bit of like, 'You can have your cake and eat it, too.'"
For the most part, ISAORA's price points tend more toward the luxe end–the company's asymmetrical, 3L technical riding shell for cyclists hovers in the $700+ range–and size runs are limited; when something sells out, it's gone.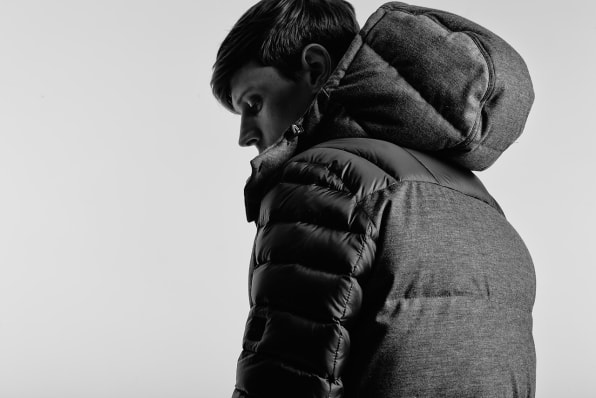 While the brand was previously available at high-end brick-and-mortar stores like Barneys and Opening Ceremony, last season, ISAORA made the decision to go online-only. Like Warby Parker, Everlane, and upstart brands like Greats, the decision to sell its collection through ISAORA.com wrested control of its image back into the hands of Hendry and Daniels, and not, say, a random visual merchandiser throwing clothes on a mannequin. "In our former life, our real customer, as bad as it was, was the stores who were buying the clothes," says Daniels. "That was who we catered to."
Now, the company can control the tone of its branding, which at the moment happens to be dark and moody. The strategic shift also means more creative freedom, which is manifested in bolder styles that ISAORA wouldn't have dared attempt in previous seasons–for example, an oversized lamé parka (pictured in the slideshow above), which is set to debut in August. It's bold, adventurous, and unabashedly flamboyant, like a space costume torn from the pages of a pulp comic. "From an efficiency standpoint, global reach, controlling our message, and how our product is presented, there's no better medium than online," says Daniels.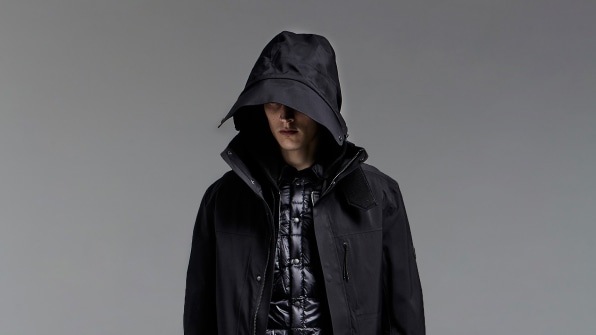 Of course, there are risks to selling online only, especially for a brand that demands steep prices in exchange for quality. Without the ability to assess a product in-store, customers have to put enormous faith in reviews from their peers, or go through the hassle of returning something through the mail if it doesn't fit at home. Brand perception may no longer be in the hands of buyers, but it is at the mercy of a very discerning and opinionated customer base. ISAORA's founders, however, view the Internet model–and by extension, the fashion forums they can't help but peek at from time to time–as a great thing that provides real-time feedback from the customers who know the product best. And they both hinted that ISAORA's best stuff is yet to come.
"The concept of 'innovate or die' is not something the fashion world really adheres to," says Daniels. For ISAORA, "it's about of moving forward rather than moving back."