Are the largest companies in the world taking sustainability concerns seriously? Or is it mostly lip service?
Often, it's hard to tell, especially without the ability to compare the actions companies are taking within and across different sectors. That's why the trends described in a new report that evaluates the actions of 613 of the largest publicly traded companies in the U.S., representing 75% of the the total market capitalization of all public companies in the country, are simultaneously fascinating and a bit discouraging.
The analysis, a collaboration between sustainable business nonprofit Ceres and the research firm Sustainalytics, assesses companies across four strategic areas and compares progress since the first report in 2012. Based on performance and considerations by sector, the report divides companies into four tiers ("setting the pace," "making progress," "getting on track," "starting out").
"We're seeing companies improve across many of the expectations, but at the same time, we're not seeing the scale of change that we really need," says Ceres's corporate program vice president Andrea Moffat. "We're seeing a change, but not fast enough and not to the extent that we think is really possible for U.S. companies."
"If we really want the change to happen, it's got to be in the business structure," says Moffat.
One of the most surprising and positive findings was the leap in the number of companies with top executives whose compensation packages are linked to sustainability performance–24% (146 companies out of 613), compared to only 15% in 2012. Most firms that did this, however, are in sectors with strict environmental and safety regulations. For example, at the manufacturing company Alcoa, 20% of executive cash compensation is tied to safety, environmental stewardship, and diversity goals. When it came down to it, only 19 companies (3%) had compensation linked to voluntary targets, such as greenhouse gas reductions.
Similarly, only 32% of boards of directors formally have oversight over sustainability performance, a slight uptick from 2012. The companies that take sustainability the most seriously again are utilities and materials companies that have the highest risk exposure.
A number of companies, 40%, are also engaging employees directly in sustainability, a big increase from 30% in 2012. Intel is a leader in this area, the report authors say. It trains employees to consider sustainability in business decisions and gives them incentive by, in some cases, linking sustainability performance to compensation.
Two out of three companies say they are working to reduce their carbon emissions, but only one in three have set any target deadline for their goals (35% of the 613 companies in 2014, compared to 32% in 2012). Similarly, there's been barely any improvement in the number of companies with renewable energy programs since 2012, and only 6% of companies have "quantitative targets to increase renewable energy sourcing."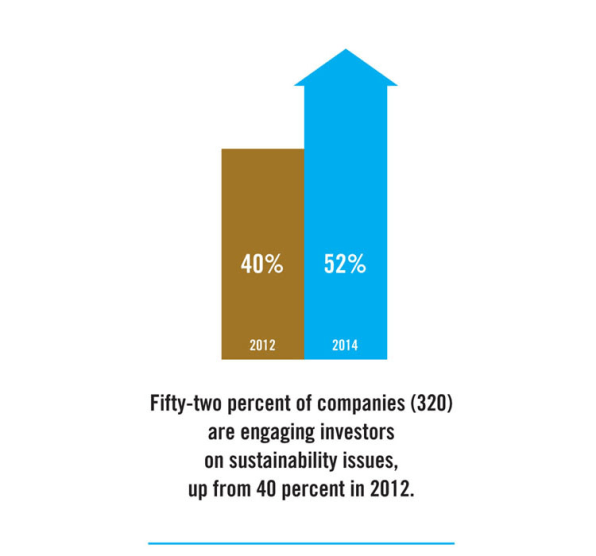 Moffat says she was surprised there's been so little movement, given the extreme weather, floods, and commodity price shocks many sectors have endured recently. "It's only two years, but I would have expected a bigger change than that, especially because of what we're seeing on the ground."
On both of the climate and energy fronts, the technology sector leads the pack and the authors cite Hewlett Packard as a particular exemplar. Unsurprisingly, the oil and gas sector is a laggard. Only four of 30 companies have concrete emissions reduction targets.
Many companies also ignore water resource risks–even companies that rely on water for their operations. Only half of the 103 companies in water-intensive industries, such as the beverage business, actually assess water-related business risks. Ceres cites Coca-Cola as one company taking these challenges seriously, as it has improved its water-use efficiency by 20% over the last decade.
Only 14% of companies have formal programs that invest in and promote sustainable products and services they produce. Nike is a leader, with its sustainable design principles integrated into the product portfolio and its recent FlyKnit running shoe that wastes less material. In 2013, Nike created a public "materials sustainability index" to help other designers in the fashion industry think in the same way.
More companies are looking at their supply chain and setting sustainability and human rights standards for suppliers. A surprising 58% of companies have codes of conduct that address human rights issues in their supply chains, compared to 43% in 2012. Only 33% of companies have established some form of program to engage suppliers on sustainability performance.
"While our analysis shows that companies and investors are increasingly aware of these challenges, many are just starting to get informed about how to address them," says the report.
Moffat says she hopes that investors and companies look at this report both as a benchmark to make comparisons and as an inspiration for ideas. There's a lot more detail in the full report, as well as scorecards for each individual company, so take a deeper dive.