"I'm a professional at talking about myself," says Marc Maron. "That is the job I've created for myself in this world." Nice work if you can get it, but comedian Maron, 50, had to spend three decades in the show-biz trenches to acquire the worldview that makes his stories worth listening to.
Last year, Maron landed his first TV sitcom, which begins its second season May 8 on IFC. Filmed in a house down the street from his actual Los Angeles-area home, Maron, the series, offers a slightly fictionalized portrait of the comedian and the bi-weekly WTF podcast he records in his garage.
In the new season's first episode, Maron's on-screen girlfriend Jen (Nora Zehetner) blasts him for making jokes about her in his act. He promises to quit but can't help himself during an appearance on zombie show Talking Dead, where he reflexively goes for the punchline when hostile host Chris Hardwick asks about his much younger girlfriend. "It's fine except for when I have to tell her to clean her room," Maron quips. Jen calls the show and announces their relationship is kaput.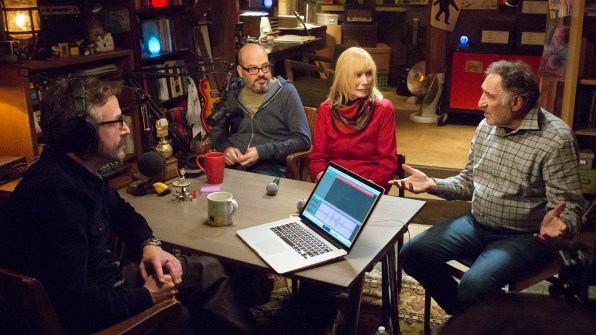 Maron, who's been divorced twice and in February announced on his podcast that he'd broken up with real-life fiancee Jessica Sanchez, acknowledges that his sardonic brand of confessional comedy comes with a price. "All through my career it's caused problems for the women I've been with and with my family. Right now my father's upset with me because of what I've shared about him, so it's a hard deliberation. I talk about my life. These people are part of my life. How do you fundamentally respect them and tell the truth? It's tricky. When it comes to that, I'm still a work in progress "
On the upside, Maron's affinity for the unvarnished personal truth has fueled a multiplatform ecosystem that feeds on itself with remarkable efficiency. On the ad-supported WTF podcast, Maron tries out new ideas, promotes stand-up appearances, and talks up his Attempting Normal memoir. The IFC series entices viewers to check out Maron's bi-weekly podcasts. And the live comedy gigs drive fans to web and television for more helpings of Maron's dread-laced wit.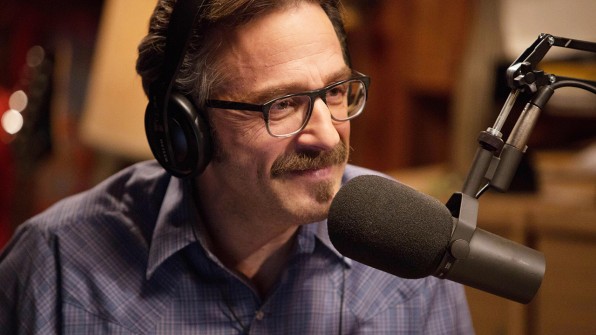 Describing the podcast at the heart of his enterprise, Maron says "I've created this broad platform for myself where it's just my own little world, it's my microphone, it's my garage. I'm sitting alone and I do it."
Maron's WTF musings, which range from annoyance with a milk-spewing vomit cannon he encountered in Cleveland to his take on Jesus, precede interviews with actors and comedians including Jon Hamm, Jonah Hill, Sarah Silverman, and Will Ferrell. Maron says, "If I don't interview somebody for a couple of weeks I get squirrely because I fall into myself."
One of Maron's most popular podcasts featured an earnest conversation with his former best friend Louis CK. The two-part interview proved compelling despite the absence of actual jokes. Maron says, "I don't have any problem talking earnestly or emotionally about things. I'm not hinged to the expectation of laughs. I don't have a problem with being heavy or sad or angry."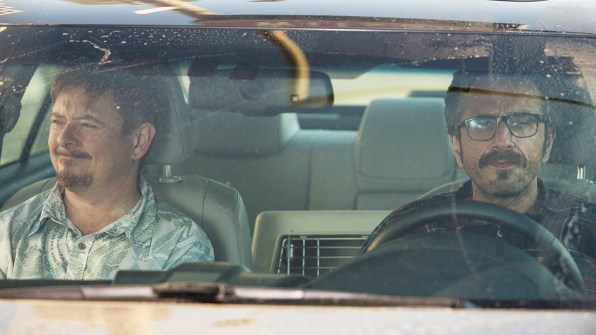 The road to Maron's multimedia niche empire began in ruins. A self-described alcoholic who's been sober for 14 years, Maron struggled professionally in the early 2000s when he released albums with such telling titles as Not Sold Out and Tickets Still Available. "There was a long period there where I was genuinely angry and bitter," Maron says. "That was a mistake in judgment because I came at the work from that place and expected people to relate. The truth of the matter is that bitterness, in its raw form, it's basically just amplified self-pity."
In 2008, Maron went to work at the Air America radio network. "I was going bankrupt and getting divorced, so I took this gig doing an Internet streaming video show," he recalls. "Air America fired us after a year, but they didn't take away our office or security cards, so my production partner Brendan McDonald and I started breaking into the studio at night and figured out what to do next. I was at the end of my rope. My comedy career was sort of dead, but I knew that other people were doing podcasts, so we used the equipment and made a commitment to put up a show every Monday and Thursday."
After a month, Maron and McDonald bought some microphones and relocated the podcast to his garage. "We didn't have any expectations about if there was any money to be made or anything," Maron recalls. "I just knew I needed to keep doing something."
Building on the podcast's popularity, Maron finally became the star of his own TV series when IFC came calling last year. "Earlier in my career, I was so hungry and anxious and competitive that I was never really ready," he observes. "By the time I started the podcast, I felt all these opportunities were behind me and I'd really let go of those expectation. It was a pleasant surprise when the TV series started happening because now I was grounded in a way I hadn't been before."
Unlike his free-wheeling podcast, television comedy compels Maron to format his life experiences into a concise narrative structure. "The first season I was so locked into this pitch of authenticity where 'It's gotta be real,'" he says. "But the truth of the matter is, it's got to be a good story. We've got 22 minutes in three acts to build off an event in my life or a feeling that I have. The one thing you realize about life is that it's not a story. You have some events that happen. To make them into a story–that's the challenge."