Last month, the first stage of demolition began on the American Folk Art Museum building, a significant work of midtown Manhattan architecture. The structure, designed just a dozen years ago by Billie Tsien and Tod Williams, will be destroyed to make way for an expansion of its next-door neighbor, the Museum of Modern Art–a controversial decision that has ignited a fierce debate around preservation in New York City's art and architecture community.
Diller Scofidio+Renfro, the New York-based firm tasked with designing MoMA's expansion, has taken a lot of heat for the plan. Many hoped DS+R, which MoMA commissioned last spring to plan the museum's expansion, could find a way to save the American Folk Art Museum.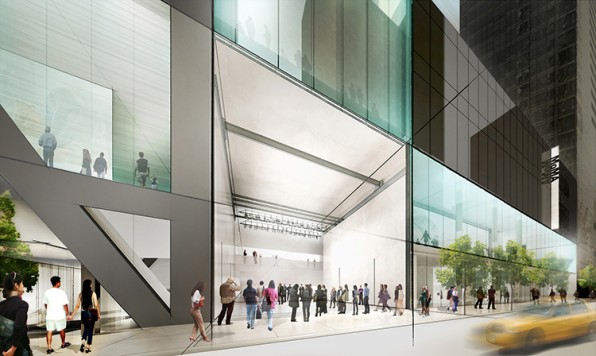 Co.Design reached out to Liz Diller, a founding partner at DS+R, to ask about her views on morality in architecture, and some of her remarks appeared in an article published yesterday. Here is her extended reply, sent via email, which provides insight into DS+R's choice to move forward with such a controversial commission. Her response suggests it was a complex decision, and perhaps one with an outcome the architect herself is still wrestling with:
Your question is especially poignant in relation to the work we're doing right now for MoMA. The museum's desire to make more of its collection available to the public led to an expansion plan in the future Hines residential tower neighboring to the west as well as the acquisition of the American Folk Art Museum, which had recently defaulted on its $32 million debt.

Joining the MoMA project after the museum's decision to raze the building, we challenged their assertion and started with the conviction that existing buildings of merit should be reused. We were certain that we could repurpose the AFAM while working out the logistics of its vital location to the functionality of the bigger expansion. It was a huge challenge given the AFAM's small townhouse-size footprint, filled with five sets of stairs and multi-story voids.

After six months of intense study, we could not find a convincing enough reuse strategy to reverse MoMA's decision. Meanwhile, we found ourselves inside a storm of anger about many other issues: the lack of a proper preservation culture in New York, the unpopular Pelli and Taniguchi renovations for MoMA, the maladies of mass tourism, the fear of midtown re-zoning, anger about power and control of the 1%, etc.

We operated from a difficult professional situation faced with internal questions like: In preservation, what are the limits of adaptive reuse? At what point in an adaptive reuse initiative does a building lose its integrity? If adaptive reuse strategies fail, is it better to mummify a building or just let go of it? If you do not succeed in adaptive reuse and a building has to be demolished, do you pack up and leave or is there a moral imperative to make a positive contribution in its place?
 
I still don't have answers to all of these questions. Our decision to move forward with the broader expansion, however, was rooted in the principles that have guided our work for the past 30 years–our commitment to the civic realm and to rethink today's institutions for tomorrow in light of a rapidly changing, progressively mono-cultural and technologized world. I had to remind myself that the AFAM is a small part of a bigger effort to make MoMA better: to give it a more intricate and active public interface, to bring art closer to the street, to make the spaces less clinical, and to provide galleries in which MoMA could challenge its own past and show alternative histories of modernism across multiple disciplines.