Ellen Goodman isn't known for keeping her opinions to herself.
The Pulitzer Prize-winning columnist has spent decades riling others with her thoughtful, straightforward, and witty social commentary, taking aim at everyday injustice. The 73-year-old writer and speaker still has a great deal to say and is focused on starting and continuing important conversations.
A steadfast voice in the women's movement, Goodman says more work and activism is needed to get women on truly equal footing. She's concerned that many young people don't understand what it means to come together for change. And she's devoting time to making sure the oldest among us have their wishes respected at the end of their lives.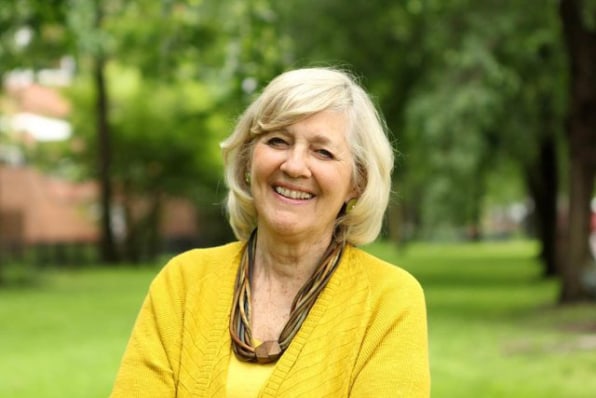 Goodman started working at Newsweek the year before the Civil Rights Act of 1964 was passed and discriminating against women was legal. At the beginning of her career, most women she encountered had stories of being discriminated against, which they kept to themselves because many thought they had to fix those problems on their own. When the women's movement broke in the early 1960s, she says women began sharing those stories, which galvanized them and gave the movement momentum.
And while much progress has been made, there's still a second wave of change that needs to happen, she says. This month saw both Equal Pay Day, the day that symbolizes how far into the new year women need to work to earn the same as men did at the end of the previous year, and the defeat of equal pay legislation in Congress. These are signs that the movement isn't–and shouldn't be considered–over, she says.
"Women facing pay inequity think that it's something they have to fix on their own, and we've lost that sense that we need to do this as a collective movement," she says.
She's concerned that young adults are apolitical and have lost faith in collective movements. While they're vocal on social media about causes that matter to them, she says they're not as committed to voting or pressuring politicians to support the policies in which they believe. Goodman says women like Sheryl Sandberg and her "Lean In" movement, based on her book by the same title, is doing a good job starting conversations about women and career and pay equality, but more leadership is needed.
At the same time, the very women who benefitted from the women's movement and are now engaged in thriving careers, exhausted from work and caring for children and aging parents, are too overwhelmed devote much time to fighting for the very pay equity and family policies that would bring them some relief.
"We've kind of upped the ante. It's not that men don't do caregiving. They do. But we know that women are still doing the majority of it," she says. "There is now this huge generation of women who were working mothers and now they're working daughters. So eldercare has become an unspoken and huge issue at the midlife and the later stage of life."
In part because of her own experiences in this area, Goodman cofounded The Conversation Project, which helps people talk about dying and their wishes at the end of life. She works pro bono alongside other media professionals, lawyers, and journalists, in collaboration with the nonprofit Institute for Healthcare Improvement, which works to improve health care throughout the world.
More than 120,000 people have downloaded the organization's "starter kit" which helps guide difficult conversations about everything from what constitutes a "good death" versus a "hard death" to which affairs need to be put in order before someone dies. Beyond sharing wishes, she says these conversations are critical opportunities to share individuals' stories so they are not lost. She is also working with Encore.org, which encourages "second acts for the social good" among people as they get older, she says.
Throughout her career, Goodman has used her column, speaking engagements, and other vehicles to open lines of communication, but believes there is still work to be done when it comes to fighting for fairness, equality and dignity. One of the keys, she says, is telling those stories, from the ones that sparked the women's movement to the ones that preserve an individual's wishes at the end of life. She thinks it will be the stories that ignite passion among people to fight for change. With vehicles like social media providing ways for people to share their stories more widely than ever, it's a matter of time–and telling, she says.
"There are ways in this world for people to connect. The question is whether they stay connected, they move from pushing a button in outrage to sticking with the long run, creating new policy, running for office, and electing new people who are on our side of the issues," she says.