For turning music lovers into activists.
Hugh Evans had no idea what he was getting into when he boarded the plane. He was 14 years old, and he was leaving his hometown of Melbourne, Australia, to spend several weeks doing community service in Manila, the sprawling, poverty-ridden Philippine capital. As part of the service program, Evans, already a do-gooder at heart, spent a night with Sonny Boy, a young man who belonged to a community of scavengers living in a massive garbage dump called Smokey Mountain, so-named for the noxious gases rising from the festering waste piles. After cooking and eating dinner in Sonny Boy's shanty, they turned in. "Cockroaches were crawling all over us," Evans recalls. "The smell of rubbish was all around." As Evans failed to sleep, he says, "I realized it was pure chance that I was born where I was born and he was born where he was born."
A decade later, in 2008–after volunteering in India with Mother Teresa's Missionaries of Charity and raising hundreds of thousands of dollars for not-for-profits–Evans founded the Global Poverty Project (GPP), an insanely optimistic effort to help the world's needy. It's an innovative cocktail of entertainment, social media, and gamification, and has rallied millions of people worldwide, including celebrity supporters like Ben Affleck and Denmark's Crown Princess Mary, and an array of corporate backers such as Hewlett-Packard and FedEx. "It is possible for us to see an end to extreme poverty in our lifetime," he says. "We can do this." Evans, 31, the son of a geologist and a jeweler, is not interested in awareness campaigns or special days that do little more than remind us yet again that poor people exist. "People don't need to become more aware of poverty–they need to know how to end it," says Evans, who in 2004 was named Young Australian of the Year for his antipoverty activism. "If I create a thunderclap on World Such-and-Such Day, that's great, but what do you then expect us to do? The majority of campaigns, they don't ask for anything."
Slightly dorky and irrepressibly earnest, Evans will gladly humble himself to win someone's ear, attention, and backing. In 2007, he met the actor Hugh Jackman at a cocktail party in Canberra, Australia. "I thought he was one of the waiting staff, he was so young," Jackman recalls. When Evans approached, Jackman asked for a drink. "So I brought him a drink," says Evans, who has a master's in international relations from Cambridge. He graciously served it with an extended discourse on the problem of poverty.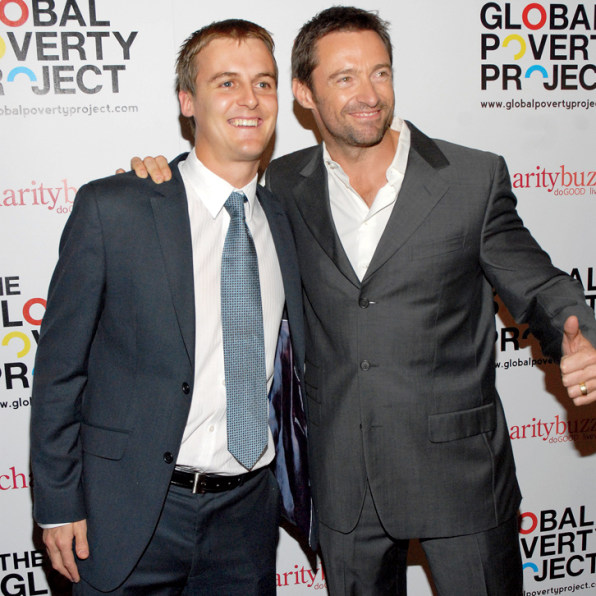 Jackman was captivated. "I spent two hours with him and realized he was not only a hell of a lot smarter than me but probably the smartest guy in the room," the actor says. "Every idea I'd had of how to use my profile to help make the planet a better place was trumped by his vision, his passion, and his dedication."
Today, Jackman serves as ambassador for Live Below the Line, an ongoing GPP program that encourages participants to try to live on less than $1.50 a day–the extreme-poverty line–as 1.2 billion people around the world still do. (GPP doesn't trot out celebrity spokespeople and photograph them hugging the poor.) While Jackman acknowledges that, for most of us, "it is impossible to know what the reality of extreme poverty really is," this exercise in participatory empathy hints at the challenges–and, as with all of GPP's programming, spurs people to action.
Even as he asks people to do more, Evans knows the limits of altruism and the need for market incentives. So, like Blake Mycoskie of Toms, who has made giving easier for buyers of shoes and sunglasses, Evans has paired charity with a fixture of modern life: music.
GPP's flagship event is the Global Citizen Festival, a concert held each September in New York's Central Park during the UN General Assembly. The 2013 edition featured John Mayer, Stevie Wonder, Alicia Keys, Janelle Monae, and Kings of Leon. But you can't buy tickets. The 60,000 attendees earned their spot in the audience through action they took in one of four areas: global health, women's equality, universal education, and global partnerships. (GPP, which has 57 employees worldwide, prefers to raise money for other NGOs' on-the-ground efforts rather than starting its own.) Points were awarded for smallish gestures such as signing petitions and tweeting at CEOs to encourage corporations to give more money, as well as more significant time investments like fundraising for antipoverty NGOs and volunteering in developing countries. The more points you racked up, the more entries you could "buy" in the ticket lottery.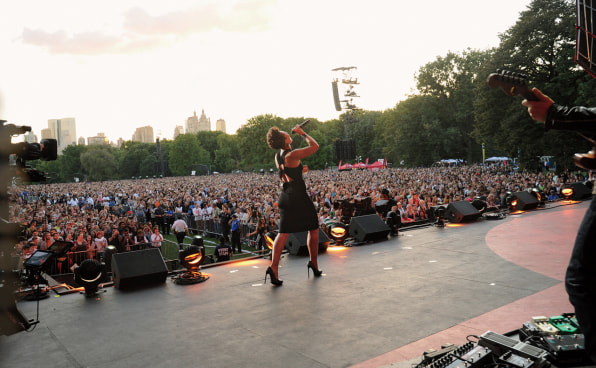 Evans has been iterating on that model, acknowledging the limitations of a single annual event. Two years ago, GPP began building a proprietary online platform called Global Citizen. At globalcitizen.org, volunteers register their actions and bid for tickets to concerts in the U.S. and, as of this past winter, Australia, New Zealand, and the U.K. Hundreds of artists, including Beyoncé, Pearl Jam, and One Direction, have donated two tickets for each tour stop, and more than 110,000 tickets have been given away in total, representing 10 million individual poverty-fighting "actions." At South by Southwest in March, GPP also launched a series of Global Citizen Nights across America: similar but smaller concerts in heartland cities including Chicago and Nashville. And this month in Washington, D.C., it will hold a concert featuring electronic-dance stars Tiesto and Krewella–an event designed to encourage the U.S. government to ramp up its funding for global child survival.
Music, of course, has long been used for good causes: Live Aid focused on fundraising for Ethiopian famine victims, while Live 8, like GPP, put the spotlight on global poverty. But those were one-off events. GPP has sought to build an ongoing relationship with the music industry, and its strategy is particularly clever on two fronts. For the talent, two tickets to every concert is a very small donation. For fans, it gamifies antipoverty activism. "Music has a catalytic role in our culture–it has always been a fire starter," says Michele Anthony, EVP of U.S. recorded music at Universal Music, who chairs the Global Citizen Tickets committee. "There are kids who are initially on there because they couldn't get two tickets to a tour that was sold out. But the feedback that we're getting is that even kids who may not be that politically inclined are learning. They're getting engaged." And music is only the beginning. "The idea," Anthony says, is eventually to "start expanding into sports and other entertainment."
Of course, it's fair to ask what good it really does–beyond scoring some points in the program–to tweet at a company's CEO about the poor. While Evans criticizes "clicktivism" generally, he says it's a good entry-level form of action that he hopes will encourage "global citizens." For instance, last year GPP launched a campaign to pressure telecommunications companies to improve their support of mobile-health initiatives in sub-Saharan Africa. After receiving hundreds of thousands of tweets and emails, the British telecommunications giant BT specifically cited the GPP effort as a stimulus for it to increase the company's giving by hundreds of thousands of dollars annually.
One chilly February afternoon, Evans invited a small group of artists, actors, and other influential people to his organization's New York offices for a 90-minute presentation on poverty. He blitzed through a dizzying array of statistics. He pointed out that governments around the world spent a total of $8.5 trillion during the recent global financial bailout. But it would take just a small percentage of that–an estimated $165 billion–for us to fulfill the UN's Millennium Development Goals, key milestones to ending extreme poverty worldwide. He spoke about meeting Sonny Boy in that Manila dump, reminding everyone of the children.
The goals were, in his view, eminently reachable, if only we cared enough, did enough. "I want to invite you to become ambassadors," he said finally. "We need to take action quickly."
The actress Rachel Brosnahan (House of Cards) nodded more and more in agreement as Evans worked his way through his presentation. She was the last person in the room to stop clapping. And with that, he'd won one more soldier for his antipoverty army.