Android fans of automation service IFTTT have had to wait patiently. When the company–short for "If This, Then That"–debuted an iPhone app last summer, it said an Android version was on the way. "The second we launched iOS, users of IFTTT haven't let us forget about Android," cofounder and CEO Linden Tibbets told Fast Company.
Then, when IFTTT made another major mobile announcement earlier this month, the focus was once again on iOS: the release of a universal app that runs both on iPhone and iPad. Finally making good on its promise, IFTTT on Thursday launched its Android app and six new channels specific to the Android mobile operating system.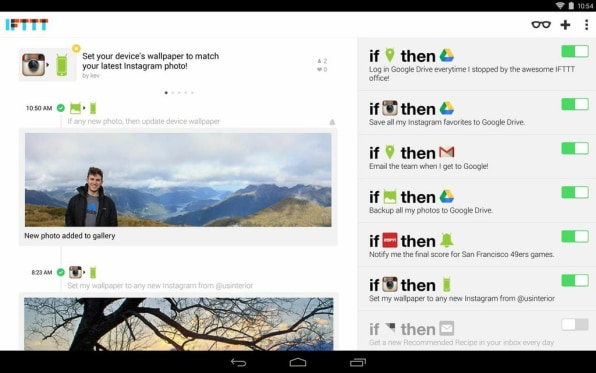 A service that connects various apps and gadgets (also known as channels), IFTTT features millions of user-created recipes that execute specific actions when a channel is triggered. Since last summer, about 30% of user interactions–like signing up for the service, creating recipes, or sharing recipes–occur on mobile, and Tibbets expects that number to rise now that its Android app is out.
However, building for Android wasn't as simple as just porting over the iOS experience.
"There's a lot of new functionality that IFTTT for Android brings to users, and figuring out those things takes time," said director of mobile Devin Foley, whose team has been developing the app for eight months. "Android gives developers a lot of freedom when it comes to accessing capabilities on the device, things like being able to send text messages, read the text message log, setting the wallpaper, adjusting the volume."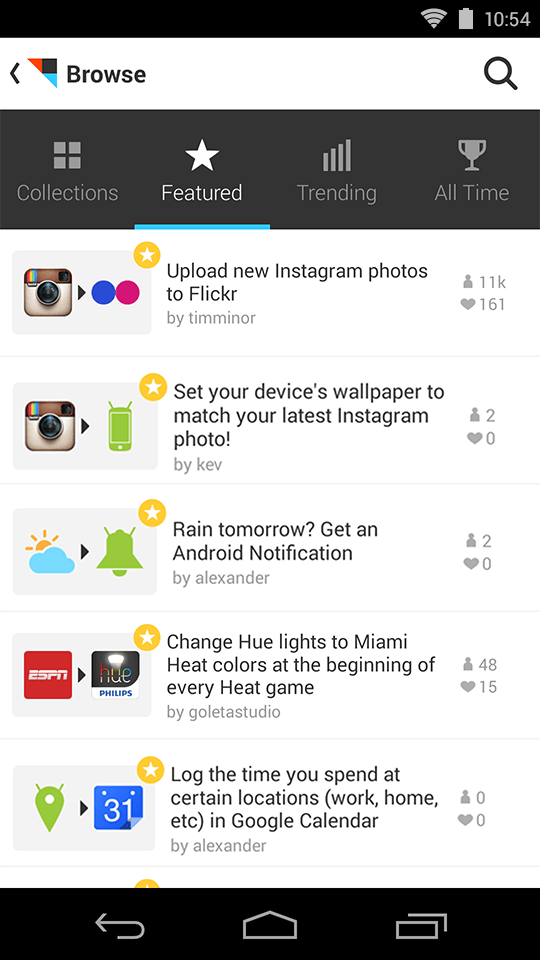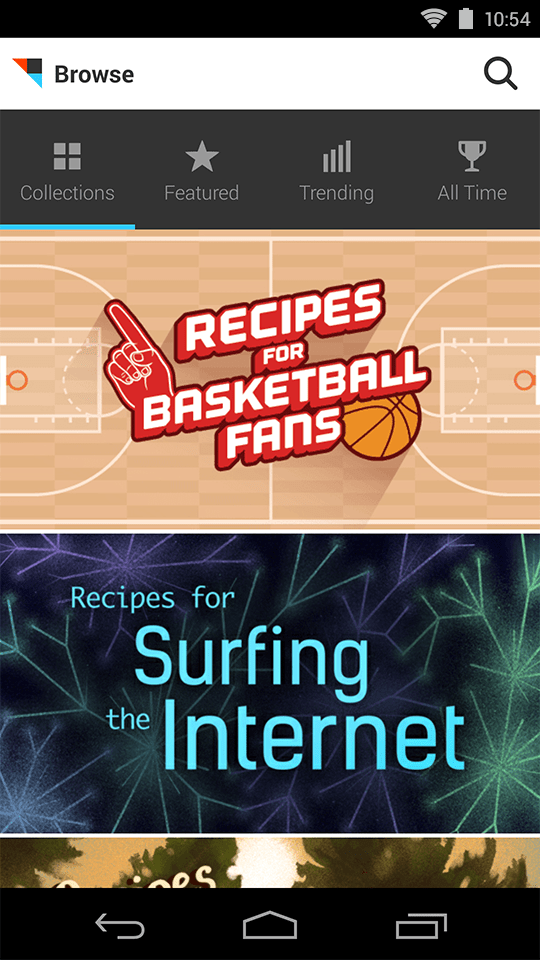 Released along with the app are six channels for Android that allow users to create recipes based on device, location, photos, notifications, phone calls, and SMS. "I think that's the most number of channels we launched on any given day in history," Tibbets said. With these channels users can, for example, automatically change their wallpaper when they take a picture on Instagram or send a text message after arriving at a certain location.
Like the refreshed iOS app, the Android version puts recipe collections, recipes grouped by themes such as travel or nature, front and center. Curation is IFTTT's first foray into recipe discovery, but the company aims to release more robust discovery and recommendation tools later this year to algorithmically help users find relevant and helpful recipes.
IFTTT currently has 93 channels. According to Tibbets, personal recipes are activated more than 12 million times a day. Though the company declined to disclose exact user numbers, it said it is about to hit 10 million personal recipes (about 160,000 of those are shared). "Right now we have 93 channels. We have visions for 93,000 channels," he said. "In a world with that many channels and that many potential recipes, you can imagine as a user being very, very overwhelmed, even if we do a fantastic job of curating."
IFTTT has large ambitions for its team of 16 people. Its development pipeline includes a number of projects to expand its reach and monetize, though the company was vague on specifics. In addition to ramping up on mobile, IFTTT has been building out a platform that will make it easier for third-party developers to take control and maintain ownership of their own channels, thereby freeing up resources so the company's developers can focus on other features. IFTTT has already launched some channels with third parties, though Tibbets declined to say how many or which channels.
The company has also hinted at a revenue strategy. "One of the things we're going to work on this year are some ways consumers of IFTTT–essentially end users, people creating recipes–are able to pay to upgrade things," Tibbets said. "Paying for things on IFTTT has long been in our pipeline." With the Android app and channel platform taking precedence, a revenue strategy will likely be unveiled later this year.
With a foot in both Android and iOS, Tibbets said IFTTT is now "truly a mobile company." But it's already got its eye on what it believes is the next big thing: wearable devices. "We're designing apps that make sense and will have relevance in a post-app, post-phone mobile world," he said. The tiny screens on wearable devices, such as Google Glass and Apple's rumored iWatch, will present a unique set of constraints and challenges, he noted, but "we have a distinct eye for how the service operates, what we're doing as a company, and how to adapt as screens get smaller and smaller."