Fans of the satiric sartorialist needn't worry, this is not a stunt product. Designed by Betabrand's in-house talent Steven B. Wheeler, the denim starts out looking like any other premium five-pocket. After multiple washes though, the indigo dye fades to reveal a rainbow of threads where ordinary jeans simply turn pale. Get it?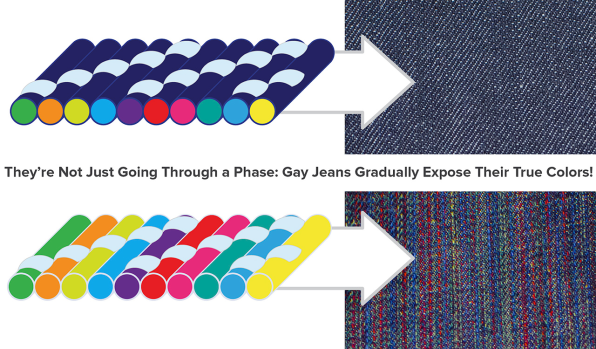 Wheeler, an apprentice tailor before earning a BFA from San Francisco's Academy of Art, says that the idea came from looking at fabric swatches. "During a recap, someone said that this fabric kinda, 'comes out of the closet,' and the idea took off from there," he tells Co.Create.
He ran with the concept as he became aware "just how perfectly analogous to my own life experience as a gay man it is," Wheeler asserts. "The fabric is made with innate characteristics, and time and exposure to wear reveals these traits. It's not only a metaphor for the gay experience, it's a metaphor for the human experience," he explains. "We all have things we're born with, and these aspects of our character develop over time and the inevitable process of maturation."
Cue Lady Gaga's infectious anthem.
We're not being facetious. Finding new ways to sell jeans done up in technical fabric is a tricky business. Diesel's A-to-Z of Dance, is one of the more viral branding hits of late. Betabrand's entire business is built on tongue-firmly-in-cheek humor and clever associations. Once the basic concept was established, creative direction fell into place.
For example, a sample of Gay Jeans FAQ:
Is the slim-fit for men and the stretch-skinny for women? Yes.
Is the slim-fit for women and the stretch-skinny for men? Also, yes. Just depends what you like.
If I'm straight, will wearing Gay Jeans make me gay? No more than driving a Toyota will make you Japanese. If you put on a pair of Gay Jeans and begin experiencing gayness, chances are it's because you are gay.
"I guess that's the beauty of a good idea," says Wheeler, "it's relatively easy to get people to help you flesh it out like you'd imagined."
In a nod to Betabrand's crowdsourcing business strategy, the jeans made their debut on the company's crowdfunding platform last week, and surpassed its goal in less than 20 hours. Eager shoppers can still order until the end of crowdfunding period (now just three weeks away) and receive a 10% discount, or $88.20. The trou won't ship until August.
In the meantime, Wheeler's determined to spread the wealth by donating 10% of the proceeds to the SF LGBT Center.