Imagine for a moment a focus group of hungry stoners tasked with brainstorming new pizza-related products. The results of that hot-boxed session would likely look a whole lot like a new campaign by Canadian restaurant chain Boston Pizza and agency Taxi Canada.
For "Pizza Game Changers," the brand compiled a list of possible new products and put them all up for an online vote. Consumers can vote for pizza-flavored mints, a four-stroke, two horsepower, gas-powered pizza cutter, a beard-shaped napkin and more. The product with the most votes at campaign end will be created and brought to market this summer. Currently in the lead is a majestic paean to munchies in the form of a six-layer "Pizza Cake."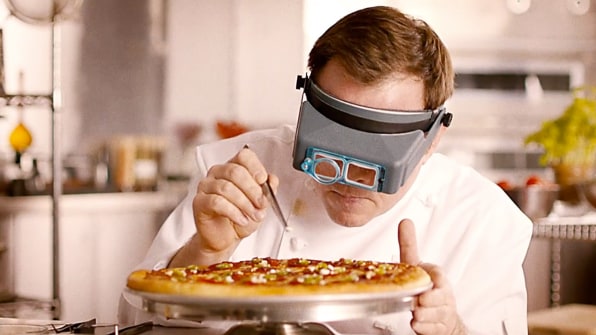 The campaign also gives the chain the chance to unveil new, but no less ambitious, actual menu items like the pizza taco, the Calzono (the lovechild of a pizza and a burrito), pizzaburger sliders, a Sriracha chicken pizza, as well as a candied bacon carrot cake dessert. Of course Boston Pizza is based in British Columbia.