Andrew Schulz can now add milking poisonous snakes and getting a colonic to his resume. But the affable comedian, a regular on MTV2 programs like Guy Code isn't looking for a new gig. He's offering a glimpse into Jobs That Don't Suck, a new show premiering on MTV2 April 16.
Though you may be hard pressed to find something truly redeeming about giving clients enemas, the new series will be heavy on the "killer jobs" that range from CEO to inventor, app developer to YouTube star, along with a sprinkling of miscellaneous moil like crime scene cleaners and process servers. The key to the show is that it will break down each daily grind and offer tips on how to get there yourself. All in front of a live, studio audience.
According to Paul Ricci, it's not a moment too soon. MTV2's head of programming and executive producer who loyal readers met when he discussed Mac Miller's debut series says that MTV's research team kept hearing how important jobs are to its audience. From companies to small groups and individuals, the network kept getting pitched to do a show about cool jobs. "Entrepreneurs are the new rock stars," Ricci says, "And we really wanted to showcase young people forging a new path for themselves."
He believes millennials get a bad wrap. "They're optimistic, but realistic," he contends. "They know there are possibilities and they've seen others make the world their own, but they also see the harsh realities applying for jobs."
No kidding. Life after college used to be viewed through a world-is-your-oyster type of lens. Then came the recession and persistent unemployment. More than a third of young graduates took jobs that didn't require a degree just to make ends meet last year and the most recent Bureau of Labor & Statistics report found that unemployment among 16 to 24-year-olds is 14.5%. The national rate is just 6.7%.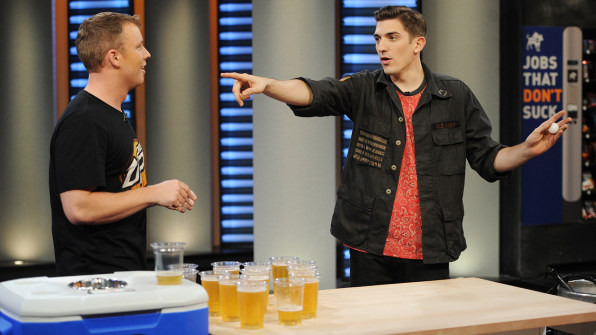 Despite that dismal picture, 60% of millennials believe their dream job exists and 90% believe they deserve to find it, according to MTV's research. This bears out in the show says Ricci. The people featured are really interested in and passionate about everything from beer to food to sports. "A lot of these jobs were what they were already interested in and they found a way to make it into a career."
As such, Schulz is the perfect front man. While still in college at UC Santa Barbara, he was managing a restaurant. "A job that does suck, Schulz confesses, "basically a babysitter for grown-ups." But an opportunity to do stand up at one of the restaurant's comedy nights opened a whole new world. Though he grew up wishing he could make his dad laugh the way Eddie Murphy did, Schulz didn't know much about stand up. "After my first time, I knew that was what I wanted to do," he says.
Majoring in psychology didn't help give Schulz tips on timing and delivery. Parents everywhere can breathe a sigh of relief, though. Schulz did parlay his degree into gainful employment. "It did provide an outlet to study people," he says, "My stand-up comedy is about relationships. I try to explain to women what it's like to be a man."
Ricci points out that the show strikes a balance between those one in a million jobs and ones that are more attainable. Not surprisingly, Jobs that Don't Suck will have an entire episode dedicated to the music industry.
Though some young guns are racking up millions producing, others like Ashleigh, a former accountant, found her way into artist management. "Over the course of the series you get a fair representation of the real world," Ricci maintains. And while some of the work is dream material, he says there are more mainstream gigs that serve to pay bills and let them follow other passions. "We know from our research that millennials are all about the side hustle."
Now that he's sampled others toil, Schulz says, "I have the epitome of a job that doesn't suck." Between stand up, where he travels around the world making people laugh "by just talking about whatever is on my mind," to his work writing and hosting for MTV and MTV2, "work is hanging around with your friends thinking about funny things to say about this job or the other. Honestly, you can't beat it."