We've all heard about the advantages of working from home, from being the boss of your schedule to taking the time to run personal errands. But what if you were able to achieve this while working in an office environment?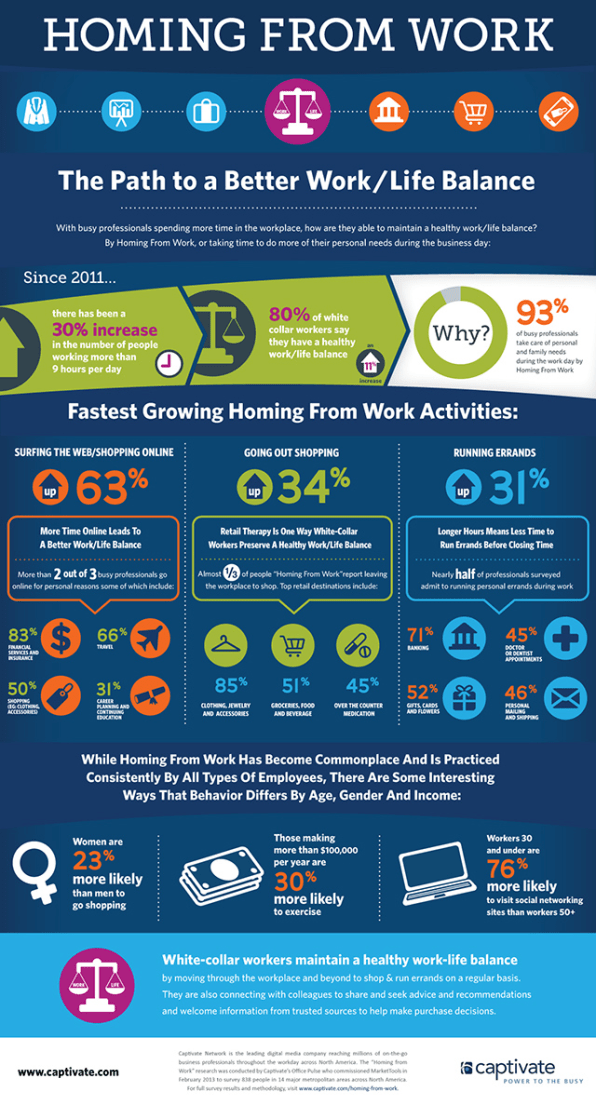 "Homing from work" may help you accomplish just that. According to a recent survey by the digital media company Captivate Network, taking care of personal needs while on the job leads to better work-life balance.
When it compared its recent results to the results from a similar survey two years prior, the media company saw an 11% increase in the number of white-collar employees who felt they had a healthy work-life balance, despite a 30% increase in the number of respondents working more than nine hours a day.
The reason: almost all of the respondents said they complete personal tasks at work.
When you consider the potential benefits for your productivity, it makes sense–unless you're a robot, you need to take regular breaks.
Some of the activities people participate in on a regular basis include surfing the web and shopping online, with a 63% increase over the last two years, and running errands, which increased 31% from 2011.
This includes anything from searching for travel deals or dinner recipes online to leaving the workplace to take care of personal business like grocery shopping or doctor appointments.
For example, 18% of white-collar workers said they exercise during the workday. Other studies have found this to be extremely beneficial, since exercise helps reduce stress, improve mood, and increase confidence and self-esteem. Physical performance is generally highest, and the risk of injury lowest, from 3 p.m. to 6 p.m., so taking a late, long lunch might not be such a bad idea.
These findings may go against everything you thought you knew about working in an office, especially since we tend to equate conducting personal activities on the job with being lazy or wasting time. But, especially considering the longer hours that Americans are logging in the office, this attitude about how employees manage their days is becoming outdated.
For a more in-depth look, check out the infographic Captivate Network compiled from their survey findings.
What do you think? Would you feel comfortable leaving work to run errands? Do you think it's fair to spend part of the workday surfing the web? Tell us in the comments.