Dan Bishop has been Mad Men's production designer since the show began, which means he's spent much of the last seven years faking Los Angeles for New York. With the new season spending significant time in L.A., he has a sense of freedom. "We can shoot the landscape, the birds of paradise and the palm trees," Bishop says, relieved. "That's all stuff we have to avoid if we're saying it's New York. We're not fighting the geographical issues [so far this season]."
They still fight all the current-period items–the signage, the traffic lights, the handicap ramps on every corner. "You still see those in a lot of period films, by the way. We actually try to cover them up" – either physically, or virtually, in post-production. Of course, either way gets expensive. Consequently, they don't get out that much.
As always, Bishop has a beacon: creator Matthew Weiner, whose singular vision for the series extends to its visual aspects. "We don't have to try very hard to show the differences in attitude between the east coast and the west coast," Bishop says, "because Matt describes this clearly in the narrative." He attributes that to Weiner's years as an Angeleno (since he was 10, Weiner tells Co.Create).
Here, Bishop describes three of the locations in the April 13 season-seven opener and how he went about crafting them. Plus: What's next for him.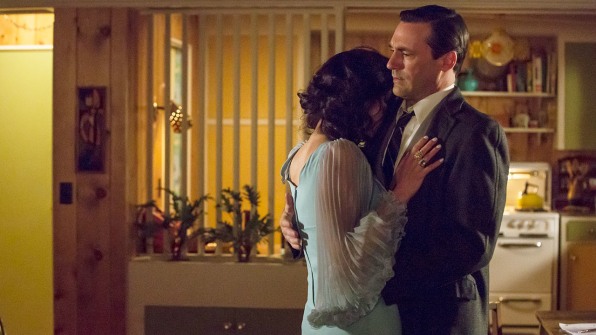 Megan's new house in the Hollywood Hills is, of course, a set. But as Bishop explains, when a production design team is going to build a set they will routinely scout a real location for exteriors so they can match it. Bishop isn't saying if we'll ever see the outside of Megan's house, but he did spend a few days driving around the narrow, winding roads of Laurel Canyon to find one. "So should we ever want to shoot an exterior of it we'll have the exterior and the interior line up."
The images outside Megan's windows are a backdrop–Bishop and his team took a pre-existing photo and altered it digitally. "We added a layer of smog," in an effort to recreate the vintage reality. All that's in the effort to portray the almost rural living that Laurel Canyon was like in those days.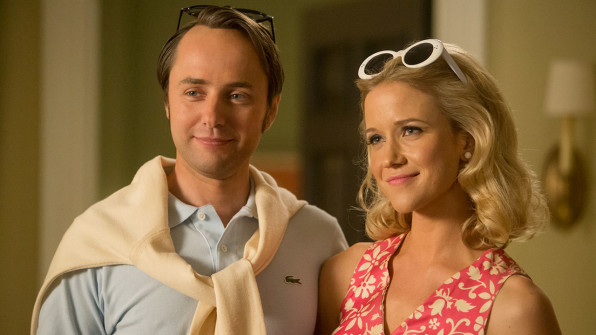 When it came to opening an L.A. outpost for Sterling Cooper & Partners, Weiner had a particular idea in mind, and it wasn't the obvious. They could have gone with a typical midcentury style–sort of the California version of their New York City office, but Weiner has never wanted Mad Men to be a textbook display of the predominant movement of the time. So he asked Bishop to use the old MCA building as inspiration.

"Matt is particularly familiar with a lot of the buildings in L.A. because his wife [Linda Brettler] is an architect, and a very good one at that," says Bishop, who scouted the interior and exterior of the white-brick, colonial revival building in Beverly Hills, designed by Paul Williams, in 1939. Today it's home to Paradigm, a talent agency.
"The guy who commissioned the building [agent Jules Caesar Stein] represented musicians mostly to begin with. He said he thought these artists would be more comfortable being invited into a place that looked like a living room rather than into a place that looked like a bank or an attorney's office." Bishop scouted the interior and exterior and used that as a rough model for the office where Don goes to meet Pete. "We made up the details, but the reference of the design is colonial revival."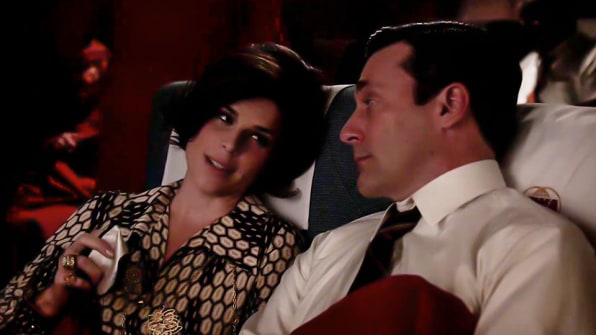 And then there's the airplane. TWA. And featuring an almost unrecognizable Neve Campbell. Don Draper and Co. have flown on the show before, but we've rarely spent as much time on a plane as we did last night. The plane Bishop used for the show was a 707, a piece of stock scenery that's been used in movies and TV shows before, including the short-lived series, Pan Am. "When we found it, it was in a warehouse kind of in pieces so we had to reassemble it and refurbish it," he says. Evidently the last production (Saving Mr. Banks, Bishop believes) had put it back together poorly. "They said we don't care what it looks like, we want to be able to fit two dollies, two cameras and a large camera crew." Bishop and Co. did a cosmetic overhaul of it, redoing most of the surfaces of the interior.
"That plane came from the airplane graveyard out in the desert. You buy parts and drag it out of the desert. It's like archeology. You're not necessarily trying to design anything great, you're trying to make it look like a real airplane. Our graphic designer did the globe style on the bulkhead, which sold the period," he says. "Probably the stewardesses do more to sell it than anything else"–with their goofy hats and short skirts.
That task was left to Janie Bryan, the show's costume designer.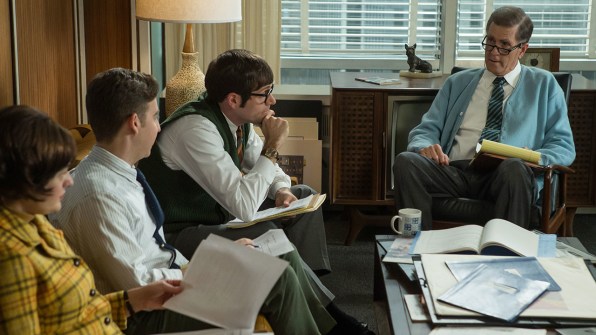 For seven seasons, Bishop has had a steady gig–a treasure in his line of work. Each season typically sees, he says, 12 to 14 people in the production design office. That includes department heads, like the set decorator and the prop master, and their respective staffs. "At any given moment, there might be 20 to 30 carpenters, painters, set dressers."
He works on Mad Men for six months of the year, and has done other projects each year in the other six months, including Parks and Recreation and the Tom Ford film A Single Man. "I've been very fortunate."
With the series coming to a close, they're all anticipating what's next. Now that so much production happens outside of Los Angeles, it can get tricky. "I'm at a level where I'm one of the people they will spend the money to drag out of town," but, he laments, that's not necessarily the case for those who work for him. "Productions want to hire local people"–so that they don't have to pay extra for travel and lodging–"so it's harder on them than it is for me, financially."