Ted Henderson knows the inefficiencies of Capitol Hill all too well. But after seeing how technology can impact democracy, the former Congressional staffer set out to build an app that would change the relationship between representatives and their constituents. It's a badly needed disruption of old-school pagers as the Hill's information pipeline–and it just might work.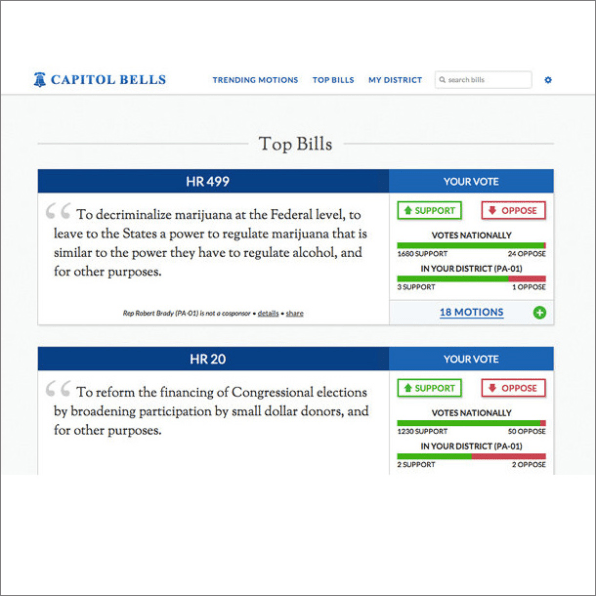 Capitol Bells recently launched as a web app, eight months after Henderson's creation first landed on smartphones. The app lets users upvote popular bill opinions–and then compares them to your personal district representative's record.Users can champion or condemn upcoming bill "Motions" and add a blurb of commentary for others to upvote, Reddit-style.
Get enough support and your fiery Motion rockets to the top of your district's page–or the even the pan-district Top Trending page. But the point isn't to preach within Capitol Bells' choir.
"The real point is to reach out to friends who aren't really engaged in politics," Henderson says. "You can reach out to them on Facebook, Reddit, or Twitter and say 'Hey, there's this bill and here's what I think about it and you should act on it.'"
Best of all, the web app lets you compare your "voting record" with that of your representative, along with the rest of the folks in your district. Requiring users to "vote" yay or nay on bill Motions they support/condemn lets Capitol Bells compare apples to apples between users, communities, and politicians. But the way users phrase their blurb justifying their position is important to drawing new users to Capitol Bells: Few people know what "Vote yes on HR 499" means but everyone understands "I support the legalization of marijuana."
Henderson first envisioned Capitol Bells when he saw the groundswell of anti-SOPA momentum. As a staffer for Rep. Dale Kildee (D-MI) on Capitol Hill at the time, he saw phone lines and email blow up to stop SOPA–and realized that the anti-SOPA effort was a super-effective grassroots movement thanks to support infrastructure from the EFF, Google, and Wikipedia. He wants us, the people, to be able to do it again.
Shortly after his congressman retired from office, Henderson started coding what would become the Capitol Bells smartphone app, which Henderson says was always "the egg" for the web app to follow.
"The web app is not really so much a forum as a tool to reach people who are harder to reach and engage and keep it on the record," Henderson says.
The web app will be a platform upon which congressmen and constituents can meet on neutral ground, where everyone can see what the constituency wants and how the members of Congress voted. Henderson's staff days proved to him that staffer-written response letters get a congressman's signature but no eyeballs.
When building an app to remake the legislative process, it helps to have elected officials as beta testers. Congresswoman Grace Meng, Congressman Matt Cartwright, Congressman John Garamendi, and Congressman Jared Polis all helped try it out.
"Jared Polis has been especially involved. As someone who's both a successful tech entrepreneur and a member of Congress, having Jared as a mentor has been invaluable."
Only physically going into the office could get a busy congressman's attention, something few individuals can make time for. That leaves congressional colleagues, lobbyists, and trade groups as the people most likely to have the time and money to score face time with a congressman. With Capitol Bells' web app, users get what Henderson terms "social media-style constituent correspondence."
Eventually, the Motion-voting web app functionality will cross over into the smartphone app–but that's after Henderson secures funding. He coded the smartphone and web apps himself with a combination of Python, Objective-C, Java, HTML/CSS, and AngularJS. He's shifted over to Google App Engine, which will automatically spin up more servers according to user demand, but creating a united codebase across phone and web apps will have to wait until he can afford to make Capitol Bells more than a one-man operation.
Through wondrous networking, Henderson earned a spot on the current crop of startups at Acceleprise, a DC-based incubator. He estimates around $500,000 in funding would be needed to expand Capitol Bells. Some of Henderson's more dramatic feature ideas harness the raw data coming in: a leaderboard of people who vote like you and perhaps even recognition of who among the Capitol Bells power users vote closer to you than your current representative.
Henderson hopes that Capitol Bells (or something like it) will finally push congressmen to hire a constituent analyst to harness all that constituent-voting data. Not only would it be a much more accurate way to hear what people in their district are saying–it would allow congressmen to communicate back.