As sea levels rise along the New York City waterfront, "100-year" storm surges may eventually happen as often as every three years, with more chances of Sandy-like damage if the city doesn't rebuild its borders. One redesign under consideration now: Big U, a 10-mile long shield of parks and community spaces that would help protect Manhattan neighborhoods from flooding.
Designed by Bjarke Ingels Group (BIG) and a network of collaborators over the last 10 months, Big U is one of 10 finalists in the Rebuild by Design competition launched by the U.S. Department of Housing and Urban Development last year.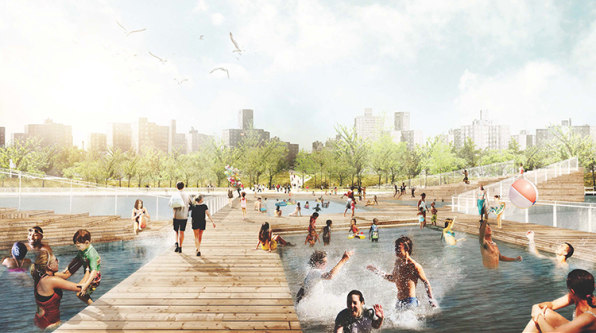 The design is focused as much on the everyday needs of local neighborhoods as on flood protection–an approach that's very different than how infrastructure has been built in the past. In New Orleans after Katrina, floodwalls were made to meet engineering criteria, not social needs. And New York has its own long past of large-scale projects that focused more on efficiency than people.
"In the history of New York with the legacy of Robert Moses, most of the infrastructure–whether that's highways or parks–have generally been imposed without a lot of regard for existing community fabric," says Jeremy Siegel, who led the Big U project.
"If you're going to be investing so much money into an infrastructure for resiliency–that's going to be sitting along one of the most spectacular coastlines in the world–there's a huge opportunity there to also improve civic infrastructure, so it can protect the city, but also become a platform for civic life," he adds.
The design stretches from West 57th Street to the tip of the Battery and then up to East 42nd Street, covering the coastline in a series of separate and autonomous flood protection zones.
"Because they all work individually, you end up with a system that's resilient. If you have a breach in one area, it's localized and you can organize evacuation into neighboring compartments," Siegel explains. "It's a little bit like the hull of a ship, where you've got different segments, and breaching one area doesn't necessarily mean that the whole system fails."
Each section could be built on its own as funding becomes available. The architects chose to focus on designing details for three particular sections that would especially benefit from early development; two are on the Lower East Side, which struggled during Sandy and doesn't have well-used community spaces. "When it floods, it's a population that doesn't necessarily have the means to head out of town or take a hotel somewhere else," Siegel says. "It's a place that makes a lot of sense to start."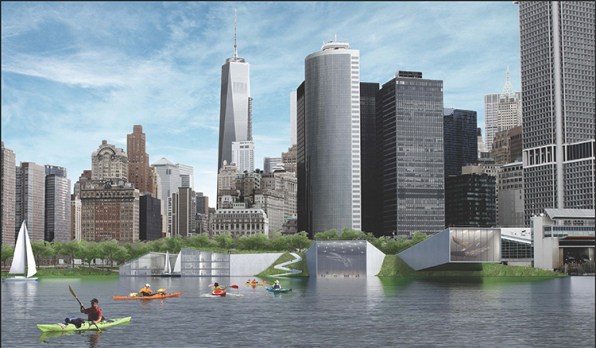 In the design, raised layers of land prevent flooding and provide new park space. Under FDR Drive, a highway that runs along the East River, walls can flip down to keep water from rushing in, or to provide shelter for a new seasonal market in the winter. When they're flipped up, the walls are covered with art.
The designers also focused on the southern end of Manhattan–both because it's home to vital infrastructure like Wall Street, and because it also has the opportunity for better parks. "It's a place where we can make some really spectacular public spaces that surprisingly don't exist now," Siegel says.
One possibility may be turning an administrative building for the Coast Guard into a combination school and museum, including a "reverse aquarium" that reminds visitors why all of this infrastructure had to be built in the first place. The aquarium would stick out into New York Harbor, with a view of the rising water.
"Once we're on the other side of the protective berm, we can use it as a place to get down into the water and experience the change of tide and the gradual rise in sea level," Siegel explains. "It would be both protecting the city and also providing a place for the public to contemplate what it means that the sea levels are rising, and most of the world's great cities actually sit on the coast."