Sixty-one percent of adults surveyed by the American Psychological Society say managing stress is important, but only 35% claim to do a good job with managing their levels. Money, work, and the economy are the highest reported stressors in our lives.
To top it all off, according to a 2011 Mother Jones report, we're working harder, and getting less for it. Productivity is increasing, but overall wages aren't keeping pace: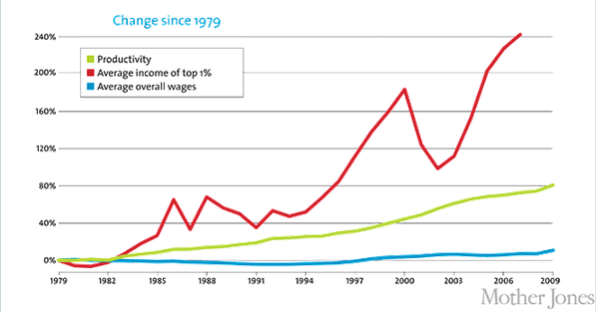 Whether you need to hire an extra hand to help or make rules for how you communicate, chances are overworking is a problem you're seeking answers to.
We asked about your methods of unplugging from work–whether for the evening, the weekend, or a vacation–and received mixed responses. Some embrace the always-on lifestyle, claiming it makes them more productive, aware professionals. Others are fighting a losing battle with their boundaries, pushed farther toward burnout each week.
From email to vacations, while some of you draw clear boundaries, most of you are either unable or unwilling to unplug. Here are some of the responses gathered from our recent Facebook polls.
With the Internet always at our sides, it's easier than ever to let the barrage of email, phone calls and IMs chase you home. According to Mother Jones, 22% of employed email users are expected to respond after hours. Half of us check email on the weekends, and 34% on vacation.
Researcher and author danah boyd has taken an extreme stance against the constant flow of email. She takes annual email sabbaticals–skipping over "inbox zero" and declaring, "I need a break!" instead of bankruptcy.
Her out-of-office reply:
"Hellloooo. I am the hungry bot who is guarding danah's INBOX. I have promised her that I will gobble her email through until January 10, 2014 because she desperately needs a vacation and no one wants to come back from a vacation to thousands of emails. So I've eated your email. Nom nom nom."
Here's how those of you not ready to take such extreme measures deal with email on the go:
I have to, but I manage it; i.e. I only check at certain times, etc…
Often, yes. But sometimes it's good to completely check out and refresh.
Yes, I do, but I never answer any email … Just to be informed in what is waiting for me on Monday …
Not anymore! It's so freeing!
I make it understood that if I check email after hours it is because I choose to. Unfortunately working on Sundays is non-optional, but if I could stop it, I would.
We asked how you find ways to cope with stress when you call it a day:
Something creative like painting, or a long walk in a forestry area to be with nature. Calms me right down knowing there is more to life then bringing the stress home with you.
Go to the gym and weight train before and after my work day. Relieves stress, improves mood, increases my productivity, and oh…I'm looking fabulous too!
The minute I get home my dogs are all over me…doesn't matter what happened at work, when I get home it's Christmas, New Years and July 4th for them.
For some, our job is life…24/7/365 for life…humanity has no day off, no public holiday, our life and happiness become the same…If you can close your eyes and know what was accomplished, it's bliss.
Varying between "what's a weekend?" and feet put firmly down, working on weekends is either a fact of modern life or a taboo. But it depends highly on what you do for a living.
Working on weekends is an investment for your future. You get ahead while others are slacking off. You got to have the right mindset for it though because if you're negative and do it reluctantly, it might be counterproductive.
I have a retail career, so for 35 plus years I have worked weekends as necessary. It makes no difference to me, weekday or weekend.
Yes, on things that I invest in my future, exciting side projects for example.
You say that like there's an option…
Yep. It's the only way that I can get things done.
Let's widen the scope–to an intentional week or two off, instead of the weekend. Still, you said it depends on the job, and is usually a luxury. Some of you followed passions too:
Nope. Classic entrepreneur. I spend at least some of my vacation wondering how we can do what we do, even better. It's a sickness… I'm pretty sure.
No. Every time I travel and anywhere go; if I see a good idea my mind goes to work mode.
No amount of money or success is worth my happiness and sanity.
At the end of the day, we'd all just rather be the one with this answer:
What if you don't have a job you need to "escape" from? I love what I do.
Where do you fall in this spectrum, on a scale of blissfully engaged to burnt at both ends? Let us know in the comments.