Digital interactions increasingly shape our lives. The online world we build for ourselves increasingly impacts our physical environment, too.
A recent Greenpeace report shows that while some companies are making significant efforts to build and source from renewable infrastructure, others remain stubbornly attached to fossil fuels. The environmental advocates not only examined how companies like Apple, Google, Amazon, Facebook, Twitter, and eBay derive energy for their massive server operations, but also how tech companies contribute to political groups that support or fight clean energy policies.
Take a look at how some of those tech companies' energy diets break down.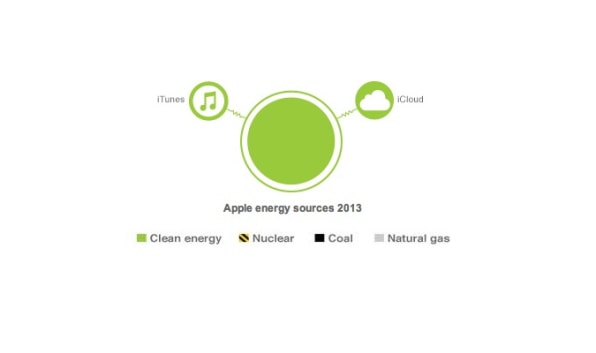 Like Google and Facebook, Apple has pledged to wholly power its data centers with renewable energy. But the Greenpeace report shows that switching to renewables can have a major impact outside the tech world, too.
For example, Apple's massive investment in solar farms for its North Carolina data centers motivated former coal-centric energy provider Duke Energy to develop its own clean energy offerings in the state. As a result, North Carolina ranks as the third most rapidly growing solar market. Meanwhile, Apple powers its Nevada data centers with 100% solar and geothermal energy, its Newark, California site primarily from wind, and its Oregon data centers with a renewable mix. Greenpeace also lauded the company for its relative transparency, which, it says, remains weak among most brands.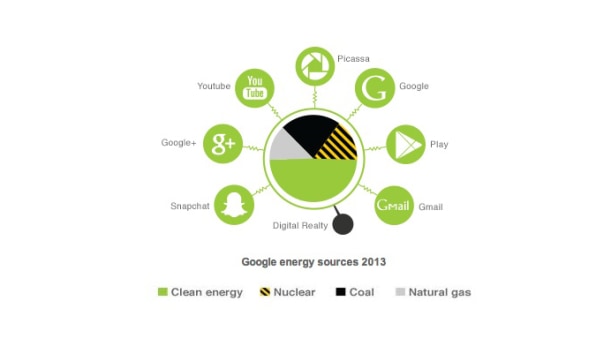 Google has a strong commitment to renewable energy, investing more than $1 billion in clean energy projects. The company collaborated with Apple and Facebook to nudge Duke Energy into providing a renewable rider in North Carolina, and its long-term renewable purchase agreements have built up clean energy economies in Iowa, Oklahoma, and Finland.
But while Google's renewable investments have been well-publicized, its membership in the American Legislative Exchange Council (ALEC), a right-wing lobbying group, marks a real cognitive dissonance in the company's clean energy policies. Traditionally, ALEC has focused on lobbying politicians and pushing legislation that repeals renewable energy portfolio standards. In 2014, ALEC seeks to charge owners of solar panels for their excess energy that flows back into the grid.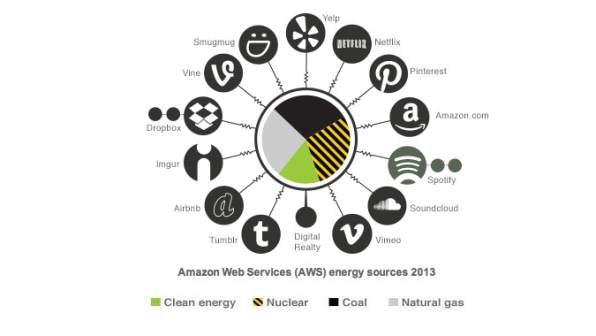 In addition to running its own operations, Amazon's servers power some of the most coveted real estate on the web; Netflix, Pinterest, Spotify, and Vine are just a few. But the influential online retailer's environmental policies leave much to be desired. Amazon operates 10 data centers in Northern Virginia, only 2% of which are powered by renewable energy. And while Amazon's Oregon data centers are partially powered by hydroelectric, Greenpeace says "it is unclear" how much of that hydroelectric power the company uses in its energy mix.
Notably, Amazon dropped its ALEC membership in 2012, when civil rights groups drew attention to the connection between ALEC's "Stand Your Ground" model bill and George Zimmerman's justification for killing 17-year-old Trayvon Martin in Florida.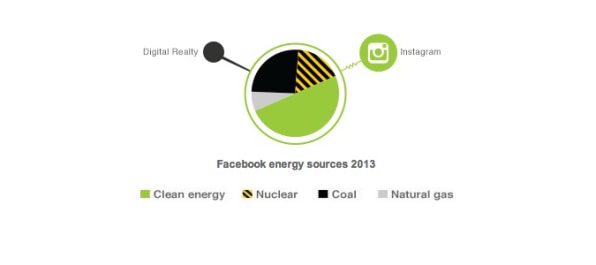 Like Google and Apple, Facebook has pledged to go 100% renewable. Since its 2012 IPO, the company has opened up its energy books to the public, publishing annual energy footprint reports, along with real-time water and electricity efficiency records from its data centers. Facebook also maintains a siting policy that prefers locations with renewable options over fossil fuels.
And yet, Facebook faces the same ethical problem as Google: Will its ALEC membership erode the company's profile as a clean energy advocate?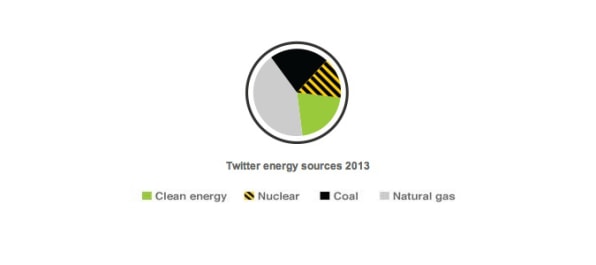 "Twitter's lack of transparency makes it impossible to know what, if any, notable efficiency measures the company employs," report authors write. The company does not yet own its own data centers, but instead sources its energy from colocation facilities. Twitter also recently expanded its presence in an Atlanta, Georgia, data center which uses almost no renewables, and sources its power from coal, gas, and nuclear energy instead.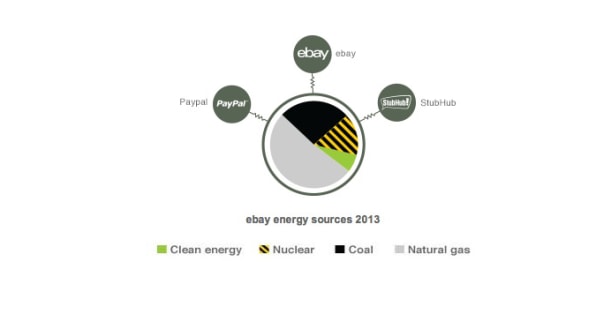 When eBay started running its own data centers in 2008, coal played a major role in its power mix. In 2012, the company failed to meet its greenhouse gas emissions goals, and instead came in 224% above the mark. Still, eBay is shooting for an 8% cleaner energy mix by 2015, and uses solar rooftop panels in its Utah data center. While the company came out in support of progressive climate and clean energy policies, eBay also belongs to ALEC.
To read the full report, and see how other tech companies fare, click here.