During the years that billionaire Michael Bloomberg served as New York's mayor, tech companies were sure they had a friend in City Hall.
The aggressively pro-business entrepreneur-turned-politician came into office shortly after the dotcom collapse of the 1990s and served as mayor from 2002 to 2013–which, as it happens, are the years New York City became (distant) second only to the Bay Area in terms of tech innovation. Bloomberg built a city office dedicated to growing the tech industry and gladly served as cheerleader for the city's tech sector.
Now the city is run by Bill de Blasio, who has a meticulously created populist public persona that emphasizes business and industry far less.
But the tech sector is a major part of New York's economy–by some counts the amount of venture, angel, and private equity cash poured into New York has grown from $799 million in 2009 to about $3 billion in 2013–and de Blasio is still courting the industry. He is expected to give a major speech in May at New York's Internet Week which will serve as a coming-out party of sorts. And while the new mayor talks a big game about change, as the New York Times notes, much of de Blasio's staff worked for the Bloomberg administration. Earlier this month de Blasio sounded sincere about his desire to keep the local tech industry chugging along during a Google Hangout.
The new Mayor told Hangout attendees that "the expansion of the tech sector has to be a five-borough endeavor, even beyond the strongholds of Manhattan." While giving shout-outs to the thriving tech hotspots of Brooklyn and western Queens, de Blasio explained how New York's high-tech firms have to expand into the Bronx and Staten Island. That answer was something that would have been unlikely, to say the least, from Bloomberg.
In the 2012 mayoral race, de Blasio rode a stream of post-Occupy Wall Street populism to Gracie Mansion and quite intentionally differentiated himself from the previous mayor. While Bloomberg assiduously courted New York-based tech companies and frequently showed up at tech industry events (like when he stopped by a housewarming party for geolocation firm Yext to give a speech and accept a hoodie), de Blasio has so far been a less visible presence on the tech scene. (City policies, it should be noted, haven't changed.)
One complaint several venture capitalists and tech industry founders expressed off the record to Fast Company was that de Blasio did not seem to care about the local high-tech sector. This complaint seems to mostly be about optics: Interviewees fretted that de Blasio did not make public appearances at tech-industry events as often as Bloomberg did–though he sometimes does. Much like other close-knit, highly visible sectors like Wall Street and entertainment, New York's tech world is filled with wealthy and influential individuals who value their photo ops and small-talk time with the mayor. Although it might sound silly, there is a strong contingent of rich and influential Silicon Alley techies who feel they have not received enough handshakes.
De Blasio's lack of glad-handing was interpreted by some of these industry veterans as hostility to the sector or as a sign that the mayor did not know how to engage with businesses in general. Although none of the current or former sources affiliated with City Hall would comment on the record, it was noted that there have been no significant New York startup launches during the four months of de Blasio's mayorality. In addition, de Blasio and City Hall are planning a flurry of public appearances during May's Internet Week. Apart from the Mayor giving the keynote speech–following in a long tradition of mayoral appearances, announcements regarding appointments to technology-related posts are expected.
One former City Hall tech insider, speaking off the record, said a big part of the difference between Bloomberg and de Blasio was a shift in leadership style. While Bloomberg viewed himself as New York's CEO, de Blasio considers himself more of the city's chairman. This means a shift in operating priorities for City Hall. While Bloomberg came from outside of government and was a media executive before becoming mayor, de Blasio is a longtime local politician involved in the intricacies of neighborhood Democratic party politics.
In some significant ways, de Blasio's arrival signaled very real change. Rachel Sterne Haot, New York City's former chief digital officer and one of our Most Creative People, left City Hall for a similar role at the State Capitol in Albany. Haot was part of an exodus to Albany among tech-industry related government officials that also included former city open government guru Andrew Nicklin, who began working on open government projects for the state government.
As of this writing, Haot's NYC position is still vacant and much of the work of managing interactions with citizens via digital media has reportedly been transferred to the mayor's Office of Management. Several sources close to City Hall confirmed that much of the chief digital officer's role has been integrated into City Hall's office of strategic planning and that a successor to Haot is not expected to be named. Haot's former department, NYC Digital, now operates under a senior advisor to the mayor, Peter Ragone, who has a deep background in politics and previously ran sports startup Exiles Inc.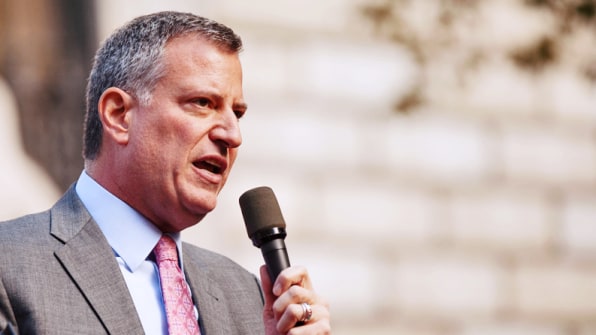 Other influential tech world liaisons in City Hall left during the mayoral transition. One of these was Michael Flowers, the big data-savvy head of the city's Office of Policy and Strategic Planning. A former war crimes investigator in Iraq, Flowers played a key role in applying tech industry know-how to ordinary urban problems of crime and corruption. In January, Flowers announced he was joining NYU's Center for Urban Science and Progress.
A replacement for Flowers has not been named either; although he left the position at the end of 2013, the Mayor's Office of Data Analytics still lists him as CAO.
Noel Hidalgo of BetaNYC, an open government non-profit that works closely with City Hall, tells Fast Company that the delays in new appointments impact the work of techies looking for liaisons with local government. "We understand that the de Blasio administration's focus has been on ensuring a functioning government through the middle of winter, which redirects resources and perspectives for a city administration that oversees the lives of eight-and-a-half million people," Hidalgo says. "Then, they created clear initiatives around public safety, Vision Zero, affordable housing, and education. We were hoping technology would have been a part of the Mayor's vision. We are patiently waiting for new technical leadership to come aboard. Four months in, our patience can only go so far."
If you ask about a liaison between New York's tech community and City Hall these days, don't be surprised if Jessica Lawrence's name pops up. Lawrence (who has spoken at Fast Company events in the past) is executive director of the New York Tech Meetup, a 40,000-member organization created through Meetup.com that registered as a non-profit organization in 2010.
The NYTM is a trade organization for the city's tech sector. "We help elected officials understand how to make policies that are supportive of innovative technology," Lawrence says. "And we help our members understand how lawmaking works and what elected officials' concerns are, along with how tech companies can provide expertise and knowledge to help the city."
Lawrence explained that one of the government entities that tech companies interact with the most is an economic development corporation (EDC). EDCs are non-profit corporations independent of local governments, but closely tied to them, that offer businesses assistance with loans, office space acquisition, marketing, partnerships, and a host of other services. In terms of government contacts for tech companies, EDCs are usually a first stop.
New York has two separate EDCs, the city-affiliated New York City Economic Development Corporation and the statewide Empire State Economic Development. For startups that aren't dealing with significant governmental regulations–the quieter majority of startups who aren't Uber, Lyft, Airbnb, or FreshDirect–EDCs are likely to be their major government interlocutors. Empire State, for instance, offers a generous Start-Up NY initiative which exempts startups from a decade of taxes in exchange for building close to public university campuses. At the EDCs, it remains business as usual.
The de Blasio City Hall has also been working in an EDC-like role with the tech industry. New York's new deputy mayor, Alicia Glen, is also working with local tech companies to address what multiple sources called a "talent gap" in New York. Glen's work reportedly fills a dual-purpose role: Steering New Yorkers already resident in the city toward tech sector jobs, and helping rapidly growing companies fill vacancies that otherwise wouldn't have enough candidates.
Another new de Blasio administration arrival, Katy Gaul-Stigge of the newly-formed Mayor's Office of Workforce Development, is also working alongside Glen as a pointperson for local tech firms.
In a statement, the deputy mayor told Fast Company that "We know we need to work to leverage all governmental resources to allow New York City's digital economy to reach its full potential. Our approach is as much about the present as it is about the future. From training the next generation of engineers to increasing access to affordable housing and startup space, we are ready to work with our partners in the tech sector."
But there's still no official digital liaison. To hear Lawrence tell it, there should be a digital expert-in-chief with even more power and access to the mayor than Haot had. "The creation of the chief digital officer role was a great first step," Lawrence told me. "A great next step would be to create a new role that reports directly to the Mayor and has even greater authority to coordinate technology and innovation across all city agencies, and will continue to expand the collaboration with the technology ecosystem in the city."
If de Blasio creates such a position, it could lead to a tech-sympathetic ear at City Hall similar to those already enjoyed by the taxi industry, real estate developers, and Wall Street. Andrew Rasiej of the New York Tech Meetup and Personal Democracy Media added that "The de Blasio administration has set out a very ambitious agenda with the tech community that goes beyond the strong support received from Mayor Bloomberg. It takes time to align agencies and find the right people. It's still early."
On the startup side, several of my sources discussed the larger cultural disconnect between city government and startups. Matthew Kochman is Uber's former New York general manager. Now working on transportation startup Buster, Kochman noted that while hiring for City Hall from the tech sector has continued apace, there's still a cultural difference. He said that while "a few of my good capitalist New York friends have been pulled into the administration," many of the new hires in positions engaging with startups and tech firms came from non-tech backgrounds.
When tech companies give City Hall a call, it's frequently about logistical problems. FlyCleaners is a Brooklyn-based startup that picks up and delivers dry cleaning and laundry via a smartphone app. The self-described "Uber for dry cleaning" had to obtain several documents from City Hall to operate, including a Laundry Jobber's License; they also needed legal advice to deal with the unorthodox service their company provides.
David Salama, FlyCleaners' cofounder, told Fast Company that when the company was launching in the last days of the Bloomberg administration, City Hall was an enormous help getting things launched. His contact at City Hall, as he put it, saw their job as helping startups "cut through red tape." For many of New York's lesser-heralded tech companies–the ones working in precision manufacturing, biotech, life sciences, hardware production, and other fields–City Hall's liaisons play crucial roles in making sure there's a lease, that the Internet access is blazing-fast, and that papers are in order.
More than any concerns about whether de Blasio is a cheerleader for New York's tech firms or not, the real worry for local tech companies is having a point person at City Hall when regulatory and logistical questions are involved. And according to the industry insiders I spoke with, the de Blasio administration is doing a good job in this area.
When de Blasio became mayor, he entered office as all New York mayors do: through a storm of fire. His first months were marked by a series of massive snowstorms, a ticket-fixing scandal, controversy over horse-drawn carriages, and even the embarrassment of journalists videotaping the mayoral SUV jumping stop signs. But on May 19, the new mayor will attend his first big event for New York's community of technocrats.
That's when de Blasio is following in Bloomberg's footsteps by giving the keynote speech at Internet Week 2014, Silicon Alley's most prominent industry confab. DeBlasio's speech is going to be part of a charm offensive: NYC Digital is hosting multiple workshops at Internet Week 2014 and is rumored to be issuing a new report on the city's tech industry timed to coincide with the conference. The report will build on a paper commissioned by Google, the Association for a Better New York, Citicorp, and the New York Tech Meetup about Silicon Alley's growth. That paper was published in early April and revealed highly optimistic findings about the state of the city's tech industry.
But in the meantime, the city still hasn't announced appointments to the chief digital officer or chief analytics officer positions. It doesn't appear to be a slight to the tech world particularly–the de Blasio administration has been relatively slow with appointments in general–but it does signal a lack of urgency to influential entrepreneurs. And if the New York tech sector is going to keep growing, de Blasio will need plenty of help from that exact corner of the city.
Update: This story has been updated to include a statement by Deputy Mayor Alicia Glen. In addition, the New York Tech Meetup's status as a trade organization has been clarified and their current membership count has been updated to 40,000.