Start browsing Safecity, a site documenting harassment of women in India, and you soon appreciate the extent of the problem:
"Somebody grabbed my bum from behind. Couldn't figure out who he was when I turned around."
"The guy kept on following me until I reached inside my campus."
"A group of four boys in a car outside Ramjas College were commenting. It happened in the morning."
And so on. Saloni Malhotra and Elsa D'Silva, who set up the site in late 2012, have captured about 2,700 reports so far, mapping each one and gradually building up a useful data set.

"What we're trying to do is bring out these stories into the open, and make something that is invisible visible and official, so that people know it's a problem and can find effective solutions," D'Silva says.
The effort echoes other sexual harassment mapping projects in places ranging from Egypt to the United States. The idea that transparency can lead to more awareness and action is catching on globally.
In India, Safecity seems to be having an effect already. D'Silva worked on a pilot recently in Bandra, a suburb in Mumbai. By collecting stories of harassment in a 10-street area, she was able to press a case to the local police. They responded by changing patrol times and arranging for lighting repairs and CCTV cameras in key locations.
In other places, too, communities have started to pay attention to particular hotspots. "Not everything needs to be reported to the law. This is a problem that's created by society and society can solve this problem," Malhotra says.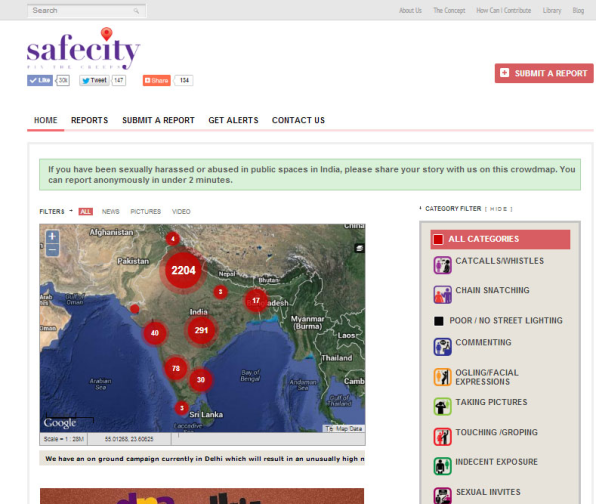 To some men, a little staring might not seem so terrible. But D'Silva and Malhotra say a relatively minor incident quickly leads to much more serious ones. "Things happen to you. Nobody intervenes. Then, because you don't communicate about it, it never reaches the statistics, and the perpetrator gets away scot-free. Then, he gets emboldened and moves to the next level, which is physically touching, and then maybe it's sexual assault," D'Silva says.
Better reporting of non-violent incidents might have stopped crimes like the gang rape of a photojournalist in a Mumbai textile factory, D'Silva says. The gang later admitted to carrying out four other assaults at the same spot, and presumably also made many other attempts that could have been better documented.
"If the incidents had been reported at that location, we would have known that location was a hotspot being used by this group of people," Malhotra says. "Then we could have done something about it."