In an attempt to appear manly and aggressive, many car dashboards use a font called Eurostile. It's boxy, robotic, and has a futuristic edge. It can be found in the opening credits for sports programming and science fiction TV shows. It's also incredibly difficult to read. "It's so pervasive," Carl Crossgrove, a senior type designer at Monotype told Fast Company, "and it's so not legible." The "3" looks like the "B," which looks like the "8," all of which is made worse when a car is moving at 60 miles per hour and the entire dash vibrates.
That makes Eurostile a curious choice for radio interfaces and speedometers. Drivers should keep their eyes on the road, not squinting to discern a "3" from an "8" while searching for a good station, a problem that will only get worse as cars get smarter with upgraded dashboards that have a lot more text.
"There is a sort of avalanche of a different and much more intense kind of technological layering that is about to happen with cars," explained Crossgrove. "It's a new facet to the way a car functions and the way people interact with their vehicles. It kind of dialed up the importance of having a font perform well in those settings because they're going to get much more use in much more crucial settings. Driver distraction is on a lot of people's minds now," he added.
In other words, the time is ripe for a new, easier to parse font. It's time for Burlingame. Designed by Crossgrove at Monotype, Burlingame, unlike Eurostile, is highly legible by scientific standards. An MIT study compared different typefaces in simulated driving situations to determine what letter shapes and spacing reduce glance time.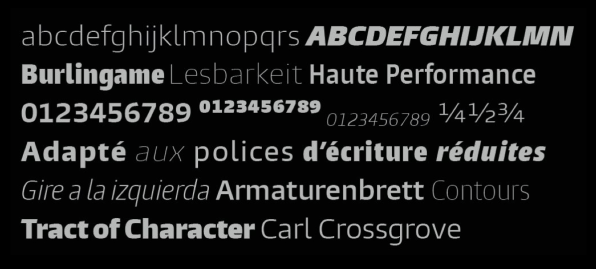 Font designers had ideas and hypotheses for what makes a font legible, but never before had their theories been tested. "Truthfully there haven't been any good scientific studies to prove what we consider our trade craft, our intuition as designers that makes things legible," Steve Matteson, creative type director at Monotype, who took part in the MIT AgeLab study, told Fast Company. "We worked with MIT to basically test typefaces side by side to figure out which ones were legible and try to figure out why they are legible."
The study compared "humanist" typefaces with "grotesque" style typefaces. The former fonts, in general, have looser spacing, unambiguous forms, and open apertures, which are the partially enclosed, rounded negative space letters like "n" and "c." The Mac menu's Lucida Sans typeface and Microsoft Outlook's default Calibri font both fall into that camp. Grotesque fonts tend to be more modular and blockier. Along with Eurostile, the beloved Helvetica is a classic example. Matteson figured that looser, more open, and what happen to be the less fashionable fonts would prove easier to read.
For male study participants, the humanist fonts resulted in a 10.6% lower visual demand as measured by total glance time, compared to the "square grotesque" typeface. The humanist font also resulted in a 13% improvement in overall response time. The impact wasn't statistically significant for women. But, still, researchers said anything about a 5% change in behaviors would prove meaningful. "It was great to have a scientific study that was very well controlled to back up what we as type designers knew," Matteson said.
With the stats to back up Matteson's theories for legibility, he and Crossgrove set out to make the most readable font possible. "We realized that with this study it was really crucial that the most important thing wasn't aesthetics. It was just getting that glance time down." explained Crossgrove. "So we pushed the design of Burlingame in the direction of all of those traits that we know are useful for speeding up letter recognition and word recognition."
Burlingame has open apertures, loose letter spacing, and unambiguous shapes. For example, the lowercase "L" is differentiated from the uppercase "i" by adding an "out stroke," or little tail at the end. The font also uses the less ambiguous two-story "a," even in italics, because it helps distinguish the letter from "q" and "g." Similar theories of spacing and legibility have been used to design highway signs.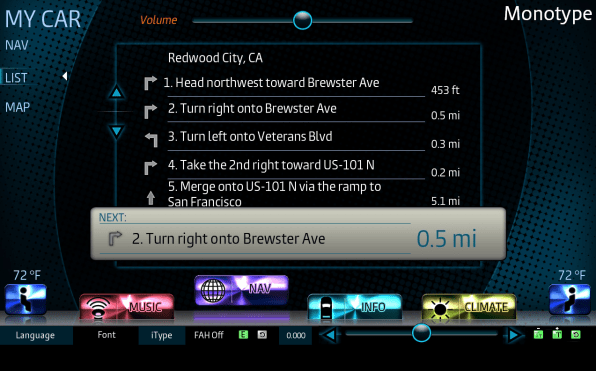 Of course, along with all the practicalities, the team also took into account aesthetics, creating what they fancy a good-looking typeface. "It feels like a big win to be able to have a design that has some visual appeal along with the performance enhancing design choices that we made," said Matteson. "That's always a balance that we work with when designing typefaces, they have to function, they have to not fall apart and can't make readers tired or confuse people."
Now that the Monotype designers have improved readability, they are working with UI designers from an unnamed "automotive supplier seeking energetic interface appearances," according to their press representative, to get the lettering into cars from mainstream companies, they assure. Burlingame will likely appear in the center cluster: navigation, climate control, and radio, for example. "There is also a lot of talk among the industry itself to harmonize what's printed on the physical buttons versus what they're seeing on the screen," explained Matteson. He thinks it's very possible that Burlingame will be that font.