Amazon has taken a big step toward competing in the living room.
Today at Milk Studios in New York City, in a space designed to look and feel like movie night in the family living room–couches, bowls of candy, the smell of popcorn–Amazon unveiled FireTV, a $99 streaming media set-top box available for purchase today which will allow the company to compete against Roku, Apple TV, Microsoft's Xbox, and Google's Chromecast.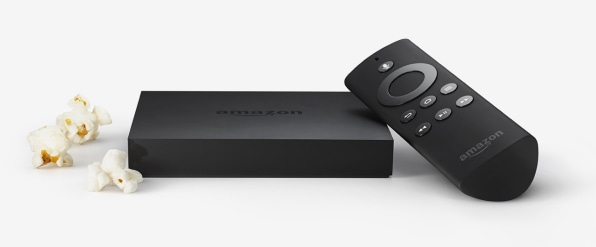 Amazon VP Peter Larsen boasted that the device, which he claims is thinner than a dime, is up to three times faster than its rivals, and contended that the simplicity, speed, and open environment of the system would help set it apart. Here's how:
FireTV is similar to Roku's set-top box–both connect to your television and allow you to stream media from a slew of apps–though with 2 GB of RAM, Larsen says FireTV's performance is far more fluid. A Bluetooth-connected remote control, with an iPod-like scroll wheel, will enable users to navigate through content and apps that include YouTube, Netflix, and Hulu Plus. (HBO GO is a notable absence, but Larsen says more apps are coming soon.) Users can also navigate through the service using voice controls: Speak "Tom Cruise" into the remote, and the FireTV might conjure up movies such as Top Gun.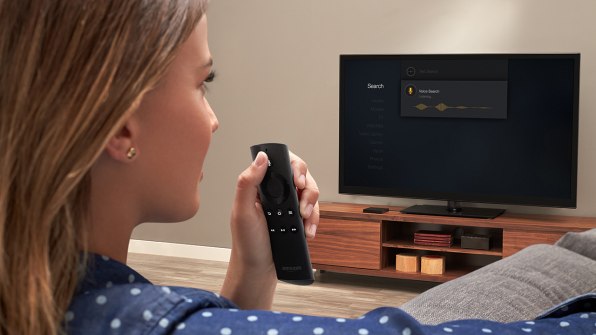 Larsen began the event by putting down competing streaming media players. He pointed out how frustrating it is to search for content on Roku: users have to type letter-by-letter on their remote controls. He read aloud lousy customer reviews of Google's Chromecast, hammering the service for poor performance and connectivity.
Larson also lashed out at Apple's closed ecosystem, which is designed mainly to deliver Apple content. "I have an Apple TV, and unsurprisingly, I'm also an Amazon Prime member, [but] it drives me bananas that I can't watch my Prime Instant video on my Apple TV," he said. Amazon's media services are already available through a number of TV-connected devices, including Roku, Microsoft's Xbox, and many of Samsung's Internet-connected televisions. However, as Larsen said, Amazon's Instant Video app isn't yet available natively on Apple TV, though users can stream the service via AirPlay. Amazon's app has also not come to Google's Chromecast.
Despite these challenges, Larson continued, "we are selling millions of these streaming media devices on Amazon.com," a sign of the market potential for Amazon's new device.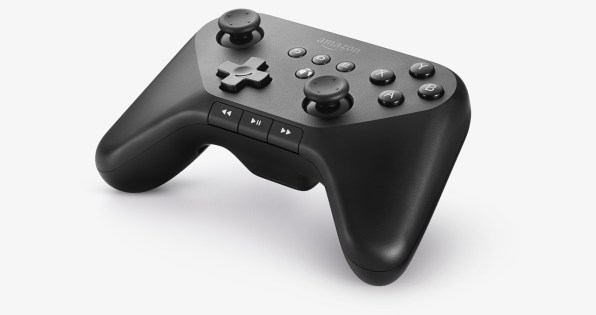 FireTV isn't just a platform for streaming movies and TV shows. Mike Frazzini of Amazon Game Studios came out on stage to demonstrate how the new system can also be used as a powerful gaming platform. Consumers can use the FireTV remote as a gaming controller, though the company also introduced a dedicated Fire Game Controller ($39.99), which is akin to Microsoft's Xbox controller.
The company has worked with gaming studios such as EA, Disney, and Sega to bring games to the platform, and the system is designed to make gaming as inexpensive as it is on your phone or tablet–but as accessible and fun as it is on your TV. The average cost of a game on FireTV is $1.85, and more than 1,000 games are available for free. Additionally, Amazon revealed that it will make its own games, and plans to soon launch Sev Zero, a Halo-like space game. Interestingly, FireTV will allow users to play in multiplayer mode with users on different devices at the same time: Users can play a game on their TV while other players join in on their phones or tablets simultaneously.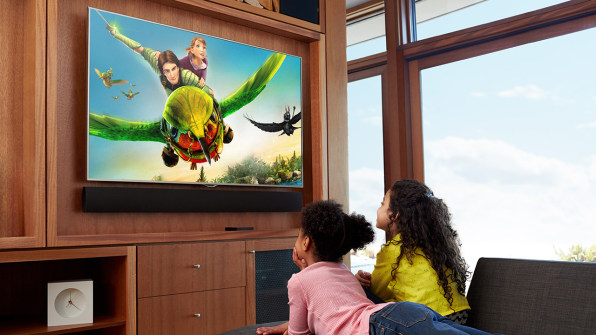 One of the more compelling features coming to FireTV is FreeTime, a streaming service built for kids in the vein of Microsoft's Kid's Corner program. FreeTime corrals age-appropriate content for children, culling movies and TV shows from PBS Kids and Nickelodeon and giving, Larsen says, kids "the freedom to explore and parents peace of mind."
What's more, Amazon also announced FreeTime Unlimited, an all-you-can-eat subscription service for children so parents no longer have to worry about their kids racking up enormous fees in Amazon's store.
All in, Amazon's FireTV looks to be a slick and reasonable alternative to the Roku 3 or Apple TV, but it wasn't the whiz-bang announcement that many had expected. Critics had predicted that Amazon, a company famous for beating its competitors on price, might introduce a more radical pricing scheme for the FireTV–perhaps, some said, the device would be free or near free for Prime members. But at $99, the device isn't less expensive than an Apple TV, and it's far more expensive than Google's $35 Chromecast streaming player.
What's more, the hardware itself, while impressive and sleek, doesn't bring much new to the table in terms of design or novel interactions for television interfaces. Sure, Amazon introduced voice-powered controls and search, but Google TV has offered similar services for a number of years already. I expected more seamless integration with phones and Amazon's Kindle devices, but Amazon didn't make that a focus of its announcement today. And for a company that spent a large portion of its presentation criticizing the lack of content available on other streaming media player, it's backward that HBO Go, one of the most popular content providers, is not yet available on FireTV.
Still, Amazon's gaming platform did certainly surprise audience members, and perhaps that'll be enough to make the device's $99 price tag attractive.